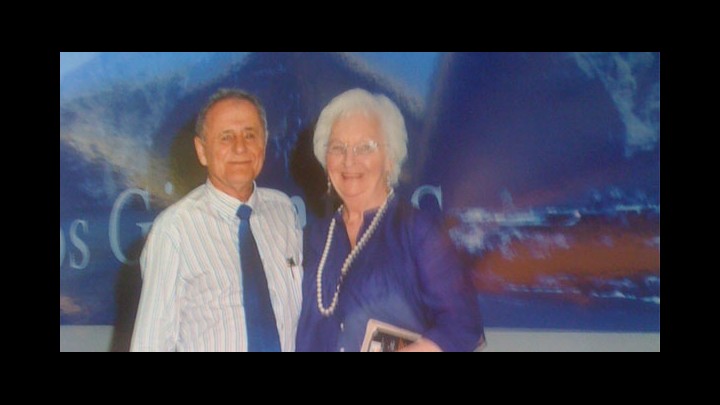 After working on the Queen Mary as a hairdresser for three and a half years, I was transferred to the Mauretania.
This was a smaller vessel which sailed back and forth to New York for six months of the year but every December stayed in new York for six months, making several two week cruises around the West Indies and one three week cruise around the Mediterranean, returning to the UK in May.
As soon as we were to sail for New York and the cruising, the atmosphere on board changed dramatically. There was an air of festivity among the crew, knowing we were sailing into the sun.
One of the cruises was a private charter for the Liquor Dealers, similar to our off licences. The people were loud and brash, the noise for the following two weeks was something to be believed and rumour had it that it had something to do with the Mafia.
We never discovered if this was fact but the man who was in charge was always accompanied by two henchmen wherever he went!
It made for an exciting two weeks.
We visited Jamaica, St Thomas, Barbados, Martinique, Granada, Caracus, Nassau and Haiti. I was devastated to see the damage done to this Island in the hurricane which decimated the places I had visited.
American women are very difficult to cope with. They are demanding, rude and would throw a scene at the drop of a hat, but meet them on deck in the evening, they would be charming. I wanted to throw most of them overboard. However, there were some who were a pleasure to look after, but they were in the minority.
The three week cruise around the Med was so interesting. I rode a camel to see the Sphinx in Egypt. Saw the Tutankhamun exhibition in the Cairo museum. Visited Israel, picked a leaf from an olive tree at The Mount of Olives, went to Nazareth - and washed my hands in the River Jordan.
It was like walking through the bible!
In Athens we walked around the Parthenon, all got somewhat tipsy later in a Greek cafe and loved Lisbon. Little did I know that many years later I would end up living nearby for three years!
It was during this time I grew to love New York. It is a fascinating city with a permanent buzz about it. The shops were a delight. Macy's store was one of my favourites as was Bloomingdales. Sacks, Fifth Avenue was very pricey in comparison. But Christmas time in New York is absolute magic!
The store windows are beyond belief. On every street corner there is a Father Christmas with a charity box. There is an outside ice rink at Rockefeller Centre and a tall Christmas tree, like the one in Trafalgar Square. The smell of chestnuts roasting on the various barrows fill the air and the sound of carols being sung from the front of Saks store is icing on the Christmas cake.
One evening I was in a night club in New York when Errol Flynn walked in with two nubile young ladies.
As we were leaving I was introduced to him! He stood holding my hand as he talked to me. What did he say? I have no idea, I was so star struck I'm not even sure I spoke to him!
Birdland was a jazz club like our Ronnie Scots in London and very famous. Four of us went to hear Count Basie play. As we were leaving a white Cadillac drew up and out stepped Nat King Cole with his wife! Well that's New York for you.
The city is also famous for their parades. I've seen several. Patrick's Day Parade is awesome. I do believe there are more Irish in New York that there is in Ireland!
At the end of our six month stint cruising we headed home to Southampton, luggage full of straw baskets and hats which were totally in vogue in the West Indies but didn't seem right in the UK. But what did it matter?
Cruising was the greatest fun. It was hard work as we only had a few hours off in each port before going back on board to look after the passengers but it was a magic. My