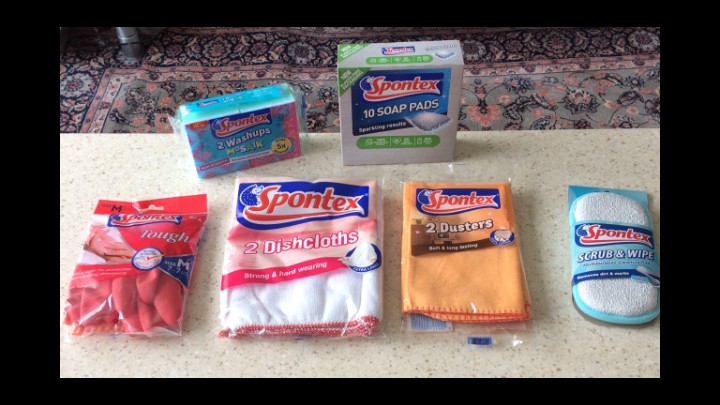 I have been sent some new Spontex products to review and am sharing my findings with you all.
This is the second article evaluating Spontex products and as the website states '
'MEET THE CHAMPION OF LESS EFFORT!
We're proud to call ourselves the champion of less effort! At Spontex, we want to help you get the cleaning out of the way so you can get back to doing the things you'd rather be doing! We've dedicated the last 80 years to creating products that make housework less time consuming, less effort and whenever possible, a bit more fun!'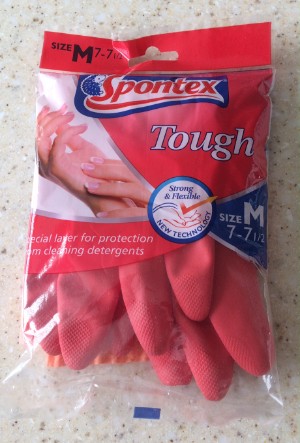 Tough Gloves
I always wear gloves when cleaning and washing up so they have to be high quality and last for a considerable time. Unlike cheaper versions of Natural latex and synthetic latex (nitrile), with a cotton flock lining, these are certainly comfortable. They are also flexible and have a cotton lining and a pleated cuff. Recommended for the toughest jobs, I find them ideal to wear when cleaning my oven!
Retailing at £2.50 per pair they are an average price for gloves of this quality.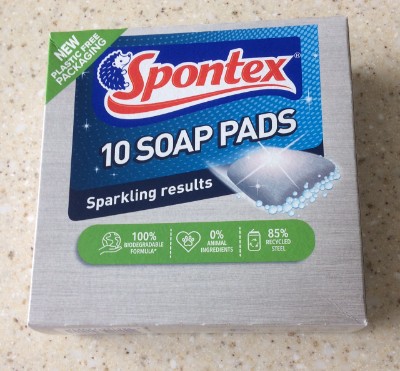 Soap Pads
I expect many of us are familiar with a brand of soap pads beginning with B? These Spontex ones are made with 85% recycled steel fibres and filled with soap that's 100% biodegradable*, They also haven't been tested on animals which is a BIG plus in my books! !
*In accordance to the current detergent regulation (648/2004).

The scourers kept their shape even after a few uses and a subtle lemon fragrance is a nice touch too.
I would advise you to do a test on a small surface before attempting a large one as some delicate surfaces are NOT suitable for these pads. Oh and the packaging is 100% recyclable!
Retailing at £1.50 for a pack of 10 pads they represent excellent value.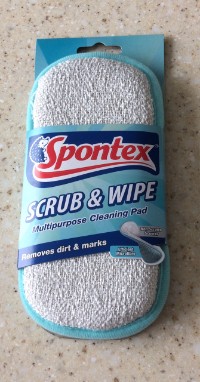 Scrub and Wipe Cleaning Pad
This is a new product and being non scratch appeals to me. You only need to use water to wipe away a variety of stains, grease and dirt. The grey side of the scourer is best for removing stubborn stains while the blue side removes grease wth ease and according to the desription on the website. ' Did you know? The microfibre side is made up of thousands of tiny fibres, so the number of contact points with the surface is greatly increased giving it extraordinary cleaning power that eliminates 99% of bacteria. Being efficient with just water and no need for detergent, microfibres are ecological too.'
You can even wash the scourer in a washing machine, but it is just as easy to wash with a drop of washing up liquid and thoroughly rinse and leave to dry.
Retailing at £2.50 this may seem a little expensive but if it lives up to a hard wearing scourer that lasts a long time, it will be good value.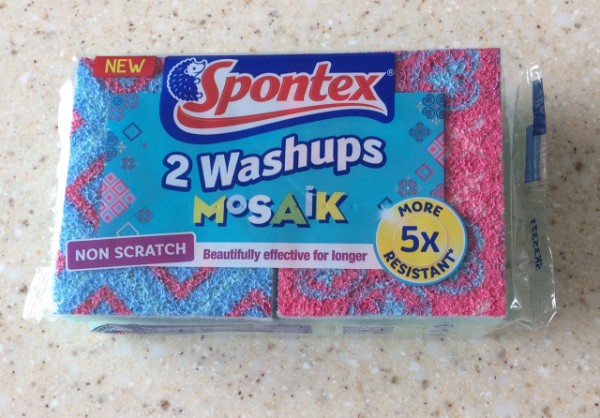 Washups Mosaic
What an enchanting name for a scourer! I always use these produts for washing up and am impressed by the term 5 times more resistant to wear and tear*
They have a shelf life of around two months providing you wash them out afetr each use and can also be washing in the washing machine.
Retailing at £1.20 for two I think this is good value. I have tried using cheaper products in the past but they do not work out better value as last nowhere near as long as a reputable make of scourer. Give these a go?
*Washups Mosaik scourers are 5 times more resistant to wear and tear than a standard Spontex general purpose sponge scourer sold in the UK following internal laboratory comparative tests, July 2017.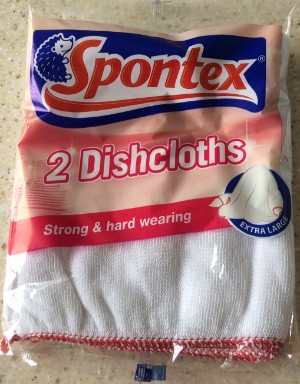 Dishcloths
I am not a lover of dishcloths when washing dishes as I think they hold on to far too much bacteria, but the cloths are excellent for wiping down surfaces and even for cleaning windows. These are extra large cloths measuring 7 x 43cm. and are made from 75% cotton and 25% other fibres.
I soak mine in a solution of bleach once a week in order to retain their whiteness.
Retailing at £2 for a pack of two cloths this is good value as they are very strong and durable.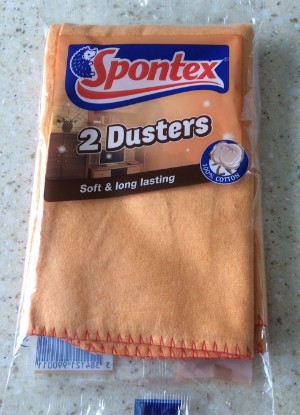 Dusters
Do you know readers, I still have a duster in use that belonged to my mother in law from the 70's!!!! It washes and washes and is still strong and durable! Will my Spontex ones be here for my own children in 50 years time???!
These are made from 100% cotton and being soft will not scratch surfaces. Ideal to use with or without furniture polish, a good result wll ensue whether using on furniture, ornaments, cars etc etc.
There is no need to iron - who irons dusters?? (actually I know someone who does!) - but be aware that if you wet the dusters the colours may run. They come in a variety of shades.
Retailing at £2 for a pack of two this is a good price.
So there we have it, I hope you will try some of these latest products and may be converted to only using Spontex products from now on!
See my other review here.