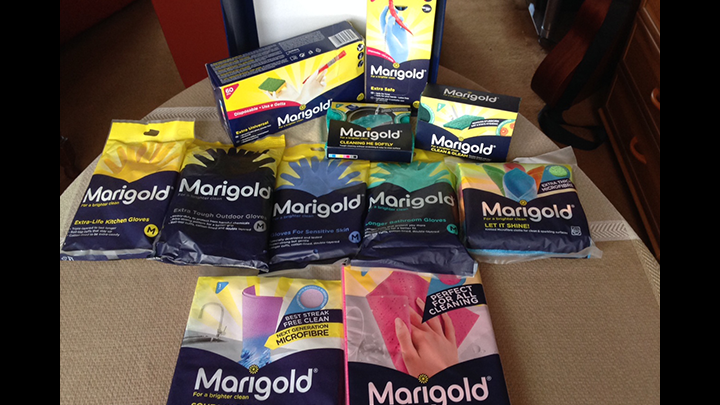 Marigold products have been a household name since 1947! 70 years and the name is still as popular and well known in 2017.
I can remember my late mother using them when I was a small child in the 50's and she continued to use them up to her death in 2014. I have used them since leaving home in the 70's too!
Whether you are looking for gloves, scourers or cloths, Marigold have a wide and varied selection to choose from. They are always on my shopping list for one job or another! Since evaluating some of their popular gloves, scourers and cloths last year, I have been sent some more and will share my findings with you.
Let us begin with gloves.
Handy Lightweight Gloves
For those of us with sensitive skin, these are ideal gloves to use in many situations. They are 100% latex free and being made with Nitrile, are suitable for people who suffer from latex allergies. The lining is made from cotton flock thus ensuring comfort and with the gloves designed to fit to the hand and smaller at the wrist, water does not get in. This is a great feature as harsh chemicals can make the wearer suffer hand problems such as redness and soreness when cleaning.
Longer Bathroom Gloves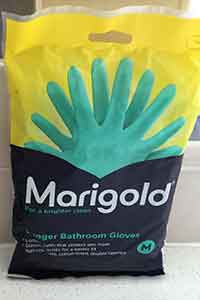 These extra long rubber gloves are ideal for cleaning the bathroom and have extra long cuffs which prevent water getting in. Like the handy lightweight gloves mentioned above, these also have slimmer wrists and cotton lining. Not suitable for people with latex allergies as they are made from double layered latex which gives extra protection against the harsh chemicals found in cleaning agents. The roll top cuffs ensure the gloves stay on.
Moving On To Cloths
Wiper Upper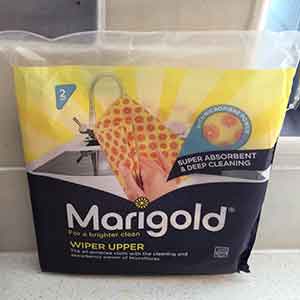 I have not seen this cloth in any supermarkets where I live, but am very intrigued by the name! There are two cloths which are super absorbent as they contain microfibes. Ideal for the removal of grease from around the cooker etc when used wet and a super duster when used dry! They also have a feature which prevents bacteria building up after use and this alleviates the smells once the cloth is put down. What a great idea! The cloths can be used wet or dry and are even machine washable at 60oc.
Squeaky Clean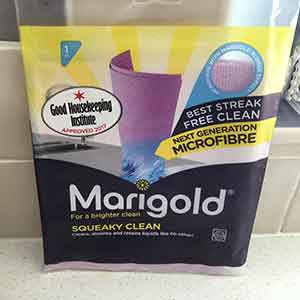 This cloth is one that I regulary buy. Made from micorofibre and a rubber coating, the absorbancy is fantastic and really does retain the liquid spillages like no other cloth that I know of! Always use this cloth damp and it is ideal for glass polishing as is streak free. Also machine washable at 60oc, a long lasting and excellent value cloth.
Wash And Wipe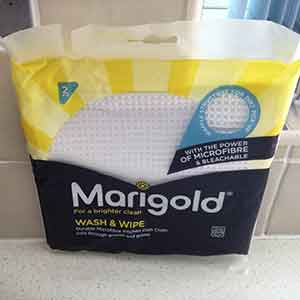 I am not a lover of dish cloths as they have such a bad reputation for harbouring germs. I stopped buying them a few years ago, but have started using these Marigold ones to see how they fare. The structure of these cloths looks a bit like a white waffle and are extremely absorbent. They are very strong and can withstand bleach so after use, I pour a tiny amount of bleach and soak the dishcloths overnight. Like the previously mentioned cloths, these are also machine washable at 60oc.
And So To Scourers
Cleaning Me Softly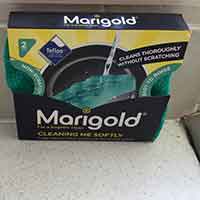 Coming in a pack of two, this is a Teflon-tested and approved non-scratch scourer. My favourite Marigold product for removing tough stains from my non stick saucepans. A soft spongy top finishes off the job properly and I always have these in my cupboard.
No More Elbow Grease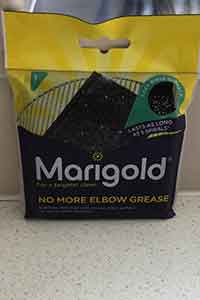 This is certainly a hard wearing scouring pad and claims to last as long as 5 traditional spiral scourers. Made from extra strong stainless steel and a very tough metallised finish, this is perfect for cleaning the grill pan, the inside of the oven and for other pots and pans. Make sure the make of your pans and oven etc are able to cope with this type of scourer.
Clean And Gleam
This scourer is a clever one! Doubled sided, it is an Anti-bacterial scourer & wiping cloth in one. With the scourer side suitable for removing stubborn dirt from surfaces and the sponge middle absorbing the water, the non woven cloth side is ideal for wiping and spillages. Containing odour stop and using anti-bacterial technology, a very nifty and super scourer!
There are many tips on Marigold's excellent website and also the full range of cleaning products that they make, along with the stockists and a section called 'What's New.'
Here's to the next 70 years Marigold!