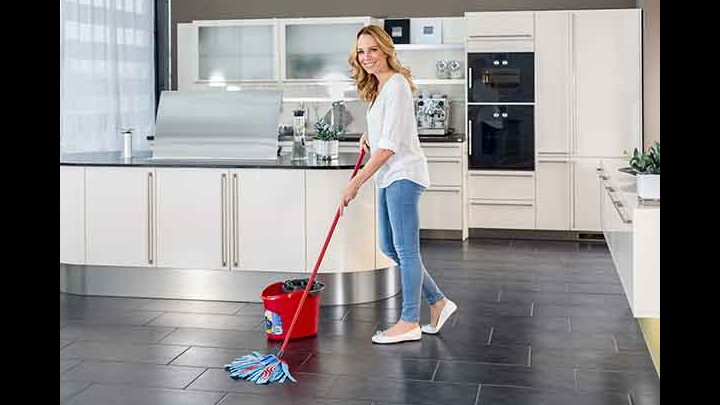 The trusted household name Vileda has been with us since 1948! I am sure most of us have bought a Vileda mop and bucket at some stage during our lives.
I have used Vileda products for many years. I can remember my late mother always insisting on this make. When she became too frail to wash her own floors, I replaced the trusted mop with a supermarket own brand and it failed miserably!! This was quickly replaced by a Vilelda oneand it failed miserably!! This was quickly replaced by a Vileda one!

Kit at the ready!
I have been sent the new SuperMocio XL to evaluate and so to start mopping! Let me quote a few lines from the website:-
'Vileda brand stands for high quality, reliable, innovative and long-lasting products. We pride ourselves to be your expert partner for perfect homecare. Our products are built to make your housework easier.'
Suitable for cleaning many types of floors, I use my current Vileda mop on my bathroom and kitchen floors. The only issue I have is the length of time it takes to dry as the wringer action is not that great.
Will using the SuperMocio XL live up to its promises?!
After attaching the mop head to the expanding handle and fitting the wringer inside the bucket, I was ready to try the mop out! My kitchen floor is vinyl, but the mop is also ideal for tiled floors. It perfectly takes up dirt because The mop is made up of microfibres and being cotton, is very absorbent. The shape of the mop head is oval and is easily fitted into tight corners. The mop contains three separate actions, something I have not come across before. See details below.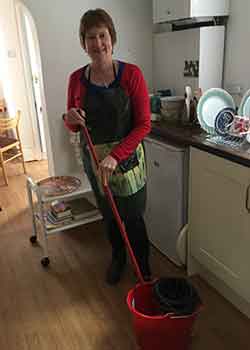 A great wringer action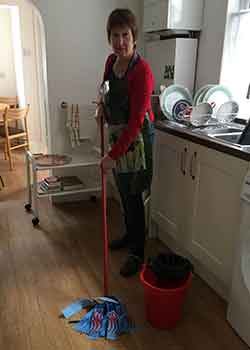 Very very efficient!
If you are interested in ordering this set for yourself, here is Vileda's description.
'Complete Mop and Bucket kit containing SuperMocio 3Action XL mop head, 3 piece handle and SuperMocio Bucket & Torsion Wringer
The mop includes 3 main cleaning actions: red non-scratch scourer for stubborn dirt, blue microfibre zone for removing greasy residue, 3D red dots for extra hair and particle pick up.
Now XL for 25% extra floor contact, making cleaning more efficient! Now with Torsion power the unique wringer twists and squeezes the mop head with less effort. Floors dry faster!
Bucket capacity 10 litres, with pouring lip, tipping hand hold underneath and a durable metal handle with comfort grip. Replacement mop heads available to purchase separately.'
My verdict?
Excellent value for money product from a tried and tested well-known company. Costing £16.99 for the complete set and just £4.99 for the mop head refill. Will definitely recommend to others!
You can order directly from the website or click here for a list of stockists.
First published on 05/12/17 on www.OAPSchat.co.uk