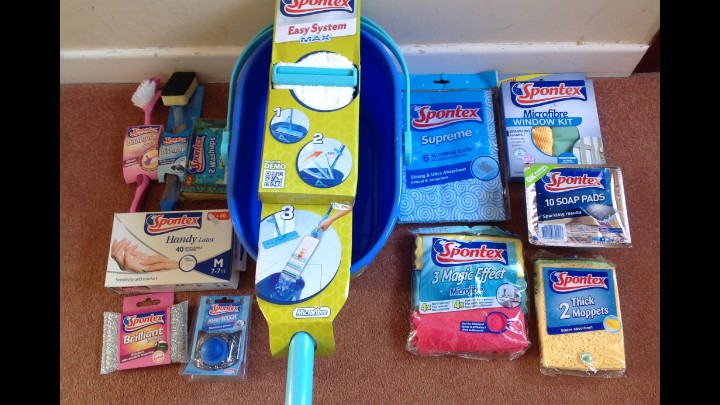 I have been sent various cleaning products from Spontex to evaluate and here are my findings.
Let me start by quoting a few lines from the Spontex website. 'Spontex is a funny word, isn't it? Created in France in 1932, the name Spontex is an amalgamation of the words sponge and textile. The brand began when we designed the world's very first cellulose sponge and from those humble beginnings we've gone from strength to strength! We're delighted to say that here in the UK we've become the nation's number 1 branded manufacturer of cleaning tools and gloves. We love you too, Britain!'
Easy System Max Mop

Ready to start mopping!
This is the first time I have used one of these mops and it is different to any other type I have tried. The mop is made up of thousands of tiny fibres, so is far more absorbent and is able to have more contact with the dirt and dust from the floor surfaces. I found this mop to be very effective and took no time at all to clean my kitchen floor. Suitable for all types of floors and machine washable at 60ºC, this mop retails at £14.99 and the large bucket is £6.99.

The long handle is lightweight and can rotate to reach into corners easily

Easy to wring out excess moisture with the touch of a button

Excess moisture removed.
Supreme All Purpose Cloths, 2 Thick Moppets and 3 Magic Effect Microfibre Cloths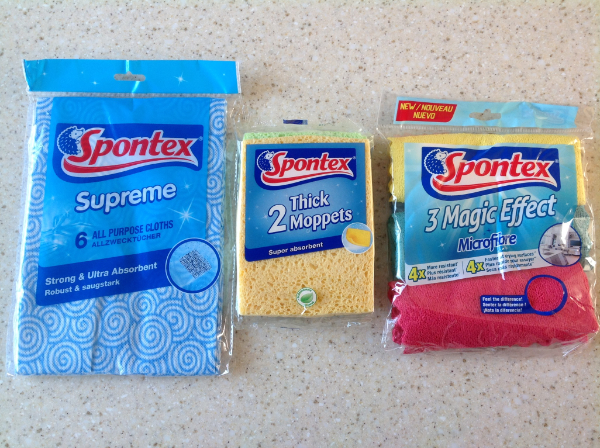 There are many different makes of all purpose cloths on the market, some are good, some are not! Spontex Supreme cloths are thick and very absorbent making them ideal for a number of jobs around the house. Measuring 30 x 50 cm they cost £2 for a pack of six.
The Thick Moppet flexible 15mm sponges are extra absorbent and I found these to be great for wiping down the bathroom and kitchen tiles, easily mopping up the water and any grease marks. Measuring 15 x 12cm, they come in a pack of 2 and retail at £2.
Magic Effect Microfibre Cloths - an intriguing name! I was curious to find out what the 'magic' effect was. The cloths are made from 85% polyester and 15%polyamide. The cloths can be used wet or dry and rinsing is recommended before and after each use. Claiming to be 4 times more resistant to wear and tear and 4 times faster at drying surfaces. See website. I used one on my shower glass, first as a damp cloth and then as a dry cloth to buff and was impressed! I shall continue to find other household uses for these cloths and an added advantage is that they each have a hanging hole to place on a hook after use. Measuring 24.5 x 25cm they retail at £3.50.
10 Soap Pads, 1 Dishbrush Style, 1 Dishmop and 1 Washups Mosaik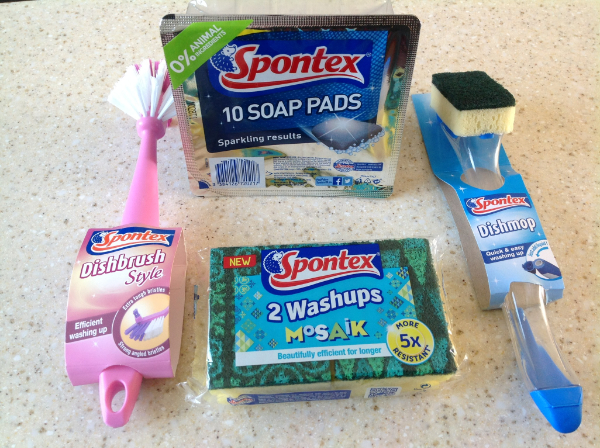 I must admit I always have a box of Soap Pads beginning with B in my kitchen cupboard, so I was pleasantly surprised to find that Spontex pads are considerably more 'soapy' and last a lot longer, so in my opinion a better buy. A stubborn stain on a roasting dish was removed by using the pad moistened and the other dishes with grease and fat stains were easily washed off with a wet pad and washing up liquid. Measuring 65 x 65mm these retail at £1.50.
I can remember my mother in law using a brush for washing up, but I never have, so this is new territory for me! The Dishbrush Style sounds interesting! With bristles on both sides of the handle, this is a versatile brush and one that is easy to use. It is also suitable for use on delicate and non scratch surfaces. Measuring 270mm in length this retails at £2.40.
The Dishmop is another type of washing up product that I have not tried before. You pour a small amount of washing up liquid into the soap dispenser and off you go! The washing up liquid is dispensed through the hole onto the sponge. I like this very much! Ideal for a few items to wash up and thereby saving on water. There is a short video on the website showing how versatile this cleaning product is. Refills are available for general purpose and non scratch surfaces. Measuring 275mm in length, this retails at £2
Mosaik Washups sponges are very colourful! The website claims that they are 5 times more resistant to wear and tear so no more throwing out after one week of use! Measuring 68 x 40 x 86 mm, a pack of two retail at £1.20.
Handy Tough Scourer and Brilliant Scourer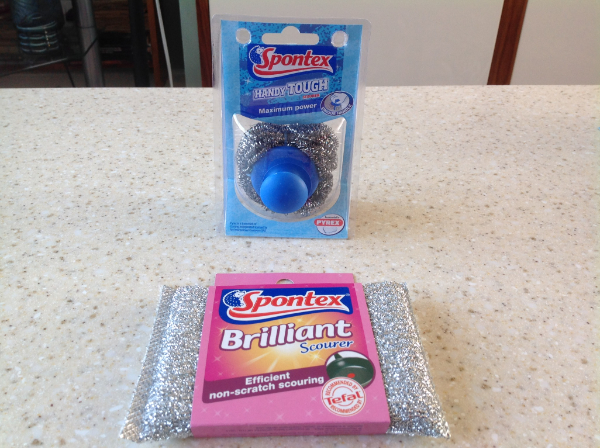 The Handy Tough Scourer is unlike any other scourer I have seen before. It includes a rubber handle to make the task of cleaning burnt on food far easier. Recommended by Pyrex®, this scourer is suitable for many items but NOT for non stick pans, plastic bathroom suites, enamel or other delicate surfaces. It retails at £1.50
The Brilliant Scourer is a very useful and efficient non scratch scourer pad. Recommended by Tefal®, this non stick product is made with plastic fibres and coated with aluminium. An easy to use value for money scourer, but it is recommended you test it on a small area of your pans etc for the first time of use. Measuring 132 x 20 x 85mm this retails at £1.10.
Handy Latex Gloves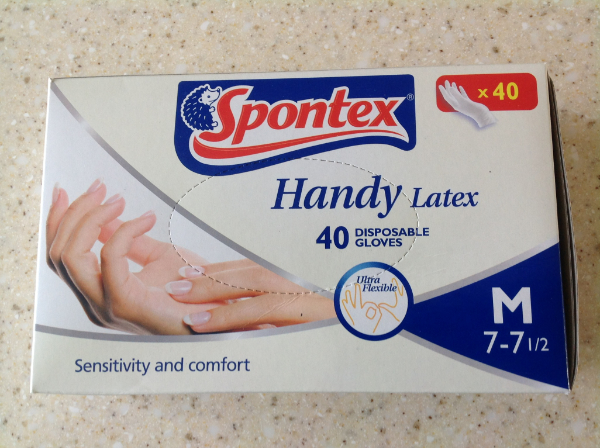 This box of latex gloves is always a useful addition to any household. I regularly keep them in and Spontex ones are ideal for a range of jobs inside and outside. I regularly use them for gardening, cleaning inside and outside drains, cleaning the toilets and many forms of DIY. They are for single use only and are easily put on and taken off. If you have pets, using these for brushing and showering would be ideal.
Please note that if you have a latex allergy, these gloves are not suitable. There are a wide range of gloves to view on the website.
The gloves come in a medium size which is 7-7 1/2 and for a pack of 40 retail at £4.70.
Spontex Microfibre Window Kit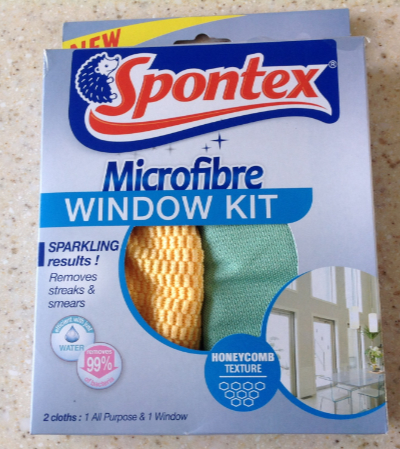 I find cleaning windows to be one of the most time consuming and boring household tasks, do you? This pack of a lint free Microfibre Window cloth and a Microfibre All Purpose cloth makes the job more bearable!
The yellow cloth is the Microfibre All Purpose one and is best used damp to remove particles of dust and debris including flies and other insects that make windows dirty. This cloth easily tackles these items.
Finish the job with the green Microfibre Window with honeycomb texture cloth dry to wipe away any smudges and leave a smear free window. They perform equally well on indoor mirrors and bathroom cabinets.
The Microfibre Window Cloth size is 40 x 40cm. Composition: 85% polyester, 15% polyamide and the Microfibre All Purpose Cloth size is 32 x 32cm. Composition: 85% polyester, 15% polyamide. The pack of two cloths retails at £5.
I would like to share with you the following useful information from the website. 'Spontex Microfibre cloths are made up of thousands of tiny fibres, so the number of contact points with the surface are greatly increased compared to non microfibre cloths. This means that each cloth has extraordinary cleaning power that eliminates 99% of bacteria. Being efficient with just water and no need for chemicals, the cloths are ecological too. What's more, these microfibre cloths are so super resistant and long lasting, they can be washed in the washing machine 500 times and more!'
This concludes my review of these excellent Spontex cleaning products. Do take a look at their website for a wealth of information and many more products that are sold by this company. There is also a loyalty scheme that you can belong to and enables you to save on future purchases.