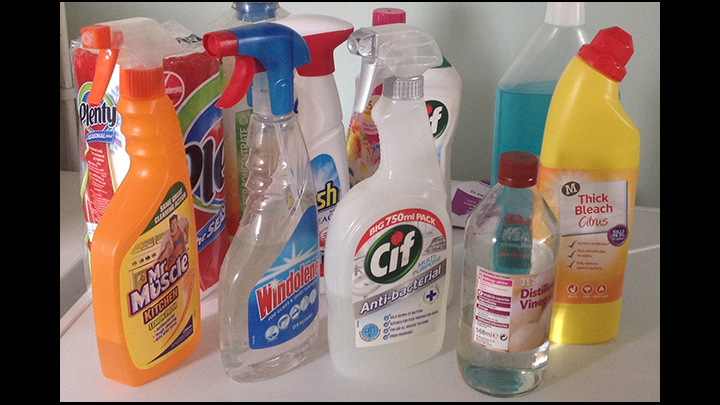 We are living in uncertain times due to Covid 19 and the need to sanitize and disinfect becomes ever more pressing.
This time of year many people start to think about Spring cleaning. I did a supermarket shop last month before the restrictions came in and stocked up on some of these items that I was running low on. I am not so sure if some were good value, but I needed them for cleaning purposes, so bought them. Kitchen cleaner, bathroom cleaner, mould remover, disinfectant, bleach, window cleaner, shower cleaner and j cloths. I spent around £15.
According to Wikipedia, Spring cleaning is the practice of thoroughly cleaning a house in the springtime.
Do people still stick to this ritual?
Now that we have gadgets to do most of the hard work for us and spend far more time outside the house, I don't think so many people wear themselves out with the mammoth task that our parents and grandparents had way back when. Most homes now have central heating and not that many people have fires that create a lot of soot and therefore grime on the walls and hearths etc.
This time of year I do like to wash my curtains and clean the carpets. I tend to steam clean the areas of the carpets that are used most often but not under the beds or three piece suite. This saves time and with the windows open, the areas soon dry.
The bathroom tiles need a good clean and so one of the products bought is used to make them shiny and a shower cleaner and mould remover takes care of the grime.
The wardrobes and dressing tables in the bedrooms tend to gather cobwebs behind them over the winter months, so they are given a thorough vac and it is also a good time to de clutter clothes and cosmetics that are no longer worn or used.
The kitchen cupboards have a good clear out at this time of year and out of date food is disposed of. I hasten to add that I hardly waste any food! Silver fish have a habit of appearing sometimes at this time of year. They are completely harmless and don't contaminate food, so I try to rescue them and put outside. I then clean the cupboards with one of the kitchen products I have bought.
It is also a good idea to check medicine cabinets at least once a year. Return unused and out of date medicines to a pharmacy and they will dispose of them for you.
With the evenings getting lighter, more time can be spent outdoors clearing cobwebs from around windows and giving the windows a good clean at the same time. This was a product that was half price at the supermarket, so seemed like a good buy.
So that's that then. Hang on, I have found this website by chance with 95 uses for vinegar! Nearly all of the areas of the house indoors and out can be cleaned with vinegar. I could have saved a fortune! I have always kept a small bottle of distilled vinegar for cleaning my iron, but didn't know about many of the other uses. I think that some of the products I have bought all contain unnecessary chemicals so I won't buy them again.
Do take a look, I expect many of you use vinegar for various other tasks than just on your chips. I am going to buy some white vinegar tomorrow and clean my keyboard with it. (If it isn't sold out). This will certainly be cheaper than the wipes I currently buy.
Have you any Spring cleaning tips especially as a lot of products are now out of stock or rationed?