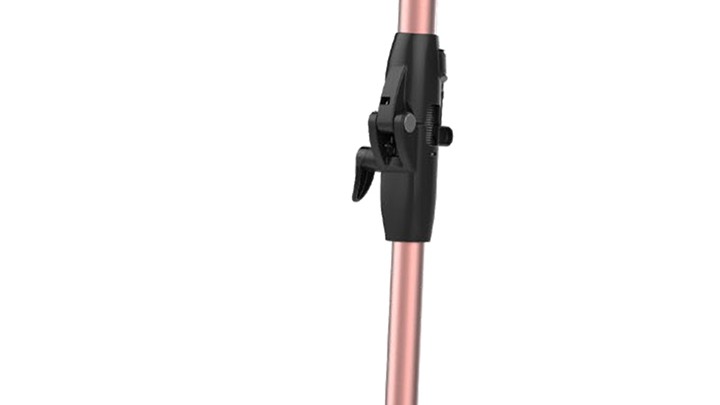 Do you need to replace your vacuum? Do you have a pet/pets? Why not look at the Shark HV390UKT? It is a compact, easy to manage corded vacuum that produces excellent results with ease!
Shark vacuums always arrive in excellent packaging. Each individual part is carefully placed in the box and I unwrapped them ready to assemble. You can tell instantly that each part is so well constructed.
Motorised Pet Tool, Crevice Tool and Dusting Brush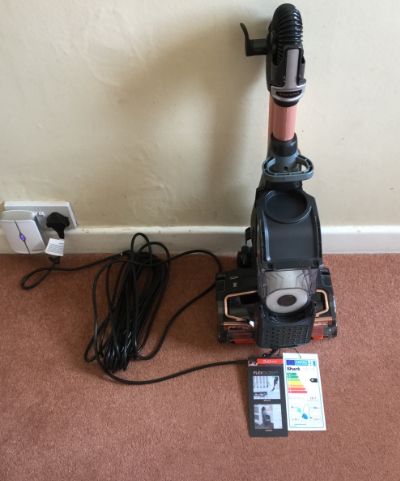 Checking the Flexology Wand procedure and all okay!
To quote a few lines from the Shark website:-
'Only Shark Vacuums give you the freedom found in Lift-Away Technology. But what is Lift-Away? It's quite simple, it's the ability to convert your vacuum from a traditional upright in to a portable vacuum in an instant for a deep clean with no loss of suction*. How does it do this? With a lightweight detachable pod that lifts away from the vacuum head making the vacuum portable and handheld. Complimented with multiple tools and accessories each carefully designed to help you get a better clean. Why do we give you Lift-Away? So you can enjoy the freedom and satisfaction of a great clean for your entire home in one reliable, versatile vacuum. Go from room to room, from stairs to upholstery, from hard floor to carpets and even those hard to reach places like ceilings and curtains with Shark's extended reach.'

Ready to start!
A great feature that comes with this vacuum is that the HEPA filters and Anti-Allergen Complete Seal Technology capture and hold 99.9%** of dust and allergens inside the vacuum and not back in to the air you breathe. This is so important for people with allergies such as asthma. There's nowhere for dirt and pet hair to hide with this lightweight DuoClean Stick Vacuum. A unique feature to Shark is the DuoClean Technology. There are 2 brush rolls in one vacuum head which results in excellent cleaning on both carpets and hard floors. With two settings to choose from, no dirt escapes! And with the pet power tool for effortless removal of stubborn pet hair from your carpets and furniture.
Enhanced swivel steering makes the lightweight Shark Lift-Away even more flexible in tight areas and powerful LED lights help to illuminate dust. Weighing only 6.3kg and with an incredible 8-meter cord you get great reach and range for a good all round clean.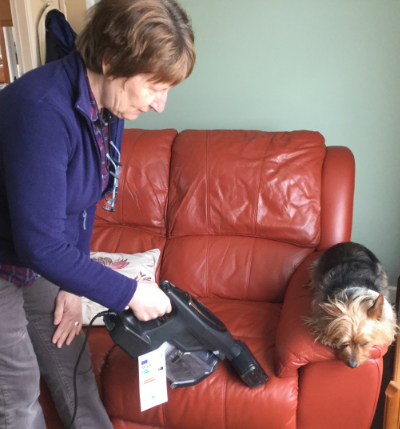 Trying out the motorised pet tool and Mr Larkin looking down ready to jump!
Using the motorised pet tool on the carpet
The pet power too is a brilliant attachment for removing stubborn pet hair from furniture and floors alike.

Effortlessly vacuuming stairs
No need to bend over!
When converted to a powerful hand vacuum, the stairs are no effort at all. With 10 meters of cord, this part of the vacuum is great for cleaning debris from my car too!
Easily reaching to ceiling height with crevice tool
This vacuum is so lightweight at only 4.8kg, that reaching the high places in the home is easily manageable. Swivel Steering enhances manoeuvrability and with an extra-long 10-meter cord you get the freedom to clean from room to room with no loss of suction or power.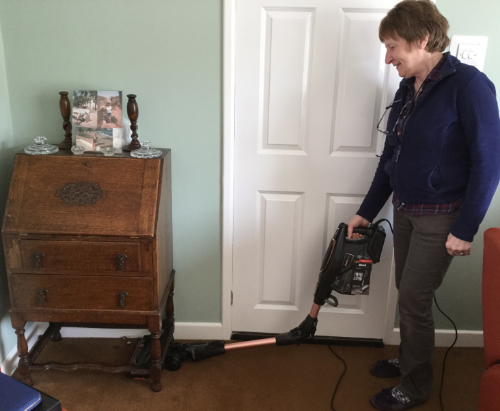 Flexology feature is fabulous!
I LOVE the way the HV390UK reaches under the furniture without having to bend.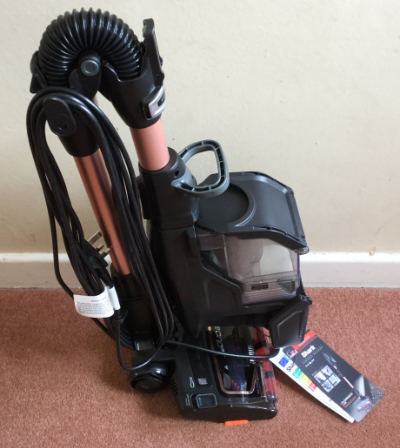 Neatly folded and ready to be stored away
When tasks are finished, simply fold down the Flexi-wand and wind the cord for neatness and easy storage. There is no need now to make vacuuming the chore it usually is for most people!
Shark once again succeeds brilliantly in innovation and quality.
**Particles 0.3 microns or larger