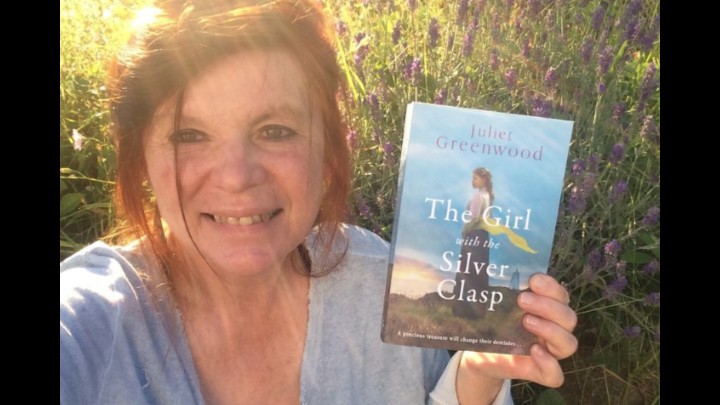 I am delighted to be featuring readers reviews for Juliet Greenwood's latest novel.
Diane Cunningham
This is the second book that I've read by Juliet, and I've loved both books. Set during World War One in Cornwall, it's the stories of some strong young women, who although from different classes and with different problems they work together in friendship to help each other survive.
I love Cornwall and this book is well written and so descriptive that you can imagine yourself there breathing in the lovely fresh sea air.
Heather Copping
1909 Cornwall and Jessica Morgan (Jess), finds working with fine and delicate ornaments and jewellery both fascinating and beautiful to see, but the trouble is she is a girl and although she is as able and talented as any boy, it is just not the done thing.
Forward on to 1916 and Jess is now seventeen years old and working at the local blacksmiths forge. What she really loves making is intricate work with colourful pieces and hair clasps that can be worn by women.
Rachel Bellamy is the daughter of the owner of Enys Hall, which sits high up on the cliffs overlooking the harbour. She too has trouble in her home life and with the loss of life in her family during the war, her mother fears that they might have to sell up or have some other means to support not just themselves, but all the villagers in the harbour who rely on the big house for their income.
Rachel has an idea but her mother is not very keen and after visiting the town of St. Ives and seeing it more busier than it was before the war and the artists and visitors flocking there, she is sure they can also do something along the same lines, in turning the house into a guest house for women only, especially with so much popularity in walking and artistic holidays.
Jess's Aunt Sara is also realising that she must move her needlework business to St. Ives to survive and she would take Jess and Morwenna (who does lovely embroidery work) with her, Jess acknowledges that this would be the opportunity that she has been waiting for, to allow her to follow her dream and work in metals and enamel work again.
After meeting up with Miss Diane Catterell at her workshop, Jess realises that she would be able to continue her love of metalwork and she loves being with the other artists and craft workers in the area. Things don't always go to plan, but there is always hope in these dreams that you have yet to meet in life and make all the opportunities come true as Jess was to find out.
Jess and Rachel are drawn together during an unlikely encounter with an American actress, who could bring hope and prosperity to this region of Cornwall, but will it be enough or too late? With Rachel's sister Louisa and her fiancé back on the scene things are starting to look very uncertain as he will do all he can to rock the boat and cause unhappiness to everyone.
This book has all the subjects and locations to make it such a desirable read from post WW1 with its sorrow and despair to the glitz and glamour of the art deco scene and its influence on fashion, along with the gorgeous coastline with its picturesque harbours of Cornwall to the hustle and bustle of London.
A truly lovely read.
Despite all the problems thrown at these young women they don't give up to the somewhat rich and arrogant men who are causing trouble in their lives.
I highly recommend this book it's a great read.
Miriam Smith
"The Girl with the Silver Clasp" is written by author Juliet Greenwood who is known for her sweeping historical dramas, featuring determined young women fighting to make their own futures against the odds.
This was my first book I've read by this author and as a fan of historical fiction, I was excited by the premise and the characters it contained. Set in St. Ives, Cornwall 1916 (with a prologue set in 1902) three women's lives collide. Can they overcome their differences and fight together for the dreams they once held so close?
Harbourmaster daughter Jess Morgan, always hoped to be a silversmith but is forced to return to being a seamstress when the war ends. Rachel Bellamy, returning from the front lines as an ambulance driver, is obligated into saving her family home and the picturesque harbour from her wealthy brother in law. And Giselle Harding, famous Hollywood rags to riches actress, for who even the most beautiful jewels will not replace the man she lost.
I loved how all three women were so determined and knew their own mind. I endeared to them immediately and along with the atmospheric Cornish coast and fishing village this made for a wonderfully fulfilling story that I enjoyed from start to finish.
Although it doesn't focus on WW1 per se, this book does highlight the horrors of returning from war, even if they haven't participated in front line fighting. PTSD, returning to normal life with the guilt of returning at all after witnessing so many horrific deaths and even having to adapt to their old jobs with often life changing injuries, was a strong focus which determined some of the character's personalities.
What I also found interesting was the detailed making of the jewellery mentioned. Jess had such a desire to make beautiful items with pretty enamelling that was becoming all the rage, enough so to make me research the history of enamelling and its jewellery examples. The intricate process and use of each of the metals and various shades of ground glass was a pleasure to read and not something I've come across before.
I'd very much like to see a sequel to this book in the future, to find how each of the women have progressed with their chosen paths in life.
I'll certainly be reading more by Juliet Greenwood again and highly recommend "The Girl with the Silver Clasp" to historical drama fiction readers of any age.
4 healthy stars.
Jan Poole
I have read and enjoyed previous books by Julie Greenwood, and like those and other authors, I always feel a strong pull to be a part of the story.
With this book, I found that I was the story. It draws you in with such strength that it makes you feel you are the character, you are in the story with these people.
The realistic way the story is told, really does make you feel that you are living in the book, the small town with these families. You too, are fighting for the survival and family values, standing alongside them.
The families that pull together from almost opposite end of the social classes, fight and draw strength from their history to succeed in having the outcome they all passionately want for their small towThe rich family, who have struggled with their personal loss of family members during the war, in addition to their fight for heritage and property is a challenging battle and shows the determination of Rachel. She is a young lady who goes against the usual expectations of her due to her strong mind and passion for what she truly believes she is worthy of. This may be driven by the love she has hidden for too long that now she finds it unbelievable that it is reciprocated by Ben.
Then there is the intertwined family of Jess, her father, her Aunt and close family, who want their town to survive the ignorance of a man with money, but no roots or empathy towards their daily struggle of just surviving the harder times. Jess is another determined young lady, from a completely different background, but also holds onto her true beliefs that she is worthy of more than the usual house keeping type job that is normally expected for girls from her background.
All of the passion, strong-willed and powerful people clashing over the future of a small harbour that is home to so many close families and small businesses against the rich family who just see greed.
This book really did not leave my hand for too long, as I did feel that fight was also mine.
Absolutely breath taking scenery, it was detailed so strongly, I was on that hillside looking out at the sea. Description of the views were so easily floating around in my head and felt I personally knew the characters. I fought alongside them, stood up for what they believe in and passionately felt their heartbreak with them.
At one point in the story, I will not spoil it, I did actually cry. So moving and emotional all throughout.
Would definitely recommend this book as I will be looking out for other books written by Julie Greenwood.
Julie Ryan
Set around a picturesque harbour town in Cornwall, this stunning location will be the first to draw you in. Next, the strong female characters especially Jess, will reveal a world where gender dictates which jobs you can and can't do. Whilst Jess longs to work as a silversmith, this is not considered suitable work for a woman and she has to turn her hand to anything to stave off poverty.
At the other end of the scale, Rachel is struggling to fight off her wealthy brother-in-law's plans to take not just her home but to change the harbour forever.
Both worlds collide when they meet rags to riches movie star Giselle Harding. She may just be able to save the village but for Jess and Rachel it will mean putting their differences behind them.
If you're a fan of historical drama then prepare to be transported. The depiction of the location and the way of life across different strata of early twentieth society will keep you reading.
For me, the book highlighted the fact that though women have made progress in the last hundred years, we sadly still have a long way to go.
Janice Rosser
I am a big fan of Juliet Greenwood novels and eagerly awaited the latest historical drama from her.
The prologue is set in 1902 and then we move to 1916 with WW1 in full force.
With the majority of men fighting for their country, the women are left to their own devices and keep everything going as best they can.
The book centres around three strong willed women, Jess, Rachel and Giselle.
Set in the picturesque town of St Ives in Cornwall, we read about Jess, the harbourmaster's daughter who at 17 is a talented blacksmith and is being taught under the watchful eye of Ben. Jess yearns to be a silversmith and design jewellery etc in her own right. The war dictates otherwise though and she has to be a seamstress most of the time. Never one to give up, Jess is determined to succeed. How will this pan out?
Rachel Bellamy is the daughter of the owner of Enys Hall, a large sweeping building high on the cliff tops. The family have suffered loss and heartbreak and may not be able to continue to live here. Rachel goes to France as an ambulance driver and helps there with rescuing casualties and also falls in love with someone who she knows will only bring heartache.
Back from France, Rachel and her mother start to turn Enys Hall into a hotel of sorts and many artists who are in St Ives begin to stay there, ensuring a small income for the family. Jess is employed as a cleaner and she and Rachel strike up a good friendship.
We then meet Giselle Harding, now a successful movie star but who has a dark past connected to Enys Hall. The three women become firm friends and Giselle is determined to help Jess become a successful silversmith.
The research for this book is fascinating, I learnt so much about the art of enamelling, something I never thought would interest me! The scenery is lavishly told, the reader being transported to St Ives and the harbour setting.
How will the three women survive? Will they be successful in their own right? Will they find romantic happiness? You will have to read the book to find out!
Highly recommended. 5 stars.
Sandra Blower
Juliet Greenwood writes a beautiful atmospheric story that hooks you in and has you wanting more.
The Girl with the Silver Clasp is the story of three very different women from completely different backgrounds.
Jess, Rachel and Giselle. Can they get along and fight for what they want?
I have loved reading this book and I am sure others will also love it.
Margaret Joel
This was a really good read. The story is based initially during the First World War & continues beyond.
It explores the lives of 3 women with very different lives & how their lives intertwined through circumstances.
It demonstrates the issues related to men returning from war & the place that women had in society.
These 3 women show that by working together they can succeed as women.
Juliet tells a good story and I can recommend it.
Donna Prosho
A story about three different women following their dreams, regardless of how many will make it difficult along the way.
All three women's lives collide together and make them a stronger team.
Jess, a seamstress by trade but longs to fulfill her dream of becoming a silversmith. Whilst the men were at war, she took over the running of the blacksmiths, and in her free time, she made a unique silver clasp created for a society bride. There's also love for Jess too, but not who you think it's with.
Rachel, daughter of a high class family in Cornwall, chooses to volunteer as an ambulance driver during the war and heads off to France. Where she finds love, but an impossible relationship to continue once home, as the man in question was not in the same class. So she pushes her feelings to the back of her mind and concentrates on helping her mother save the family home from her wealthy brother in laws family.
And lastly, but by no means least, Giselle. An up and coming moving pictures star, fought her way up from poverty to get where she is today. Though she has an ache in her heart that will never go away. The war took her true love away, but he was also another's. So Giselle could not even openly grieve for him.
All three women are connected, one way or another, and once together (after getting past their differences) work very well together to save Rachel's family home and the harbour where Jess works and lives, and also fulfill her dreams.
Another fantastic story from the lovely Juliet. Look forward to the next book.
Sara Gethin
Whenever I open a novel by Juliet Greenwood, I know I'm in for a real treat, and her new book, 'The Girl with the Silver Clasp', lived up to all my expectations. As with the author's previous novels, I found it very hard to put down as I was so invested in the wonderfully relatable characters she creates. I had been very much looking forward to reading her latest book ever since I'd seen the reveal of the gorgeous cover, and was absolutely delighted when Jan invited me to review it for Review Spot UK. Thanks to Jan and to the publisher, Orion, for supplying my copy.
'The Girl with the Silver Clasp' is set in the early 1900s, during and immediately after the First World War, on the beautiful Cornish coast. It's a story of three women, desperately clinging to their dreams and fighting to make them reality, despite the very many obstacles put in their way.
Jess Morgan is an exceptionally talented silversmith. As a child, she helped out at the harbour forge, where she saw a piece of jewellery belonging to Mrs Bellamy of Enys Hall, decorated strikingly with an enamel swallow in flight. It is this first sight of a silver clasp that inspires Jess's creativity and her quest for a life beyond what is expected of her. She dreams of making beautiful enamel jewellery and, when she is older, learns the skills needed from Ben, the son of the blacksmith. But metalwork is not considered a sensible occupation for a woman – even if Jess is invaluable when she takes over the role of shoeing horses while Ben volunteers at a field hospital in France. Her Aunt Sara, who understands all too well the insecurity of a woman in a man's world, steers Jess towards the 'safer' occupation of being a seamstress, although Jess's head is still filled with bold designs for jewellery – and so are her notebooks.
Rachel, the daughter of Mrs Bellamy, is equally frustrated. Having been an ambulance driver near the front line during the war, she is tormented by what she witnessed there. But she is also empowered by the sense of freedom that being an unaccompanied woman in a foreign country has given her. A love affair in France with a man outside her social class brings heartache, while her brother-in-law is intent on lording it over her. He has plans to ruin the idyllic Cornish harbour town, which is fast becoming a magnet for artists.
Then there's the glamorous Giselle Harding, a film star successfully following her own dreams but who's suffered much hardship along the way. She knows only too well that her moment in the limelight will be brief, fading along with her youth.
When the paths of Jess, Rachel and Giselle cross, doors begin to open for the women, but will they finally be able to achieve their long-held dreams and find a secure future?
What I always love about Juliet Greenwood's books is the way her fiction is set in the past yet feels so very contemporary. She deftly creates stories around timeless issues – issues women constantly struggle with – and never fails to strike a cord with the reader. In 'The Girl with the Silver Clasp' the main characters must push ever harder and become even more determined to overcome hurdles, as they try to carve a profession for themselves.
Jess is at the heart of the story, and there's a real depth to her character which I loved. She longs to be creative, having discovered her talent for crafting exquisite Art Deco-style jewellery. But living in a harbour town where opportunities are few, and with the harbour itself at risk of being shut down and the residents in constant fear of the workhouse, Jess needs to be extremely enterprising to accomplish what she believes possible.
This is a story of female solidarity and friendship, and while I thoroughly enjoyed the light touches of romance, I adored the fact that these moments never overwhelmed the women's stories.
Juliet Greenwood is a wonderful writer, crafting beautiful tales just as her heroine, Jess, creates delicate works of art. Her novels are a must for every lover of historical fiction, and I thoroughly recommend 'The Girl with the Silver Clasp.'
Judith Barrow
Having long been a fan of Juliet Greenwood's work, I was looking forward to reading The Girl with the Silver Clasp, and I wasn't disappointed. This is an excellent historical story, set at the beginning of the twentieth century, with all that the era entails:
What I've always admired about this author's writing is her ability to create strong characters, especially strong women characters. Nowhere is it more demonstrated than in this book. Brilliantly rounded, all three main protagonists evolve and grow as the story progresses: Jess Morgan, the ambitious but working-class harbour master's daughter, striving to follow her dreams, Rachel Bellamy, returning from her work on the front line as an ambulance driver, and daughter of the one -time wealthy family, now struggling financially after the war, a girl who has great plans. Finally actress Giselle Harding, who may, or may not, be the solution to their future fulfilment and desires, but who has a secret that she believes, could destroy her.
I always strive not to give away spoilers in my reviews, but I'm finding it difficult with The Girl with the Silver Clasp, if only because I want to extol the wonderful intricacies in the way the spoken and internal dialogue subtly reveals the clever way Juliet Greenwood brings the characters alive on the page. And, at the same time, the way she brilliantly shows the world they live in, with all the constrictions and expectations that is expected of them: the difficulties society presented to women after the First World War, the obstacles confronting individual aspirations in a changed world, class divisions forever altered. Limitations also shared and amply supplied by certain minor characters.
Set between a close-knit community in a fishing village along the Cornish coast and the profligate and ostentatious life of London, the descriptions of both give a wonderful sense of place.
And then there are the themes of jewellery making and enamelling, which add a richness and fascination to the story. It's obvious the author has carried out detailed and in-depth research of this. All of which contrive to add depth to the novel as a whole, showing the demands of the fashions of the time.
An exceptionally well- plotted story, one I really enjoyed. I can thoroughly recommend The Girl with the Silver Clasp to any reader who loves strong historical fiction.
Patricia Humm
This brilliant novel centres around small fishing viiage a few miles from St Ives in Cornwall around the time of WW1.
The three main characters are fom totally different backgrounds who overcome difficulties and become firm friends who ultimately change the destiny of the village.
Jess is the daughter of the harbour master who becomes a talented silversmith, Rachel is the spinster daughter from the Big House and Gisele is an actress born into poverty and is a Rags to Riches girl.
Together they fight against a ruthless character who wants to increase rents and basically make villagers homeless.
They save their homes and turn the harbour village into a beautiful profitable place to live and work.
I highly recommend this truly engrossing book.