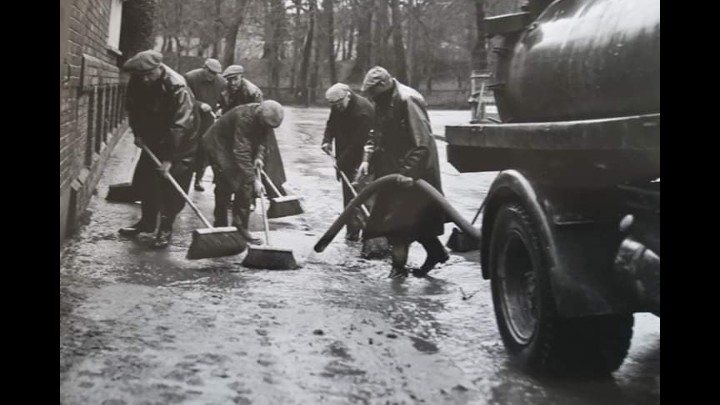 I was 14 yrs old in 1960. Our family were living in Exmouth, Devon & had just moved into a house in Park Road.
New wool carpets had been laid all over the house, when two weeks later, in October, the brook at the top of our road, decided to burst it's banks!! Incessant rain had led to the brook overflowing.
The water was torrential, tumbling down our road, knocking down the back walls in the gardens of all the houses as if they were made of tissue paper. And the water gushed on, flooding a large part of Exmouth.
It was terrifying to say the least, I remember our dear Mum had to be given brandy to calm her down, as we all sheltered upstairs. The new carpets were ruined, and shrunk because they were wool. My record collection was in a record box on the floor of the lounge, and my 78rpm record of Elvis singing Blue Suede shoes, was totally ruined, how much would that have been worth today?!! I remember standing at the front door knee deep in water catching tins of carnation milk, saucepans & household items.
These are the things I remember as a 14yr old that happened in our house.
The brook broke it's banks, not only once, but twice in a week that October. People were transported around in boats. The marines from the Commando Training Centre a few miles away, went around in boats delivering fish & chips to families, us included, who had no electric.
The elderly lady next door had her brother staying at the time. He was taken ill, and the doctor visited in a boat in the dark. Sadly the elderly man died, and had to be taken away in a boat. Very sad when I think back on it.
BUT there was a wonderful side to it all. People helped each other clear up the debris the water left behind. I had great fun with young men hosing down the pavements & showering each other, as if we hadn't seen enough water!! Walls were rebuilt, and things eventually got back to normal, but the water had left a lot of damage behind.
Many thanks to Steve Jelfs in Exmouth for finding this cutting in the archives!
Our town did make the front page of the Daily Mirror in October 1960, such a shame it was for this reason.
The offending brook's banks were reinforced, and there has never been flooding like it again. Whenever I see that there are floods in parts of the country, I think back to 1960, and know what devastation it can cause, especially in people's homes. And it can be terrifying. To see torrents of water gushing through roads is an alarming sight.
Sometimes I can hardly believe that rowing boats sailed around the streets of Exmouth! But believe me they did! ....
Exmouth flood 1960 from East Devon AONB on Vimeo.
Special thanks to Alan Gorham of Exmouth for supplying the photos to go with this article.