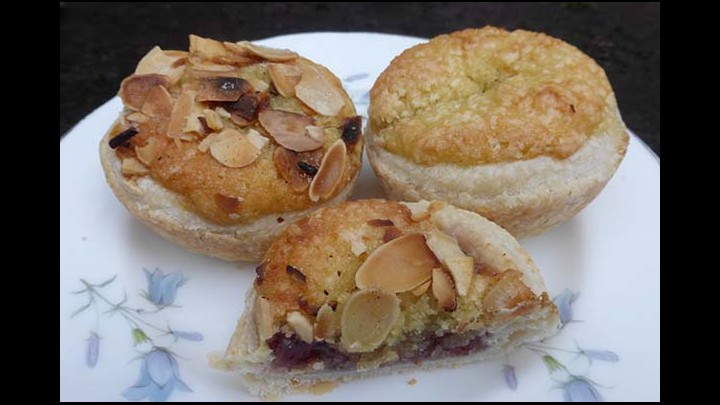 My author friend Juliet Greenwood sent me this recipe from a 1913 cookbook! These are traditional small cakes that are crisp on the outside and gorgeously gooey on the inside.
They are supposed to have first appeared at the court of Henry V111 with Anne Boleyn. Rumour is that the king found them so delicious he confiscated the recipe and kept it secret – and may even had the inventor locked up so she could only make the cakes for him and his court!
Maids of Honour appeared in 'The Great British Bakeoff' and you can find out more about them here: http://www.telegraph.co.uk/foodanddrink/10689953/Maids-of-Honour-the-Great-British-Bake-loved-by-Henry-VIII.html
This recipe is from a 1913 cookbook and is quite simple. Maids of Honour seem to be making a comeback at the moment. Jamie Oliver revived them with some tasty new ideas in his 'Friday Night Feasts' and Delia Smith has a delicious looking recipe http://www.deliaonline.com/recipes/cuisine/european/english/richmond-maids-of-honour.html
They would make a great alternative to mince pies at Christmas – you could even experiment with mincemeat instead of the raspberry jam!
1913 recipe:
Eight teaspoonfuls of sifted sugar
One egg
Two ounces (57g) of ground almonds (and a few flakes to decorate)
Pot of raspberry Jam
A pinch of baking powder.
A block of (bought) puff pastry
The sugar and the egg to be beaten well together, then the almonds stirred in. Put the baking powder last. Have some patty-pans (mince pie or jam tart tins are fine) lined with puff-paste (I used the bought kind – life is too short to make your own puff pastry!). Lay a little raspberry jam at the bottom of each, and cover with a teaspoon of the mixture. (I decorated them with toasted almond flakes, which worked well.)
Bake in a moderate oven. (200c/180 if fan assisted, or Gas Mark 6 for about 20 minutes)
ENJOY!
EDITOR: You can read about Juliet Greenwood on her website here where there are more recipes and details of all her fabulous books. We That Are Left is set in the First World War and can be ordered directly from Amazon by clicking on above link.