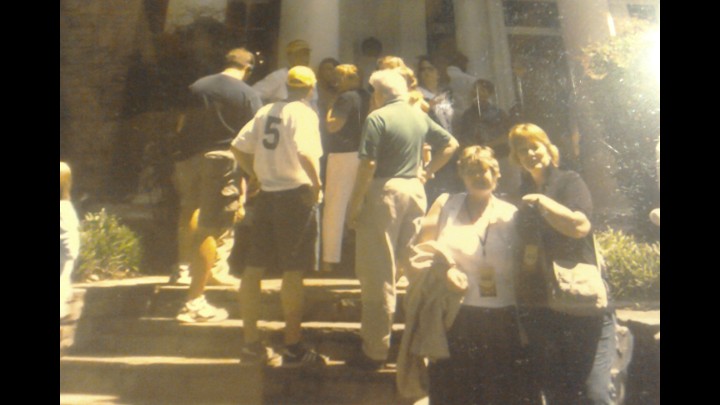 Since the age of 13, in 1959, I have been an ardent fan of the wonderful singer Elvis Presley.
Collecting each 45rpm record which was released, listening to his music on a daily basis & driving my dear Mum mad when I played Are You Lonesome Tonight, over & over again!! But as teenagers, in the 1960s, this was our main source of entertainment, along with listening to the juke box in coffee shops.
As I got older, in my 20s, I had a strong yearn to go and see Elvis. In 1969, when he was performing those wonderful concerts in Las Vegas, I used to sit listening to his music, trying to work out how I could get to America!! Quite silly really! My 2 girls were very young, I was a single parent, and there was no way I could afford it. My dreams of seeing my idol were completely dashed!
The years went on, and one day, out of the blue, I asked my daughter Heidi, if she would like to come to Graceland with me, for my 60th birthday & her 40th. Heidi is also a fan of Elvis & his music, and she readily said yes.
Plans were made, and we eventually were on the plane on our way to Memphis. We had booked 5 nights at the Heartbreak Hotel, and it was the biggest, most exciting adventure of my life.
On arrival, we could hardly believe we were actually there! And the first thing we did was walk down to the wall at Graceland, and peer over the wall at the house. Surreal moment!
Next day we caught the little bus from the complex to the house. My heart was hammering with excitement as we pulled up outside the steps of Graceland. The whole tour of the house was magical, and I felt a certain reverence, walking in the steps of such a huge entertainer as Elvis. We lingered for half-hour at the black leather suit Elvis wore for the 69 Comeback Special! Trying to imagine him in it!
Looking at all Elvis's gold & silver discs in the long corridor was an eye opener. The whole time we spent there was wonderful. As we left the lovely house to walk to Elvis's final resting place, I asked my daughter what was wrong. She replied that she felt very sad! So did I, and I understood completely what she meant. Elvis loved his home, and he was taken from it far too young.
We signed our name on the famous wall. A surreal experience too.
While in Memphis we went on a trip to Tupelo, where Elvis was born. All in all it was the most wonderful few days I have ever spent.
Some people at the Hotel, said they were disappointed Graceland was so small! We weren't! It is a home, a home which Elvis loved & made his own. On Lonely Street there lived a handsome, charismatic man ..... Who sang to the world ..... And I was fortunate enough to visit his home of dreams ..... Never to be forgotten ..... The man, his music & Graceland.