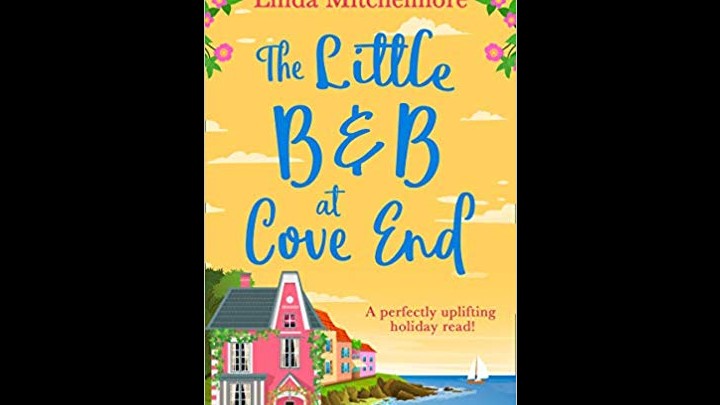 Harper Collins have very kindly sent out Spiral Bound copies of this novel and I am delighted to share readers reviews below.
Beverley Ann Hopper
Set in a little village in Larracombe, Devon, Cara Howard thirty nine year's old is left widowed after her husband Mark dies in a car crash. Her daughter Mae is Fifteen years old, and they both find that Mark spent a lot of money, all on internet gambling. They have only been left the house that it is in Caras name.
She decides to turn it into a business venue. Cove End B&B, money is very tight and Cara has lost a lot of goods in the house due to her husband selling them around the village. Everyone knew your business in Cove End! Larracombe St Ives Art Festival was in a few weeks time so Cara was hoping for plenty of business coming her way. And international artist Tom Gasson-Smith makes a booking.
This is a summer that Cara and Mae will never forget. This is such an enjoyable feel good book and I loved the story. A hard struggle that mother and daughter have held together.
It will definitely capture your heart.
Fiona Morton
I would love to thank the publishers for sending me a spiral bound copy of this book to read and review. Just perfect as it's by an author I really wanted to get a book to read.
It was absolutely brilliant. I loved reading it from beginning to end. I strongly recommend this book if you are thinking of trying Linda Mitchelmore for the first time.
So glad the book had a happy ending.
Sandra Blower
This is the first book I have read by Linda Mitchelmore but most certainly not the last! Cara and her Mae are both coming to terms with the loss of Mark (husband & father).
Cara has to adjust to accepting that Mark was a gambling addict, also that he sold precious items fom their home, items that had belonged to Cara's grandmother and items that belonged to Mae.
As Mae is becoming a young woman and having a boyfriend things happen that test her feelings for Josh, until the day her mother opens their house as a B&B. Mae is rebelling about having strangers trawling through her home. I won't say anymore but I can highly recommend this book.
It is a brilliant up-lifting read.EXCELLENT 5*
Diane Cunningham
This was a lovely feel good summertime read. Set in a village called Larracombe in Devon it makes you want to go on holiday and stay in the lovely friendly B&B that Cara is forced to start after the untimely death of her husband.
Cara has done her best to shield her daughter Mae from the actions of her thoughtless gambling addict Dad. When he dies in a car crash Mae doesn't understand why her Mum seems to be moving on so quickly and not keeping things how they were when her Dad was alive.
Unfortunately Cara has no choice, as anything worth having her husband had pawned or sold to fuel his gambling addiction. It's a bumpy ride for both Cara and Mae as they start to pick up the pieces of their lives and move on. Cara is like a fierce mother lion protecting her cub but she doesn't realise her husband's actions are the talk of the village.
Will Mother and daughter's relationship ever be the same and will Cara's new adventure keep the wolf from the door. A lovely read finding out how they will survive the tragedy in their lives.
Margaret Taylor
Comprehensive storyline spread over quite a short period of time. So much crammed into this book, mainly about the weeks leading up to an exhibition by various artists.
Enjoyed the interaction between Cara a widow, and her daughter Mae.
Typical teenage reaction to parental authority resulting in unwelcome liaisons with local lads and bad decisions by Mae. Notably going boating with boyfriend under unsafe conditions resulting in them getting stranded with an upturned boat and having to be rescued by the lifeboats.
Mothers reaction to hearing her daughter was having to be rescued was very surprising. She decided to have a shower and then go outside wearing nothing but an old raincoat! Of course the romantic part of this story chooses that moment to appear to stay at the B and B, a famous artist.
Good book to read on holiday especially if you like happy endings.
Heather Copping
A feel good story about mother and daughter Cara and Mae, who live in an idyllic Devonshire village.
After the death of Cara's husband Mark in a road accident, then finding out he stole from her to feed his gambling habit, Cara decides to open their house as a B and B, much to Mae's disgust at having strangers in the house.
The first couple who arrive to take a room do the dirty on her, but she doesn't let it put her off. Soon things go from good to bad, or bad to good sometimes, leaving Cara wondering if she has made the right choice in running a B and B.
Mae has to learn to grow up, as she too has to face realities of being a teenager with a lone parent who struggles to do everything for her. After a handsome artist books in for a long stay, Cara is left wondering if she's going to face the future on her own or will this handsome stranger be more than a stranger.
Will Mae overcome her teenage angst and be the daughter Cara has never had and will she too meet up with someone who will love her for what she is?
This book will appeal to fans of Cathy Bramley and Jenny Colgan, a great summertime or indeed any time of the year read, especially when you need that feel good factor, full of laughs, sadness and plenty of hope for the future.
Hannah Booth
This is the first time I have read a book by this author and I really enjoyed it once I started reading it, I didn't want to stop. I will be getting more books by this author.
The story is set in a village called Larracombe a lady called Cara Howard unfortunately has lost her husband in a car accident and also has found out that her husband had a gambling problem so there's no money left for her and their daughter who is called Mae. So, Cara decides to turn her house into a B&B which Mae is not so keen on having strangers in her home.
The B&B has their first booking but it doesn't have a good start but that doesn't stop Cara she's trying her best to run a B&B and also trying to do everything as a single parent. Cara feels like her life is like a rollercoaster and now running a B&B she's wondering if she's done the right thing on opening it.
My star rating for this book is 10 stars.
Janice Rosser
Linda Mitchelmore is a favourite author of mine, so I looked forward to reading her latest novel. Set in Larricombe in Devon, this is about Cara, a widow at 39 years of age who has a teenage daughter, Mae. Realising that Mark, (cara's husband) has left her virtually nothing except the house, Cara has to rebuild her life again from scratch. Mark had a gambling addiction and almost all possessions were sold or pawned.
Mae is going out with a man a few years older than her and we read about the ups and downs and angst of teenage love. Will the relationship work out?
Cara decides to open up her house as a B and B much to Mae's disgust who doesn't want strangers trampling all over the house. After a bumpy start, things slowly improve with more guests arriving as time goes on.
I won't spoil it for readers as to what happens next, but I can say that it is a real page turner and with the dark autumnal nights now with us, why not lose yourself in this delightful novel?
Pamela Coles
I have never read any books by Linda Mitchelmore, so was eager to find out about The Little B&B! A most enjoyable book. It seemed a slow start to me, but it kept the interest in the story.
A story of a woman on her own with her daughter trying to make their way in life after a series of mishaps and a tragedy.
Very well written and I can recommend wholeheartedly.
Julie Winstone
This is a book which gave me a lot of surprises, when I read the first chapter, I was oh this is going to be one of those nice happy ending sort of stories. How wrong was I? Yes it does have a happy ending, but the way it is written, keeps you guessing.
I enjoyed the fact the at there are a couple of storylines, running through the book. I loved the storyline of Mae, the daughter dealing with the death of her father, whilst also dealing with the teenage angst of life, funny in places, but heart-breaking in others.
The Mother Cara, dealing with the same issues but from an adult's perspective, which sometimes mimic the teenage angst, also how to deal with a new relationship when you have lost a partner and are frightened of committing again, especially as she has a teenage daughter.
There are a lot of great things in this book, some that made me laugh, some that made me sad, but I think that you should all read this and find out for yourselves.
This book surprised me in a very good way and I will definitely be looking for more books by Linda Mitchelmore!
You can read Linda's article here aboout how she came to write this super novel.