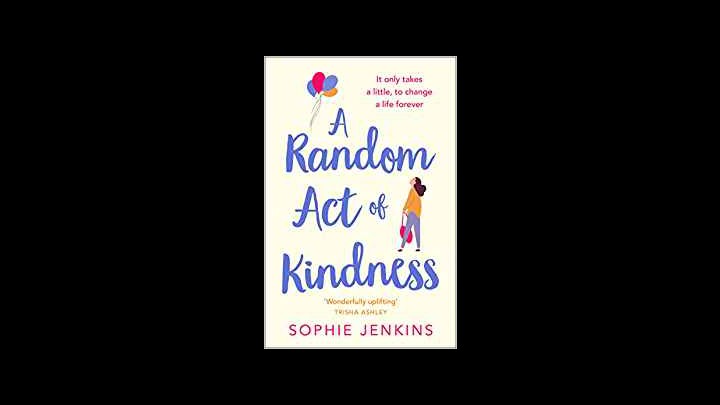 Sabah Khan from Avon Books has donated copies of A Random Act of Kindness and I am delighted to feature readers reviews of Sophie Jenkins latest novel.
Donna Prosho
The story begins with a random act of kindness.....between Fern, a young vintage clothing stall holder, and Dinah, an 89 year old chic dressed lady! Who knew that this one act of kindness, could lead to romance, a business deal and a friendship.
It also switches from Fern to Kim, an elderly man that has just lost his wife, and knows Fern through her vintage clothing , Kim first met Fern when she was a personal clothing assistant, and little did she know then, that Kim was hiding a secret, from his wife, and really himself, and with the help from his wife's friends, and Fern and Dinah, he accepts who he really is!
Along the way there's friendships that almost crumble but survives the biggest things possible!
A fabulous read, and so much more that i could write about the story, but I really don't want to spoil anyone's pleasure in reading the book themselves!!
Jane Tanglis
I Loved this book was really quirky. Fern portraits kind acts of random to others.
It also made me get tissues out especially with what happened to some of the characters in the book.
Especially Dinah .
This book really lifts you in what happens in a random act of kindness.
Highly recommend this book.
Beverley Ann Hopper
This book title suits the story, a truly feel good book that this author has captured been kind to others. Fern the main character along with friends and family is put to a lot of challengers along the way. I loved the vintage clothes business.
Dinah can teach Fern the act of kindness of friendship.
This is a heart warming story and so glad I got the chance to read it.
Janice Rosser
This is the second book I have read by Sophie Jenkins and is a very uplifting enjoyable read.
Fern is a young woman who has been sacked from her job in a department store. She is now trying to make a go of setting up a vintage clothes business in Camden Market. The stall next to her is taken up by a man called David who sells light boxes. He and Fern become firm friends, but will there be any romance between the two?
Living in a flat owned by her parents and often told by her ex model mother that she is a failure, Fern is determined to prove her wrong.
After breaking up with her steady boyfriend, Fern is deeply unhappy but with the help of her upstairs flatmate, she picks herself up and and starts to show her mother and ex boyfriend that she is not a disaster.
The reader is then taken on a journey of how a random act of kindness on Fern's part start to pave the way to a better future - or does it?
Dinah is an 89 year old lady who Fern has met briefly once before. When Dinah loses some money and Fern returns it to her, an unusual friendship forms. Dinah is married to Moss, who was a tailor to some of the biggest names in fashion including Chanel and Norman Hartnell. Dinah herself wears many designer outfits and Fern is enchanted when she sees many of these dresses in Dinah's wardrobes at her house.
What follows is an adventure in which each episode is headlined with a sentence about fashion design from years ago. We meet Kim, a retired cross dresser who has recently lost his wife. His involvement becomes a main part of the book.
An easy flowing book detailing how the world can indeed be a better place when random acts of kindness take place.
Julie Winstone
What a great character Fern is, a bit kooky but with a great heart, her passion for vintage clothing comes through, even though she was up against it. The book portrays Fern as a woman with strength, character and compassion, making it a fab read, the inclusion of characters of different ages, made it all the more interesting for any age of reader.
When I finished this book, it left me with a feel-good factor, there are people out there that do care. I know it is story, but the way it has been written, does make it believable.
This is the first book I have read of Sophie Jenkins, but I will certainly be on the lookout for more.
Heather Copping
A great feel good story which all stems from one moment of kindness, resulting in handing some money back to an elderly lady on a bus, a random act of kindness, this is a story just right for summer holidays.
A lovely story which will leave you all warm and fuzzy inside.
I really enjoyed reading it and gave it 5☆.
As the novelist Trisha Ashley says on the front cover - 'Wonderfully uplifting', a perfect description!