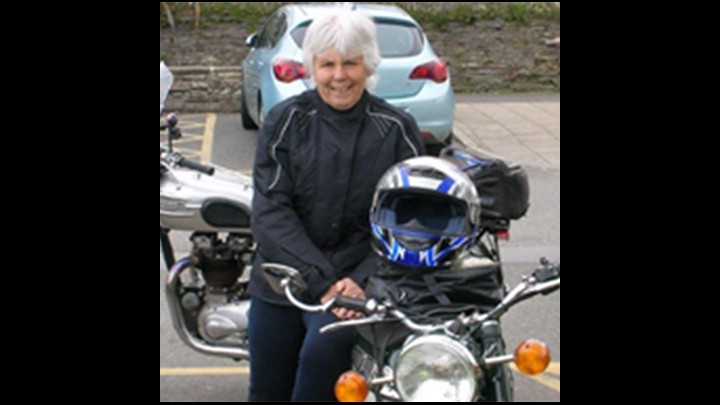 Linda Mitchelmore has updated this article she wrote for me a while ago and sent me the revised text below. I hope you enjoy reading!
I was eleven years old when I moved into the same, small cul-de-sac where Roger was already living. My first memory of him having a motorcycle was when I was fifteen and he – two years older - had just passed his motorcycle test. He had a BSA Bantam .... like the telegram boys of old used to ride although his was green and they were always red. We lived in Paignton both went to grammar schools in Totnes.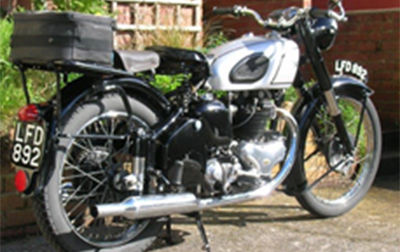 My husband's Model 7 Norton
I went by bus but Roger rode his Bantam to and from school when he was in the sixth form. It seemed very glamorous and slightly racy to know someone with a motorcycle and he played up to that by overtaking the girls' school bus at what looked like break-neck speed, but certainly wasn't. Less glamorous and racy was the beige duffel coat he always wore riding that Bantam. He still has that Bantam – one of the six motorcycles he now owns – although the duffel coat has long been assigned to the rag bag, thank goodness. Our granddaughter, Emily, loves to sit on the Bantam as he drives her up and down the drive and she is counting off the days until she can ride it for herself.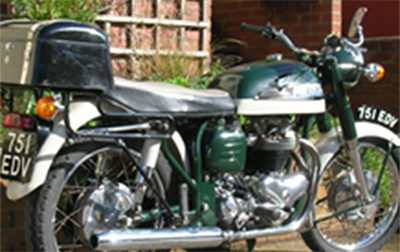 Our Norton Dominator-the most comfortable ride for my old bones
When Roger got a bigger motorcycle – a Francis Barnett which he no longer has – I was working in a bank in Torquay and sometimes he would pass me walking home, stop, and offer me a lift - no crash helmets in those days! Eventually we started going out together by which time Roger had a Morris Minor. When we decided to get married he sold the Morris Minor to put a deposit on a house and bought a Norton – for the princely sum of £67 – instead.
I knew it was true love when he bought me a crash helmet for my eighteenth birthday! He still has that Norton and we've been to the Isle of Man on it for the TT races and also toured Brittany a couple of times. Pre children we often used to ride up to Gloucestershire to spend the weekend with his cousins. It was only when our children were teenagers that I was able to ride pillion again. These days my pillion-riding is restricted to charity bike nights on Paignton sea front during the summer months run by a group called bMad. There's a charge of £1 per person to park up on the sea front and it's not unusual, on a really warm, balmy, summer evening, to be able to count well over a thousand motorcycles of all capacities and ages.
And talking of ages .... these days I am probably the oldest, female pillion passenger of the lot!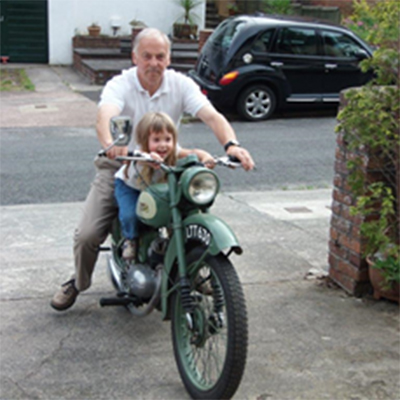 Our granddaughter, Emily revving up on BSA Bantam!
Every Tuesday morning – summer and winter – Roger still takes out his motorcycles in turn, meeting up with like-minded friends .... it's a men only thing! He still does his own motorcycle maintenance and I still, from time to time, come home to find he's got one bit of engine in the oven, and another in the fridge, so that when they are both at the right temperature the fit is better.... hey ho. As my dear old mum would have said ... a man with a hobby is far preferable to one without!
EDITOR: You can read a review by Margaret James of Linda's book on the website here.