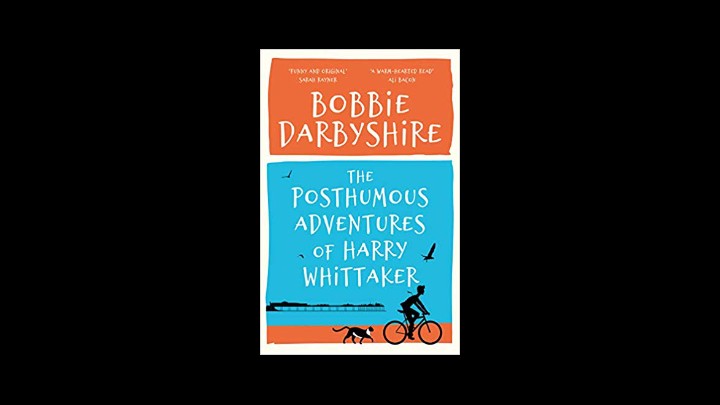 Sandstone Press have kindly donated five copies of this book and readers reviews are now ready to share with you all.
Set against the backdrop of Brighton's sparkling sea, The Posthumous Adventures of Harry Whittaker is a great choice for holiday reading, an entertaining page-turner with depth.
Harry is a world-famous, superstar actor – think Laurence Olivier crossed with Jack Nicholson. He's adored by his public, but in personal life he's selfish and vain, loving no one but his delightful cat Henry V.
When he dies on page 1, he finds himself still in this world, stuck in a bizarre afterlife, watching things unfold in the sunny land of the living. The colourful cast is headed by Harry's son Richard – the chap cycling along on the cover – who is trying to escape a failing café, a dotty mother and the wrong girlfriend.
Bobbie Darbyshire explains how the idea for the book came to her.
"The story I was toying with explored the effect of an arrogant father's mean-spirited will on his family. That wasn't enough, though – it needed a more distinctive twist. I sighed to a friend – 'The problem is the most interesting character is dead.' As the words left my mouth – ping! – the light came on in my head. The dead father would still be around! Not only would he watch how his will was received, he would also have problems in the afterlife that would bring him down a peg, teach him some lessons."
Bobbie's three previous novels are Truth Games and OZ (both from Cinnamon Press) and Love, Revenge & Buttered Scones (Sandstone Press). Bobbie won the 2008 fiction prize at the National Academy of Writing and the New Delta Review Creative Nonfiction Prize 2010. She has worked as a barmaid, mushroom picker, film extra, maths coach, cabinet minister's private secretary, care assistant, adult literacy teacher, and in social research and policy. Bobbie hosts a writers' group and lives in London.
Sandstone Press pride themselves on the titles they select. Their books have won or been listed for many literary prizes, twice making the Booker long list, and they are delighted to have won this year's International Booker prize with Celestial Bodies by Jokha Alharti. Bobbie's 2010 novel Love, Revenge & Buttered Scones was their first fiction title, and The Posthumous Adventures of Harry Whittaker came out in March.
Book links:
https://www.waterstones.com/book/the-posthumous-adventures-of-harry-whittaker/bobbie-darbyshire/9781912240500
Author links:
https://www.facebook.com/bobbie.darbyshire
https://www.amazon.co.uk/Bobbie-Darbyshire/e/B0034PCYZ2/ref=dp_byline_cont_ebooks_1
https://www.goodreads.com/author/show/3506220.Bobbie_Darbyshire
Anne Allen
When Harry Whittaker, much loved star of stage and screen, dies suddenly of a heart attack, he finds himself still in this world. Trapped in a bizarre afterlife, he struggles to free himself.
Meanwhile, his estranged son Richard is also trying to escape - from his failing café, his dotty mother and the wrong girlfriend.
Perhaps what they all need is a guardian angel.
I was in need of a laugh when I picked up this book and I wasn't disappointed. I loved the premise (I'm a secret believer in angels, but don't tell anyone!) of a wondering soul who loves no-one and is unloved by those who really knew him in life. Harry was used to being adored by the fans and the women who fell for his charm, but he comes across as a selfish, egotistical man who deserves all he gets.
However, other characters were much more likeable, particularly his son Richard who has to deal with a rather batty mother, Deborah, and a clinging girlfriend Claire. The story, from various character viewpoints, zipped along and made me laugh out loud at times. The dialogue was natural and smooth and I could imagine all the people and places with ease.
In the end I was even rooting for Harry, wanting him to find an eternal home, as the author deftly tidied up the loose ends to create an ending full of hope. I look forward to reading more by Ms Darbyshire. 5*
Margaret James
As his solicitor observes of the recently-deceased Shakespearean actor Harry Whittaker: he wasn't a pleasant man. But now Harry is no longer in the land of the living, will the ghost of this vain, arrogant, selfish megastar discover his humanity at last, and will he finally learn to love anyone who's not Harry himself?
As Harry finds himself reborn, so to speak, in the spirit world, he gets the chance to assess his earthly life and maybe make amends for some of the mistakes he's made. But will he take this chance?
I enjoyed this story very much. It's an easy read which asks some interesting questions. Does absolute success, like power, corrupt absolutely? It seems that in Harry's case the answer might be yes. He apparently fathered several children, but he abandoned both the mothers and their offspring, paying them off with not-especially-generous monthly maintenance cheques, having no contact, and leaving the children comparatively derisory legacies in his will.
Richard, one of these children, wants nothing to do with his dead father. But Richard's mother Deborah has always carried a torch for Harry, dragging out a pitiful existence in the great man's shadow, and she sees his funeral as a chance to regain her rightful place in his life – or rather his afterlife. So the determined mother and her reluctant son go to the funeral of the UK's most celebrated actor. Richard's unwanted girlfriend Claire tags along too, shrieking with excitement at the sight of all those famous people.
The characters are all very believable and I could hear their voices in my head. The writing is fluent and accessible, charming me as I read. I found that the format of telling the individual stories of each of the central characters from their points of view always encouraged me to read on, anxious to find out what would happen next.
I appreciate that in fiction flawed characters are often more interesting than perfect ones, and I enjoyed meeting everyone in this story, both flawed and not-so-flawed: half-crazy Deborah, selfish Harry, loyal Simon, and kind-hearted and loving Lily, with whom Richard falls in love and who will hopefully encourage him to become a better person, or less like his father, anyway.
My favourite character was probably Henry V, Harry's adventurous cat, who took the ghostly Harry on some great night-time prowls. When Henry V met his nemesis in the form of the fox, I was willing him to survive! But I won't tell you if he did. You'll need to read this engaging novel in order to find out.
Debbie Taylor
This is a wonderful book, very easy to read and extremely funny. I found the characters highly appealing and often couldn't wait to find out what happened next. The story flowed well, I was always keen to hear what was happening in the lives of each of the characters.
It was fascinating to see how it all came together. I find the idea behind the story intriguing, everyone needs a Harry Whittaker in their lives he is the ultimate grumpy old man. A definite page turner, well done Bobbie Darbyshire.
A definite five star review.
Janice Rosser
This is the first book I have read by Bobby Darbyshire and is an unusual quirky delight! It has an easy flowing dialogue throughout which keeps the reader entertained and the book is a real page turner.
Shakespearean actor Sir Harry Whittaker, world renowned and revered, dies suddenly on stage whilst filming King Lear.
So begins the posthumous life of Harry with many adventures along the way. We learn that he was much despised and a rather awful person. Family members, friends and work colleagues attend his funeral and then find out what, if anything they have been left in Harry's will.
Harry is being carried along by a guardian angel Scotty who explains to him how the after life works. Each chapter is dedicated to the individual characters and their life stories and ambitions are related with Harry listening in and hopefully learning from his past mistakes. There is also Henry V, Harry's beloved cat going on adventures with him.
How will all this pan out? Does Harry become a reformed character? Do his friends and family forgive him? You will have to read to the end to find out!!
Julie Winstone
I found this book to be hilarious, it actually made me laugh out loud at certain points. The Story is told in such a way that you start to think is this what really happens when we pass away? I am actually hoping that there is some truth in this, as I could be very naughty and get up to all sorts!
The book follows the antics that Harry Whittaker a well known actor gets up to in trying to figure out how he moves on from the place he finds himself in after his death, with the help of his angel Scotty. It creatively brings in various members of his family and their friends, and all the angst that comes with bequests being left or not being left in a will.
Each Chapter brings in a new character, which you gradually get to know about how they live their lives, and the impact if any Harry had on them. Although Harry seems to be all about Harry, you can't help but like him and his adorable cat Henry V as he tries to navigate this strange existence.
I really hope there is another book in the Harry Whittaker – Adventures of, as I would love to know what he gets up to next, I can't really see him staying in the theatre for the rest of his non-life.
I hope the above positive reviews may lead you to buy this book!