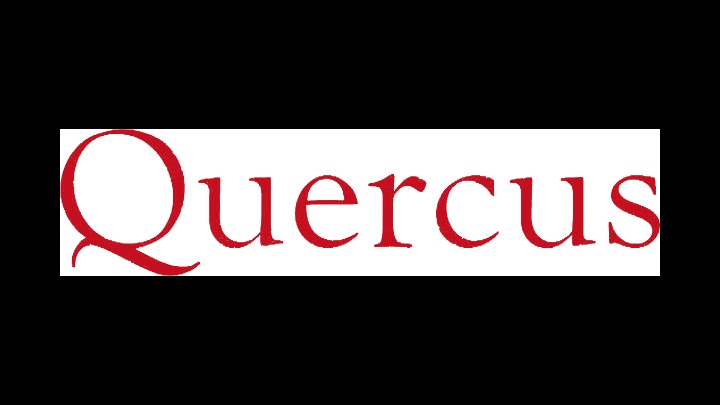 I am delighted to be publishing the first article of readers reviews of Quercus Books.
Jane Tanglis
Before We were yours by Lisa Wingate
I could not put this book down from the first page till the end. It was based on true history about 12 year old Rill Foss and her siblings and what happened to them .
This author shows how a system can be corrupt and greedy when they are supposedly are to help protect the children. Everyone has a past which eventually as they say catches up with you.
I highly recommend readers read this book.
Tracy Robinson
This novel is about children who were removed from their parents either through kidnapping or trickery and is based on true life events in the USA in the 1930s. T
he book is written from two points of view Avery is a young career woman who is helping her politician father with his election campaign and Rill is a 12year old girl. What is unusual though is that the story switches not only between the two main characters but also between two time periods - the present day and 1930s.
These two story lines are woven together with great skill and the reader is soon drawn into the journey of Avery and rill. In many ways this is a shocking and brutal tale but Lisa Wingate tells it with compassion and tenderness. What might have been a very dark and disturbing read is relived by the poignancy of the background love story and the uplifting ending.
This is the kind of novel that says with you after you have finished it and makes you want to find out more about the real life scandal that inspired it its definitely one to be recommended.
Donna Prosho
This story is fictional, but there is an awful lot of truth in the words that Lisa Wingate has written!
The story is based on a true life scandal about the Tennessee Children's Home Society, and how children were taken (sometimes, literally snatched whilst walking to school or off the porch) and put into homes, beaten, starved and sometimes abused, to then being illegally sold and adopted to powerful people. Of how these children were given different names so that their birth parents or siblings could never track them down again!
This story, although based on the life of some of those children has a happy ending, it tells of four sisters and a brother, being taken from their home, to go to one of those children's homes, starved, beaten and then separated! Two of the sisters stayed together and over the years were found by their other sisters, with the help of another adopted child!
It tells of love between siblings and also finding true love!
This book is a powerful read, and has made me want to look into the real life history of baby farms, orphanages, and the changes into adoption practices.
Elizabeth Ducie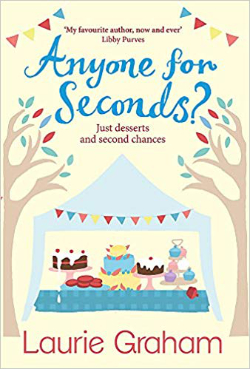 Anyone For Seconds? By Laurie Graham
Lizzie Partridge, former TV cook, is having a bad time. Her live-in lover has left her for another woman; her daughter resists all her attempts to play the role of typical grandmother; and her own mother disapproves of her life choices, continually compares her to her brother - and finds her wanting. How can life get any worse? Well, she loses her restaurant review column; and she may have a mouse in her kitchen. All in all, it's a life worth running away from; so she does. But life has a habit of catching up. And suddenly, a number of interesting opportunities appear on the horizon.
I was initially a tad disappointed by this story. There was far less cooking than I expected. In fact we were on page 170 before Lizzie did anything remotely chef-like. (Although I did love the title of the cookery book she pitched to Izzard Sykes.) But that was more than compensated for by the setting of the story in the Midlands, rather than the more usual south-east. As a Brummie myself, it was wonderful to read about the traffic in Paradise Circus (been there, done that); and the regenerated inner-city place where 'you only went…if you needed to catch a long-distance coach (very definitely been there). Plus continual references to Cannon Hill Park, Edgbaston, and Rackhams; it all made me feel right at home.
But the greatest delight for me was the age of the main characters. Lizzie is in her mid-sixties; her erstwhile lover, Tom, is in his seventies. There is a wide range of age groups represented from toddler Noah, a budding genius who colludes with his grandma to break to 'no chocolate' rule to Lizzie's mother Muriel, who is in her nineties and reveling in watching all her friends heading off to the cemetery before her. But the main characters have all reached a level of maturity, at least in terms of age, if not in terms of behaviour, and that is so refreshing.
This is the first book I have read by Laurie Graham, but it certainly won't be my last. A funny, easy read; perfect for relaxing in the garden or on the beach. Highly recommended.
Margaret Joel
This is an excellent read. Laurie Graham seems to have a quirky sense of humour which is reflected in her writing.
Lizzie is a 64 year old who used to work in television, a cookery slot. She has been sacked as a restaurant critic and left by her man. She decides to up sticks and disappear, hoping someone will miss her, they don't.
However she does meet a new man with whom she strikes up a casual relationship. He is not the man she thought he was. Lizzie has many ups and downs before getting to what might be a happy ever after.
I haven't read any of her work before but will look for her in the future. I really enjoyed this and would recommend.
Janice Rosser
I am new to Laurie Graham books, so was eagerly looking forward to reading Anyone For Seconds. This is the follow up to Perfect Meringues which I haven't yet read. Lizzie Partridge was a TV chef on a morning TV show, when she was replaced by someone who was sleeping with the producer. Lizzie feels her relationship with Tom is going nowhere, her daughter is busy with her own family and her brother is her mothers choice of carer. Lizzie has never felt more alone. Sixty-four years old, overweight, jobless and surplus to everyone's requirements. What could she do to improve her life?
Lizzie decides the easiest thing to do is run away and she gets on a train to Aberystwyth where she spends the week in a hotel talking to a very odd sounding group of people who called themselves 'Furries' at a convention and forms a friendship with one of them.
Why aren't Lizzie's friends missing her? Doesn't anyone care that she has run away?
What follows is fun and frolics, ups and downs, tears and laughter and much more. Laurie Graham is an author who writes fluently and there are laugh out loud segments. Perfect for a beach read, a long flight, or curled up on a Sunday afternoon. I look forward to more of Laurie's work. 5 stars.
You can also read an in depth review of this book on the website from Margaret James here.
Janice Rosser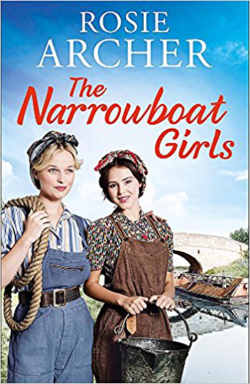 The Narrowboat Girls by Rosie Archer
If you enjoy Second World War sagas, then this book by Rosie Archer won't disappoint! Four women all their reasons for becoming Narrowboat girls.
Elsie's husband has just left her, and her friend Izzy needs to escape from her abusive boyfriend. Elsie hears about jobs going on a narrrowboat, so they both apply. Tolly works in a café, but wants to get out, so applies for a narrowboat job.
All three women are successful and like their boss Dorothy who is kind and looks after the girls. Dorothy has some secrets, but what are they? All four women work really hard, and a great friendship is forged between them. Trusting each other with various secrets, romances, scandal and more, the reader learns about how narrowboats work, the settings of the canals are vividly described and I have learnt so much that next time I walk along a canal bank, I may well share some of the details from this book with the narrowboat owners! 5 stars.
Janice Rosser
Winter Without You by Beth Good
I have not read any books by Beth Good before so read this when we had snow a few weeks ago as it seemed the apt time to do so! This is a lovely story set in Cornwall in the winter.
Hannah has recently been bereaved and has the chance to start a new life in Cornwall after inheriting a house. She is pregnant and needs to try and get on with living without Santos. Kernow House has a long history and Hannah needs to find out how much of this history is correct.
On to the scene comes Raphael Tregar, a sheep farmer who is well known as the village flirt and claims to have a right to Kernow House. Hannah must stay away from him at all costs until she can prove he doesn't.
We are introduced to Bailey (Hannah's solicitor) and her friend Penny who live together in the same village as Hannah. When their house gets flooded. Hannah lets them live at Kernow House until their own house can be sorted. Events from the past come to light and the three of them try to unravel what has happened. We also meet Lizzie who lives in a van in one of Raphael's fields. Lizzie becomes homeless after her van catches fire and also finds refuge at Kernow House.
What follows are events that bring Hannah and Raphael together. I won't spoil it for you, but will say that this is a real page turner and we don't find out until the very end if there is happiness for them or a parting of the ways.
I hope Beth will write a sequel as I would love to know how life pans out for Hannah, Raphael, Bailey, Penny and Lizzie!
Janice Rosser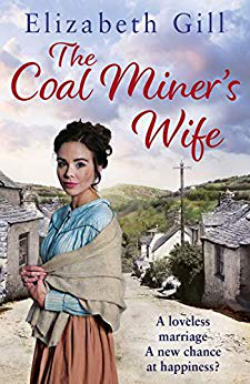 The Coalminer's Wife by Elizabeth Gill
I have read many of Elizabeth Gill's books and enjoyed every one. I was delighted to meet her in person at the RNA Conference in 2018. The Coal Miner's Wife is part of the Deerness Trilogy. It is also fine to read as a stand alone story.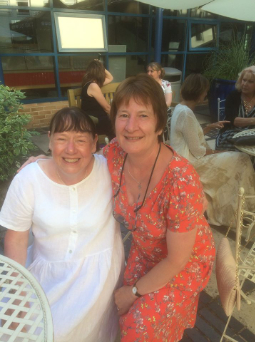 Elizabeth and me at Horsforth RNA Conference July 2018
Set in 1901 in County Durham, Vinia has married pit owner Joe so that she could have a privileged life and be seen as a wealthy wife who had everything. But Vinia does not love Joe. This is a marriage of practicality and although Joe is madly in love with Vinia, her heart belongs to another man.
Dryden is the son of a gypsy who works for Joe and has married Esther, one of Vinia's best friends. Although he is a good husband, Dryden has held a torch for Vinia since he was in his teens. They have a son called Tommy who they both adore. However Esther is dying from cancer and on her death bed tells Vinia that once she has gone, she can have Dryden.
What will Vinia do? Will she leave Joe for Dryden? Does Dryden want her to? Can the three of them remain on good terms once Joe finds out?
The research and historical facts are very well documented as always by Elizabeth and I highly recommend this novel.
Beverley Ann Hopper
This is the first book in the Deerness series. The book is set in Durham the year 1901. Vinia and Joe Forster live in Stanley House and Joe offers friend Dryden Cameron a job as pit manager after he becomes widowed bring up his son Tommy, who later at eighteen years old is killed in France during the war.
Joe is concerned for Dryden, he would be better getting married and having more bairns, but the love Dryden and Vinia share couldn't make things any easier.
This is a fascinating read full of love as you read, the heart and soul is showing through from the author as you read. So many mixed emotions are coming from the characters.
I loved reading every bit!
Heather Copping
1901 in County Durham and a young woman called Vinia is torn between her husband Joe, who is the owner of the pit and Dryden, a man with issues, having just lost his wife to cancer and then his son in the trenches in WW1.
Dryden seems to have lost the will to live and very soon another person arrives on the scene, Roberta (Bobbie) who is the daughter of the owner of a factory, which makes uniforms, and a couple of mills. Her brother Charles is "missing/believed killed".
This is an interesting mix of people, all connected yet somehow not. Who will love whom? In the midst of war passions and romance run strong, especially in the tight knit mining village community. Who will return from the war?
Is Charles alive?
This is the first book that I have read by Elizabeth Gill but I will certainly be looking out for more by her. This is a book full of historical romance and it's just right for those times when you need a piece of romance in your life.
Go to Part 2 of Quality Quercus books!