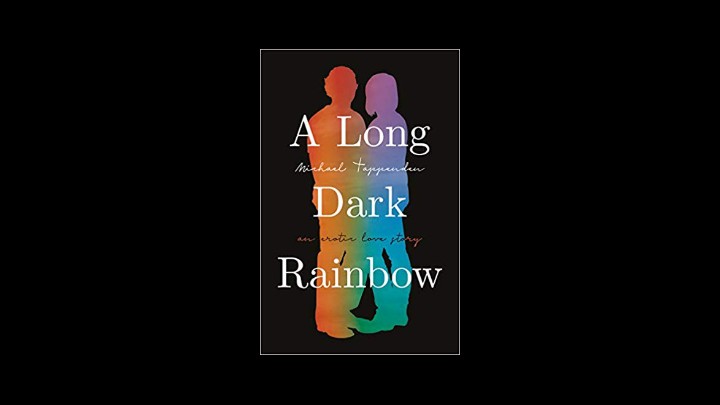 Philippa Iliffe of The Book Guild Ltd very kindly sent out copies of The Long Dark Rainbow to reviewers. Author Michael Tappenden starts off with a synopsis.
Alexander James, now retired, pursued a successful career as an art historian, somewhat eccentric academic and if he is honest, unfulfilled artist.
He lives in a dowdy and chaotic flat, and is single. His choice. Alone that is, except for the world of art, which at times can replace the real one. He prefers to forget his past and its awful loss but on dark nights, it can return to haunt him.
He meets Samantha Reagan by chance at the charity shop where she volunteers. She is sophisticated, divorced and when she admits it – lonely. They had met briefly and memorably before, but even now, forty years on, there is definitely still a spark or two.
But do they really want another relationship, now that they are both in their early seventies, have their own hard-won independence and after all that life has already thrown at them? And of course there is also the spectre of sex; of Samantha's imagined descent from flawless beauty to flawed older woman and for Alex, the issue of masculinity and performance. And, if they can overcome all of that, what do they do with the dark secrets still churning inside both of them and any shocks that might just be hiding around the next corner?
Michael says: This book certainly acknowledges the impact of one's past, whether personally contrived or enforced upon you by an Establishment. It also celebrates the human ability to overcome darkness and despair and to recognise and seize the opportunity to reassess both the present and the future as you wish to see it. It also acknowledges that the most powerful sensual urges are not over but have simply taken another pathway.
Jane Tanglis
This Book started of a bit slow at first, but I thought would I get into it.
It is about a man called Alexander James who is a retired art historian now in his 70's and wants to feel alive again.
Whilst out taking a bag full of things to donate to the Charity Shop, he meets Samantha Reagan by chance in the shop they had met briefly before 45 years ago.
Can that old spark reunite like it did once all those years ago? Can they enjoy a sex life now they are older and ignore the flaws of their past?
I don't want to give to much away as don't like spoilers. but after getting into this book I thoroughly enjoyed it .
Would give it 4 stars. Well done Michael!
Veronica Hughes
Alexander James, an unmarried septuagenarian and retired Art teacher, feeling depressed visits his usual Charity Shop, where he recognises someone he used to know when a teenager. Samantha, also a septuagenarian is now a wealthy divorcee and volunteers part-time in the shop. She recognises Alex as someone she once had a fling with before she married someone else, and they rekindle their acquaintance.
The next few chapters are spent describing in detail their various sexual exploits.
For most of his life Alex has been carrying a heavy burden. During his wild college years, when drink and sex was in full supply, he fell madly in love with Rachel who gave birth prematurely to twins while he was away. Because they were not married Rachel was forced to give the babies up for adoption, and on Alex's return Rachel's friend Stephanie tells him that Rachel wants nothing more to do with him.
Alex never forgave himself for the sad episode. But at the time he'd not been aware that Rachel and Stephanie were lesbians in love with each other.
Then Stephanie finds herself pregnant and Alex does not know whether her child is his after he'd hurriedly impregnated her after a drunken night out. Alex and Samantha have more graphically written sexual experiences.
After viewing Alex's art work, Samantha organises an art exhibition which is a great success. However, this brings Alex's name into the limelight with consequences, when a young girls knocks on the door and announces that she is Georgia, one of Alex's lost twins. But Samantha is suspicious. Nevertheless, Alex wants to believe it is true, and agrees to meet her and they arrange a further date - but she phones cancelling this arrangement.
Then Edmund, a 'gay' friend from Alex's past, comes into the picture. Although seriously ill, he informs Alex that Stephanie has died. Alex and Samantha go to Stephanie's funeral where they see Georgia and learn that she is Stephanie and Edmunds's child and not Rachel's child as she professes. The dying Edmund, hoping to make amends, tells Alex that he was not to be blamed for what happened.
Michael writes excellent prose, but his subject was not to my liking. Perhaps others will think differently.
Jan Poole
When I read the blurb of this book, I must admit I was unsure that this was my sort of book; it really did not tempt me.
Once started, I was intrigued by the story and could not predict the ending at all, with the clever twists to the story alongside the main story.
The developing friendship between two people, Alex and Samantha (Sam), who become reacquainted later on in life, is a lovely setting to the story, and I did feel that it would have been good enough without the details of their sexual adventures along the way. It was quite funny in places when their adventurous physical relationship did not go to plan.
Maybe that's my wierd sense of humour? Reading about the older generation, is not usually covered or discussed in books that I have read before, so could be the reason that I found it strange.
The history behind both of the main characters was realistical, and the twist of long lost family members, is a believable experience to some people. The different generation of characters was fitting to how they would have behaved, especially around the gay scene from years past and how the stigma was so normal to them then, yet nowadays how much society has changed and acceptance to people's choices being a relief. It must have been so difficult a time to those who just wanted to be themselves.
Overall, I would not have chosen to read this book and not just because of it being classed as an erotic book, but mainly because reading about older people's sexual experiences is not the type of book that would draw me in.
Most books are about an experience I have done or know of personally. I do not want to think about what may come about in the future as it could be quite off putting.
Diane Cunningham
Not my usual type of read. I found myself struggling to get into the story. Alex and Samantha had met many years ago. By chance Alex met Samantha again in the charity shop where she volunteers.
Since their last meeting Samantha had married a wealthy man and had two daughters. Alex had a bad experience with his girlfriend getting pregnant while they were both young. Rachel goes into premature labour with twins Georgia and Jak. It was a time where unmarried Mum's were not the done thing.
The babies are adopted out and Alex never gets the chance to see them or Rachel again. Alex never married or had other children and was really quite lonely when he finds Samantha again. The book takes you through their time together as they explore their relationship in older age.
I found the ended rather abrupt after the rest of the detail in the story.
Debbie Taylor
The first thing I have to say is that I was a little sceptical about reading this book as this is not my usual genre, I don't usually read erotic fiction but thought I would give it a go.

The story between the two main characters Alex and Sam is fascinating. A love between two people rekindled many years later, we see how their relationship develops into something much deeper than just sex. They share an appreciation of each other which becomes so much more. I did find the erotic parts a little unsettling but that is just because I don't like to read about them.

After reading this book I must say I have surprised myself as on the whole it is a good read. It did take a while to get into it and it does jump between scenes but once you get used to it, it follows the style of the book. It is not my usual reading material but I did stick with it and I'm glad I did.
Janice Rosser
Michael Tappenden is a new author to me, as is the subject of erotic fiction. I was intrigued from the start of the novel to see how Alex and Sam would develop. Now both in their 70's, it is by pure chance that they get together again after a chance meeting in a charity shop.
We learn that Alex has quite a history from his university days with failed relationships and one intense one with Rachel resulting in twins being taken away at birth from her for adoption.
What future do Alex and Sam have if they try to make a go of things all these years later? Will the sexual side prove too difficult or will it be the making of them? The scenes are vividly described which may not be to some readers tastes, but I found that the author writes so well that they are needed to make the story work for the age group they both are now.
One of Alex's twin children, Georgia makes an appearance years later and unsettles both Alex and Sam. Is she telling the truth about her birth 'parents?' There is more than meets the eye.
How will it all pan out? I found I was absorbed reading this novel and won't give the the ending away. If you are a fan of erotic fiction then Michael Tappenden is certainly one author to be recommended.
Donna Prosho
Not my usual genre of reading, and was a little bit difficult to get into, but I persevered.
The story follows an aging artist who by chance, meets a woman who he hasn't seen in 40 years. Discovering they were both single and a little lonely, discovered not only a passion for life but also themselves. Along the way, the past rears itself but with a twist.
The basis of the story I found really good, but I found myself sometimes a bit embarrassed reading about the sexual antics that Alex and Sam get up to. As well as a little confusion of Alex's mind wandering.
I would like to probably read another of Michael Tappenden's books, just so I know whether or not this is his style of writing overall.