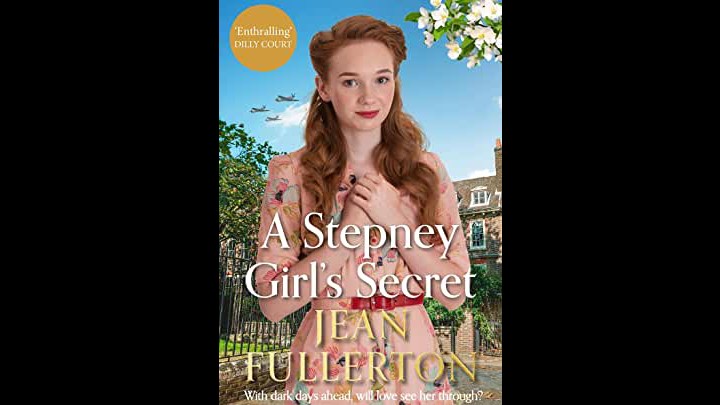 I am delighted to be featuring these fabulous reviews of Jean Fullerton's latest novel.
Debbie Taylor
This is another brilliant book by the wonderful Jean Fullerton, I thoroughly enjoyed the story of Prue and her family as they move from their rural Bedfordshire parish to take on their new parish in Stepney, the only problem is there is a war on.
Prue is determined to do her bit for King and country, keeping herself extremely busy but she didn't bank on finding love and the effect that this would have on her family.
This book is beautifully written, I couldn't wait to find out how it was going to end and what happens to Prue. I loved all of the characters, even her mother Majorie who definitely does not approve of Jack, who Prue falls in love with.
High praise for Jean Fullerton. Hoping their story will continue in the future.
Jan Poole
This book did not disappoint at all, as like the other books that I have read by Jean. She has this knack of painting such a vivid picture if not just the settings, but also the characters, that you really do feel that you know them all ; especially by the time you are half way through.
The setting is in East London during 1940, and is about a religious family who have moved from the country. The trials of settling into city life for the family were challenging throughout.
Prue, who's the youngest daughter of her parents, Reverend Carmichael and his rather pompous wife, is frowned upon by her mother for several of her life choices.
She volunteers to do 'her bit for the war', and that's not suitable for a young lady! ( according to her mother.) She offers to take in some Jewish refuges, again the wrong thing! Then she meets and falls for a most unsuitable young man (Jack), at the railway yard where she works.
Her mother has eyes on a more appropriate suitor for her and all but marries them off!
Poor Prue. She has her sights set on Jack, but many people try to get in her way of true love, especially her mother and other situations in war time life. Her strong mind pays off and she's rewarded by her determination and courage on her long awaited marriage to Jack.
Fantastic book and could not put it down.
Heather Copping
From the author of the immensely popular Ration Book series of books, we have a new book from this very talented writer. Set in London in 1940, we meet Prue Carmichael, the daughter of a clergyman who has moved from a sleepy Bedfordshire village to Stepney in London, along with her parents Marjorie and the Revd Hugh Carmichael. Prue is determined to do her bit for the war effort and signs on to do essential work at the railway station, she meets lot of friends doing her job of cleaner and also some jealous women cleaning the railway carriages, but one person that she bumps into quite a bit is Jack.

As war is rumbling on over on the continent, refugees are slowly making their way into England, and the residents of Stepney are determined to do their bit by taking in families into their homes. Prue soon volunteers to take in three groups as they have three spare rooms that used to be the servants quarters, this didn't go down too well with her mother, though.
With the work at the railway yard and helping out with the refugees, and now working to make a safe place to shelter in one of the old crypts, Prue is certainly busy but not too busy to make time to see Jack whenever she possibly can. Jack is also kept busy though with his work at the Local Defence Corp as well as doing repairs at the railway yard.
But things are not going smooth for the couple, there are jealous women, angry men from the yard and most of all Prue's mother who would rather see her marry Father David and therefore be out of Jack's reach. As days go by, Prue realises who it is she really loves and is understandably shocked by a recent bombing raid and also being totally persued by Father David, who she can't seem to get away from.
After a big mistake is made Prue thinks she has lost Jack forever, but will she manage to persuade everyone that he is innocent?

A must read for saga lovers and Jean Fullerton fans, you will love finding out about Prue, her family and friends and more importantly how she gets on with her relationship with Jack, will it be strong enough to survive the continual criticism from Prue's family or will she lose Jack forever?
A well deserved five star read from me and I hope there is more to come from Prue and Jack in the future.
Anne Harvey
A step in a different direction for one of my favourite authors, Jean Fullerton, this time for a sheltered but spirited young woman, Prue Carmichael, from largely rural Bedfordshire who moves to the East End of London early in 1940 when her rector father is transferred to a Stepney parish.
There she has to adapt to a whole new way of life including volunteering for war work in the Stratford Railway Yard. There, midst the noise, the dirt and often danger, she meets railway engineer, Jack Quinn. But Jack is a divorced man with a young child and her strictly Anglican parents are not happy at the developing relationship between the couple.
Against the background of the threat of invasion, their relationship grows into a deep and lasting love but Prue and Jack must overcome, not only the opposition from her parents, but from the war itself.
I loved this story and was completely involved from the very beginning. Jean has such a way with making her characters warm yet never goody-goody. As always, with her books, the East End comes alive with all the characters we meet. Another winner, in my opinion.
Can't wait to read the others in the series!
Beverley Ann Hopper
Stepney East End London.
Prudence Carmichael (Prue) and her parents have left St Stephens vicarage in Biddenham Bedfordshire heading for London and it's a lot faster and busier to their arrival at St Winifred rectory that is very impressive with acres of land.
The iron gates are long gone as this is 1940 and WW2 is soon declared.
A new start, a new beginning and Prue is hoping to sign up for war work. Jack Quinn is a bit of a wild boy with a troubled past at their works at Stratford Railway Locomotive Works and Prue is smitten with him.
Her parents have other ideas for her as an ideal husband but Prue is putting her foot down, she will only marry for love and nothing else. She will do everything to keep him.

This is such a beautiful read, head strong Prue in her determination to work hard and doing her bit for the war, it's not short of plenty of ups and downs along the way, that will pull at your heart strings in more ways that one.
This is book one in The Stepney Girls from the Queen of the east end with lots of research going to in for her readers to enjoy.
I loved it all.
Diane Cunningham
I love Jean Fullerton's books and was happy to read this book which is the start of a new series. Set during the start of World War Two we met Prudence Carmichael and her family as her father takes over as Vicar of St Winifred's Church in Stepney.
Coming from the parish in Biddenham the family soon notice a busier pace of life in London. Prue decides to get a job and is soon working at Stratford Railway Locomotive Works, first as a cleaner and then as a lamp man.
It doesn't take long for Prue to notice Jack Quinn an engineer and when she finds out he is the brother of one of the Church parishioners that she's made friends with she is soon bumping into Jack a lot.
This brings problems from the Curate that has his eye on Prue and also Gladys at work who has designs on Jack. I enjoyed reading the ups and downs that Prue faced as she tried to find true love.
I really enjoyed this book and all the great characters and I look forward to catching up with them again soon as the series progresses.
I highly recommend this book.
Julie Ryan
It's always good to follow a new series from the start and this promises to be a great storyline – although I did think the Ration Girls series would be hard to follow.
This book closely follows the life of Prue Carmichael and her family who have recently moved from Bedfordshire into the rectory in East London.
The reader immediately warms to Prue who is kind-hearted and hardworking, helping her mother with refugees in the parish. Her middle class mother is less endearing, determined to marry Prue off to the local curate. However, when Prue starts work at the railway sidings and crosses paths with Jack, Prue has a dilemma knowing that he is definitely not husband material as far as her mother is concerned.
The ending had me on tenterhooks, as I couldn't see any way out for their love to bloom. Will they find a way? Read and find out.
As always the author's research underpins the novel without being in your face. I particularly enjoyed the descriptions of wartime work, which was totally different from the usual women's war work.
If you love historical sagas, this series is a must.
Margaret Joel
This is another good read from Jean Fullerton. Prue moves to London from the country with her parents. Father is a vicar & mother a traditional vicar's wife.
It is the early years of World War 2 & times are changing. Prue offers to do war work & starts working on the railways, eventually cleaning the trains. Her mother wants Prue to marry suitable to her position & has her eye on the curate for her daughter.
Prue has other ideas & falls for Jack, divorced with a young daughter, totally unsuitable as far as mother is concerned. The course of true love does not run smoothly as obstacles are placed in the way.
The historical aspect is well researched. This is hopefully the start of another series.
Janice Rosser
I have been delighted to review many of Jean Fullerton's books over the years and this latest one A Stepney Girl's Secret had me riveted from the first chapter.
Prue and her parents have moved into St Winifred Rectory London from a quieter vicarge in Bedfordshire and it is 1940, one year after the outbreak of WW2.
From the outset, Prue becomes involved in war work and gets a job working at the Shunting Yard cleaning the train carriages. There she meets a railway engineer called Jack Quinn and the attraction between them is instant. Jack hoever comes with a lot of baggage being a divorced man with a daughter he only sees at the weekend.
As the story unfolds Prue's mother becomes aware of her daughter's infatuation with Jack and tries to steer her away from a man who is 'below his station.' She attempts to encourage David who is the live in curate, to ask Prue out. Of course Prue is having none of it!
Jack applies for the Local Defence Volunteers and Prue becomes involved with turning one the old church crypts into an air raid shelter. They bump into each other quite often and the reader would like to see them form a relationship.
But things do not go smoothly. There are many twists and turns throughout and Prue's mother keeps on trying to get her to go out with Curate David.
Will Prue end up being happy with the man she truly loves or will fate intervene?
Jean's research and attention to detail is always excellent and I for one can't wait for the next book in A Stepney Girl's Secret.
5 stars.
Donna Prosho
In this new story we are introduced to Prue Carmichael and her family, who have recently relocated to from Bedford to London, where her father is a parish priest.
Prue takes up a role of cleaning train carriages as part of the war effort and meets Jack Quinn, a handsome train engineer. There was an instant spark between them which grows apparent but so does his past, something her mother certainly wouldn't approve of.
In-between cleaning train carriages and helping with sheltering Jewish refugees, prue keeps herself busy. She also has more than one admirer, and after Jack is recruited into Churchill's secret army, a very different person begins to pursue her for her feelings .
From the first sentence you're taken back into the 1940s and the historical fiction of London.
Another great novel from the lovely Jean Fullerton.
Nicki Howells
The start of what I hope is a new series of books from Jean. This story follows Prue, the young daughter of a clergyman who moves from a sleepy rural village to Londons' East End during WW2.
Prue , like many other girls her age wants to do her bit for the war effort, so signs up to work on the railway-much to her snooty mother's chagrin!!!
I really enjoyed meeting new characters, and I loved this book, can't wait to see what happens next to Prue!!
Fiona Dunn
To me, this is the best novel that Jean Fullerton has written so far- and I've enjoyed all her work.
The characters are beautifully drawn and engaging and who isn't charmed by Prue Carmichael with her vivacity, naturalness and determined spirit? She joins the War Effort on a railway whilst also, with vereve and ease, helping her Vicar father and mother to organise and manage a bustling vicarage during the Second World War in Stepney, East London.
Jack Quinn is rugged, real and his love for and closeness to his daughter, Rachelk, from a divorce is touching. He and Prue's romance is strewn with obstacles but, love can find a way.
Sister Martha is signal to both their romance and in Jack Quinn's life. Doughty and with a twinkle,m Sister Martha was my favourite character!
Part thriller, part romance, 'A Stepney Girls' Secret' was an entralling read from beginning to end.
Support Reviewspot by browsing the products below
Tags
Like this post? Share it with your friends