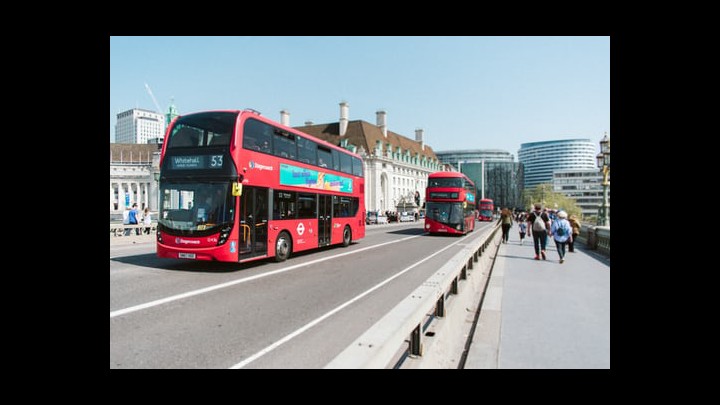 Public Transport is often on the news these days and not everyone has good access to many forms of it!
Our Prime Minister in the UK, Boris Johnson is pledging £5 Billion to improve bus services in England. See report in The Independent on 11/2/20 here. Where I live in Hereford, there is a relatively good service into the centre during the day, but practically non existent after 7pm in the evening, especially if you live in the countryside. What's it like where you live?
I have just returned from a visit to Exeter where buses are frequent from early morning until late in the evening, making it much more sensible to leave the car at home to get to the centre of town or any outlying districts at a reasonable price. It's even better if you have a bus pass! (which I don't yet!) Stagecoach buses have free internet too, so that is a plus for those with smart phones etc.
The Gold Award for UK bus operator of the year went to Nottingham City Transport, the Silver Award went to Reading Buses, the Bronze Award went to Prentice Coaches. See article here about all three awards. So if you live in these areas, your bus services do you proud!
Nicki Aitch who lives in Scotland sent me this post. 'When we moved into this house in July 2016 the buses between Forres and Elgin through kinloss used to come right past our house, which was great because the kids would stop it outside to/from college in Elgin.

Then in their wisdom in may 2017 stagecoach decided it wasn't profitable so stopped it. Leaving us ,without any bus service at all. By us I mean all the houses between here and the A96,which is probably at a guess about 30-40 houses dotted across the old bus route.

This includes elderly and disabled people. There are mostly no safe footpaths, only grass verges at the side of fairly busy country roads.

For us, our nearest bus stop is at least 1.5 miles away, again along a busy country road with no footpath, to get to the closest footpath. In all weathers, and during the winter mostly in the dark (for those that have work/college).

Of course the council do offer a dial a bus service which is great, only you can't book it from where we live to go into Elgin, oh no, that would be far too easy. We have to pay for it to drop us in Forres (4-5miles away) to then wait for another bus that is going to Elgin, so paying twice for it.

There is a wee place called newton, it is a few houses at the side of the road, mostly inhabited by elderly people,and we often see an elderly lady trundling along the road with her shopping trolley, having walked about a 1.5miles from the nearest bus stop which is on the A96 and is the busy main route between Inverness and Aberdeen and is obviously used by lorries & buses as well as cars, and these elderly folk have to take their lives in their hands to get across this busy road to get home once they have got off the bus, because stagecoach stopped the buses!!!

Yet around the time they stopped the buses here , down in the north east of England they unveiled a fleet of expensive new wifi equipped buses!! How is that right???

Even if this route wasn't profitable,surely they could have cut the services down to maybe just 3-4 services instead of 1 every hour, so that people could still get to college/work in the morning and home at night. And use those smaller shop hopper type buses instead of the great big ones they were using??

Yet we'll go into Elgin and there are LOADS of different buses serving different parts of Elgin,you'll often see 2/3 buses serving the same roads within a few minutes of each other, yet a whole community is left without even 2 buses a day!!!'
Carol Hedges who lives outside London posts 'We have NO buses on Sunday, and only one bus route runs on Saturday.'
Lyn Wild who lives in Romney posts 'What buses? 🤣
Reduced links/routes a couple years ago (even between nearest small tiwns). Makes it very difficult for people who rely on busses to go to the nearest hospital for appointments. Makes what is a usual drive, 30 mile round trip, into many more and an all day trip.'
Rosemary Lovell from Coventry posts 'Oh and make sure Boris that your new buses are disabled friendly - many people cannot get on a normal bus! I don't tend to use buses as car is easier door to door and standing at bus stops not much fun! I am not technically disabled but walk with a stick but my late husband was and couldn't use buses.'
Mary Burns from Stirling posts ' I would just like to say if you don't use your local bus services you will lose them.'
Ann Roberts posts 'The bus service from New Romney town to Folklore is so bad ok if you are younger then most of us this end of the town who cannot walk to the top of the Avenue.'
John Adey posts 'Have just received renewal for bus pass which states it has not been used for a year. Why, well our bus used to be 3 an hour from the bottom of the road with a through bus to Lydd this has now been cut back to only the through bus 1 an hour so a visit to the supermarket which i could do in an hour now takes twice as long. So i use the car putting more pollution into the air. Hopefully with extra funding our bus will be reinstated.'
Jeff Green posts 'We live in Greatstone so now only get an hourly service also the cost is ridiculous. From my local stop to the Marsh Academy to go into New Romney a trip of 3 miles it's £4.40 for a single ticket. And if you don't drive then at night our last bus arrives home at 9pm. Roll on the new cab office in Dymchurch!'
Debbie Payne posts ' I don't use buses because there are no talking buses in this area. I'm also concerned about the proposed electric buses.'
Nathan Glazier posts 'Lydd here. return tends to cost about 50p less than the day explorer ticket (if you're buying through the app.) and the current routing turns what used to be a 1-hour trip each way between here and folkestone.. into an affair lasting around 5 hours total. and that's without including the times buses don't show up.'
Also, because Nicki lives in Scotland she won't benefit from the increase in funding that has been announced for England. But I do have an update from an email she sent to her MP. 'Wow, not only have I received a reply from my MP, obviously he is fully aware of the situation and the distress & inconvenience caused by the removal of the bus service. But he also informed me that he will contact the head of the council in regard to this. He then forwarded a copy of the email he has sent to the head of the council, and included a copy of my original email to him for the head of the council to read.
Wow, a lot more.....and a lot faster, than I was expecting!! I'm impressed!!'