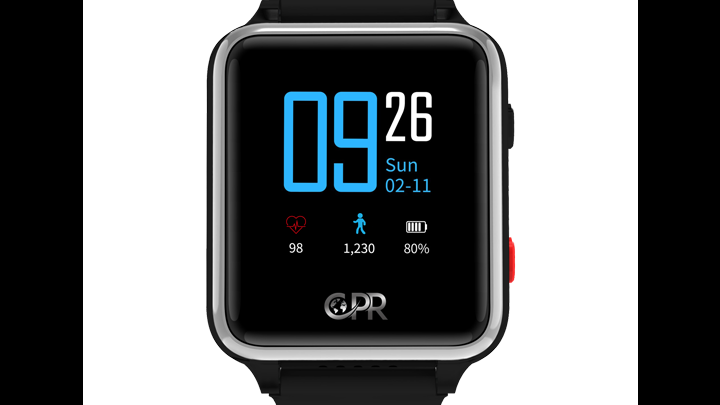 Do you worry about your loved ones when you cannot reach them by telephone? I have been sent a CPR Guardian 11 watch to evaluate.
Perhaps you have a spouse, relative or friend who is not in the best of health and you are concerned about he or she being unsupervised. You don't want them to feel less independent, but also don't want to make it obvious that they are being cared for using the latest technology.
What if he or she won't carry a mobile phone or is confused using one?
Help is at hand with this new watch which also acts as a phone, a heart monitor, most importantly a built in emergency SOS button and has GPS tracking. It is also waterproof IP67 meaning the unit can be dropped into a body of water up to a meter deep for half an hour without any malfunction. See information about IP67 here.
How does it work?
First of all the CPR Guardian app needs to be downloaded to the smart phone which will link the watch to the main carer's number. This app is FREE and has easy to read instructions on how to set up.
The phone is the 'hub' and has all the features that are on the watch plus most importantly the LOCATION of where the watch is at any given time. This updates frequently, so the phone owner knows the whereabouts of the watch at all times.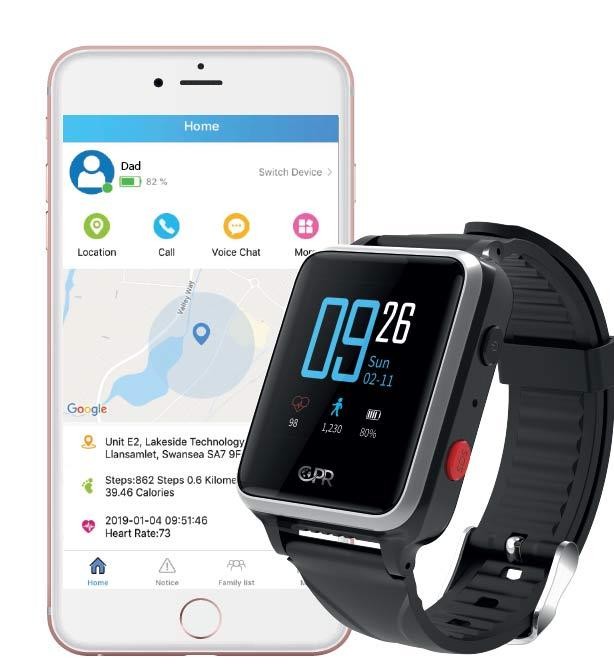 What are the features?
EMERGENCY ASSIST BUTTON - SOS
The wearer will be able to alert you by holding the SOS button for THREE SECONDS. Your smartphone will show the status and location of the wearer and you will be able to take the necessary action required.
SMART LOCATION TRACKING
GPS technology is wonderful. You will always know where your loved ones are.
HEART RATE MONITOR
Guardian II is able to let the wearer and the phone owner know if the heartbeat drops below 30 beats per minute. This is an excellent feature.
PEDOMETER
Maybe the wearer likes to exercise and see how many steps he or she takes in a day. Walking is an excellent way to maintain a good heart rate and also vital for well being.
TWO-WAY PHONE CALLS
The watch is set up to be able to make and receive phone calls. A monthly or PAYG SIM packages are available by signing in to the SIM Portal page.
SET GEO-ZONES
Geo-Zones are a term for a virtual radius around a location, maybe your home, a school or the park. The phone owner receives an alert every time the wearer enters or leaves a Geo-Zone.
LONG LASTING BATTERY
Battery life is up to 48 hours and charging is done via a USB lead inserted into a compatible appliance such as a Laptop or desktop computer and has a magnetic connection directly applied to the watch.
ROUTE PLAYBACK
The phone owner can view the wearer's route history for the previous 2 days via the App.
PHONE CONTACTS
Up to 30 contact numbers can be added to the watch via the App which is good and you can also opt out of having the SOS button applied to the individual numbers.

What do I think?
The watch is fairly straightforward to set up if you are used to downloading Apps as the instructions are clear and legible. I think it is a good way of keeping track on your loved one. The wearer should find the swiping functions easy enough if there are no hand mobility issues. A few practice sessions are advised before leaving the wearer on his or her own with the Guardian 11.
The website has a good faq section and the customer service advisors are available to chat online or by telephone 0800 652 7780. You can also email support@cprguardian.com
The website also has a comprehensive advanced users guide which is well laid out and easy to navigate.
The retail price of the watch is £199.99 and you can take out a one year accidental damage coverage which ups the price to £239.98. This may be expensive for some people if income is limited. A PAYG mobile phone is, of course, a lot cheaper, but doesn't come equipped with all the functions of the Guardian 11 which is a two way product.
A one year guarantee is included as standard. Here is the link to order.
This link details the various pricing plans available for the watch. It is worth noting that there are charges applied for locating the watch and using the GPS. (Global Positioning System). Read about GPS here.
For peace of mind for the relative/friend and independence for the wearer, I can recommend this device. If you decide to order one, please let me know your thoughts and I can add the text at a later date.
All images copyright CPR Guardian11.