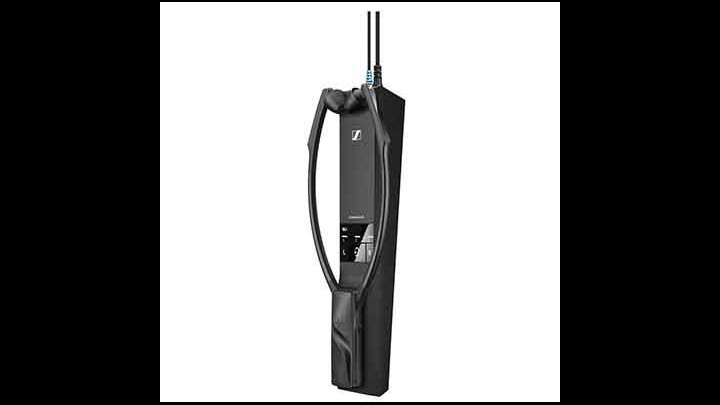 Have you ever used wireless headphones for your TV viewing? I have been sent the latest ones from Sennheiser to evaluate and would like to share my findings with you.
The name of these headphones - Wireless TV Earphone Headphone RS 5000 sounds intriguing! The package arrived and I was eager to see the contents!
The RS5000 comes in a compact box and once opened, the contents were easily seen and the components packaged individually. A comprehensive instruction booklet is also enclosed.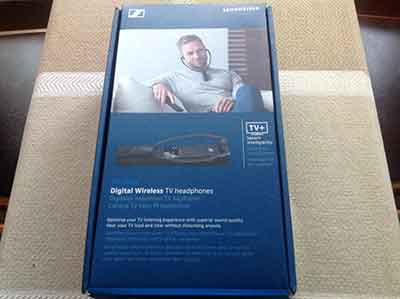 Wireless TV Earphone Headphone RS 5000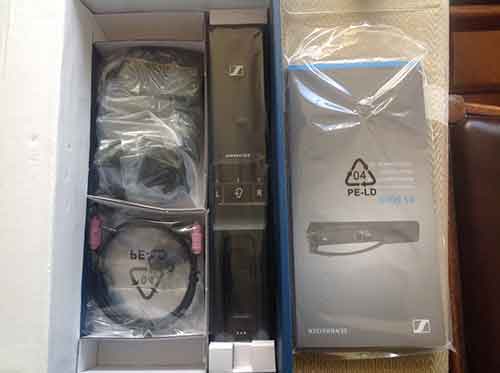 Neatly packaged
Let me quote a few lines from the Sennheiser website.
'The elegantly designed RS 5000 is a smart listening device that lets you customize your TV sound experience according to your individual requirements and taste. It lets you choose between three different hearing profiles to enhance TV, movies or music. Its unique Speech Intelligibility function increases speech clarity at the push of a button. With its cutting-edge digital wireless technology, intuitive handling, supreme wearing comfort and a long-lasting battery, the RS 5000 ensures a highly enjoyable TV sound experience.'
I charged the headphones first which took around half an hour as there was already a small amount of charge inthe transmitter. A full charge can take up to three hours, but with twelve hours of listening time when fully charged, that is quite impressive! The transmitter was placed next to the TV and the connection was inserted into the input socket.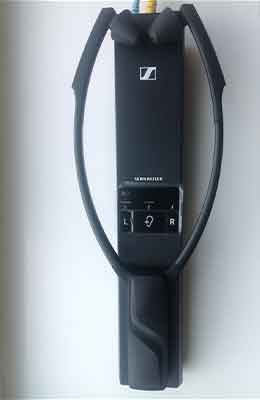 Headphone on transmitter ready to charge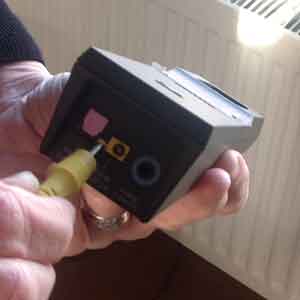 Inserting charger jack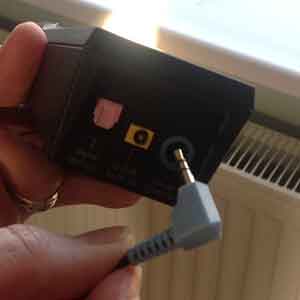 Inserting headphone jack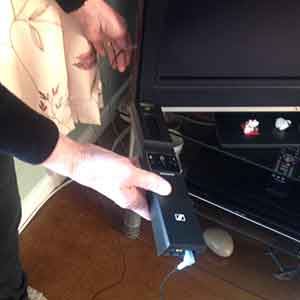 Inserting headphone jack into TV input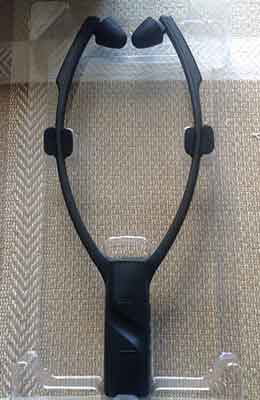 Ready to try out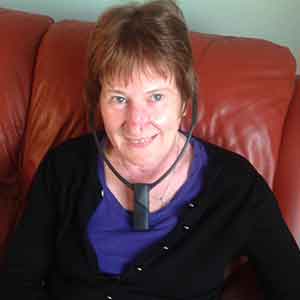 Volume controls also on the headphone and sound is impressive!
The headphones come with two sets of earpieces. I needed to fit the smaller ones and was ready to listen to the device. Let me quote a few more lines from the website re the speech features.
'The RS 5000 features a unique Speech Intelligibility function that makes speech easier to understand by dynamically reducing background noise which is part of the TV audio but may interfere with the spoken word. This makes for a much more relaxed listening experience. For customizing your audio experience according to your requirements there are three hearing profiles to choose from, which deliver clearest speech and colourful music. Adjust the left and right volume for a pleasant and balanced sound.'

Charger
WOW! The clarity is remarkable, the headphones are light to wear and with a 70 meter range, most rooms in the average house are capable of picking up the signal. I also wanted to try out the headphones on my ipad and was really impressed with the sound reproduction. I left my ipad in the lounge and went to sit in the garden to listen - no problem at all!
Priced at £229.99 including VAT and FREE shipping, they are fairly expensive, but these headphones will last you a lifetime if looked after and the enjoyment is second to none..
Lead photo copyright Sennheiser.