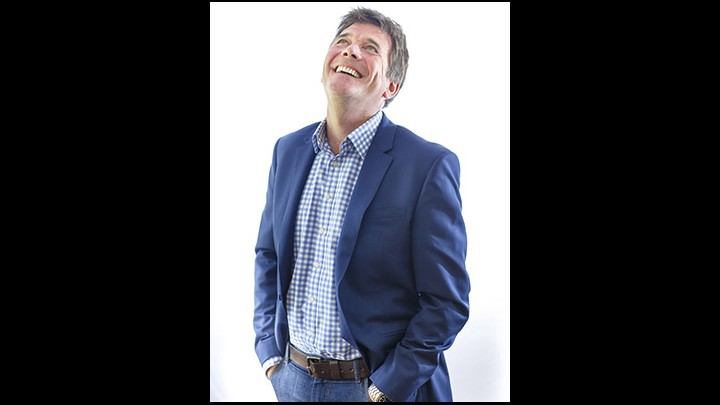 I interviewed Doctor Mark Porter in 2015 for my previous OAPSchat website. Mark regularly broadcasts on Radio 4.
Before we begin, here is a brief outline of his varied TV, radio and medical career.
*Mark is the medical correspondent at The Times, doctor on The One Show and presenter of Radio 4's flagship medical series Inside Health. He is a familiar face to millions and one of the most experienced media medics in the UK. Since joining the BBC in 1992 he has worked across the corporation's various media, including a 10 year stint as the Health Editor on Radio Times, and 8 years presenting Radio 4's Case Notes.
Mark spent 5 years working in hospital before moving into General Practice in 1990 where he still works today at a busy surgery in South Gloucestershire.
Mark was appointed MBE in 2005 for services to medicine. And this year he has been included in both the Pulse Power 50 (UK's most influential GPs as voted by their peers) and the Health Service Journal Clinical Leaders lists.
*Extract reproduced with permission from www.drmarkporter.co.uk
I see that you were born in Ross On Wye, a market town in Herefordshire. Did you have a happy childhood growing up there?
I had a great childhood living in or around Ross until I left for medical school. But I moved back shortly after qualifying while I worked at Hereford doing stints as a junior doctor in A&E and Anaesthetics. I love Herefordshire and still regard Ross as my home – and it feels that way whenever I return. If only access to London was better I would probably still live there today.
Were you interested in medicine from an early age?
From about the age of 6. I had a brief flirtation with veterinary medicine (thanks to James Herriot's books) but a brief spell working with vet Pete Plumley in Ross made me realise that I prefer talking to patients rather than their owners.
If you hadn't become a doctor, which occupation would you have chosen?
The only reason I would not have chose medicine was if I failed to get in to medical school (which I nearly did). But getting in to the only other job I could imagine doing – being a vet – was even harder back then so I don't know what I would have done. I never gave it a thought – just pushed for what I wanted.
Who or what inspires you?
People who show kindness with no expectation of reward. And there are a lot of them out there – mostly below the radar. And people who smile at you. We should all smile more.
How do you relax?
With friends over dinner, or in the pub. With my wife Ros at home in front of a good film. Almost every Sunday lunch. And walking or running with our dog Sid. But I don't do enough of any of these. And technology – particularly my Ipad – means I am constantly checking emails and scouring the health news for ideas for articles. It drives Ros nuts.
How do you feel about e cigarettes maybe being available on prescription?
I would much prefer people switched from tobacco to vamping (I see it as harm reduction). We don't know about the long term effects yet but it is bound to be much safer than inhaling burnt tobacco. But I would encourage people to buy their own – much cheaper than smoking. And if you buy your own there is more drive to quit vaping too and eventually become nictone free.
Do you prefer to present on TV or radio?
Radio. Particularly Radio 4. It is intimate, relaxed and allows time to go into much more detail. And you can wear what you want.
As we reach our fifties and over, health issues seem to become more important, especially taking Omega 3, Glucosamine etc, do you take any supplements yourself?
No. Vitamin D is the only supplement I would take – and only during the winter months. Supplements are no substitute for a healthy diet. Eating well is better for you than the sum of your diet's key ingredients – something study after study continues to confirm. But exercise is vital too – and the older you get the more important it is. One reason why I don't like electric chairs, stair lifts and bungalows. Yes they help. Yes they reduce the risk of falls etc. But they can also weaken people, and hasten the downward spiral to frailty. Getting up out of chairs and walking up stairs is the only exercise some of my patients get.
Do you have a favourite holiday destination?
Anywhere that my wife is happy, and that has internet. I am not a big sun lover. If I had to choose, it would be rural France or Italy during early June or September.
We read more and more that happiness and laughter are so important for well being. Who or what makes you laugh?
I find humour in most things. But my best friend Dominic Lewis often makes me laugh so much my face aches. Nothing beats that feeling!
Editor: Thank you so much for your time. Long may you contine presenting on the TV and radio and keeping us informed about all things medical! Please go to Dr Mark Porter's website here for useful medical information and a more detailed look at his CV!