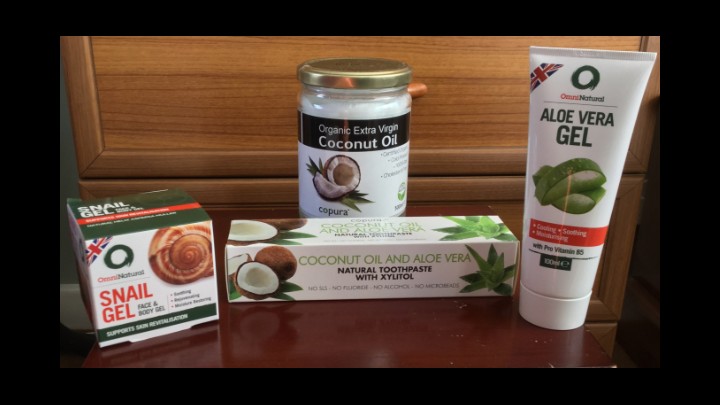 I have been sent four different products from Omninatural. A jar of Snail Gel, A tube of Aloe Vera Gel, A tube of Copra Coconut Oil and Aloe Vera natural toothpaste and a jar of Extra Virgin Coconut Oil!
An interesting combination I think you will agree! So what do I think of these products?
SNAIL GEL
I have to be honest, when I thought about applying snail gel to my face, I really wasn't sure if I could! BUT... having read this extract from the website:-
'Omninatural's Snail gel encapsulates the anti-ageing, skin purifying secretion that has been used for centuries in numerous different cultures for numerous different benefits. Snail and slug slime have been used sporadically as skin treatments since the time of the Ancient Greeks; Hippocrates reportedly recommended the use of crushed snails to relieve inflamed skin and some 20 years ago, the potential of snail slime was noted by Chilean snail farmers who found that skin lesions healed quickly, with no scars, when they handled snails for the French food market.'
As we age our skin starts to need more care and moisturising is one of the best ways to do this. There are many skin revitalising creams and potions on the market and I admit to trying various ones over the last twenty years or so. Some have made my face feel smoother and perhaps contain a few less wrinkles, some have not. I am trying this gel along with a good friend as it is free from Bht, Sls, Mineral Oil, Silicones, Dea, Isothiazolinones, Phthalates, Parabens, Petroleum, and synthetic Colours. There are many people in the USA that claim this product is wonderful and more people are turning to it to treat acne, to reduce pigmentation, anti-ageing and to improve scarring. I will update you in a few weeks with our results! This product is on offer at the moment for £8.99. Normal price is £10.99
COPRA COCONUT OIL and ALOE VERA TOOTHPASTE
How much do you spend on toothpaste? I have been using a well known brand ever since I was a child as my parents used it and I carried on using it when I left home. I find that I can buy a tube for around £1. I like the flavour of peppermint as it refreshes the mouth.
So it was with curiosity that I tried this toothpaste. I really like it! The 'flavours' do refresh your mouth and the makers claim that coconut oil reduces the amount of bacteria in your mouth. The addition of Xylitol helps against tooth decay. The toothpaste contains no SLS, no Fluoride, no Alcohol and no Microbeads, making it an all natural product. Retailing at £5.49, it is expensive for a toothpaste, but I will buy this again as a treat.
ALOE VERA GEL
I have been a lover of Aloe Vera for years as it has so many uses. As the website states 'The Aloe Vera plant is grown in parts of Africa and India. Its leaves contain a clear gel which has promoted great health benefits for centuries. The Aloe Vera plant is around one to two feet tall with prickly and bitter leaves, this is to fend off from animals that are feeding on the plant. The leaves hold a gooey translucent gel, also extremely bitter, and known all over the world for its unbelievable healing properties.'
I bought a tube earlier this year and found it very useful for mild sunburn and insect bites. However I am keen to find out if it helps with moisturising and leaving skin looking and feeling healthier. There is a recipe for a foot mask on the website and also a recommendation for a face mask when mixed with a few drops of almond oil. Who would have thought that there are 75 nutrients in the solid material of Aloe Vera gel?!
A 'must' for the medicine cupboard in my opinion and good value at £2.49 for a 100ml tube.
ORGANIC EXTRA VIRGIN COCONUT OIL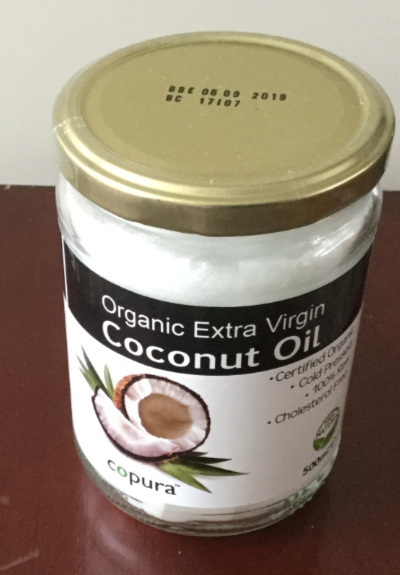 There has been so much written about the benefits of Coconut Oil over the last few years, that I thought it was about time I tried some! Copura is 100% Organic Extra Virgin Coconut Oil and is produced from raw fresh coconut flesh. It is cold pressed and non GM. The method used by Copura for cold pressing ensures that the vital nutrients and delicate omega fats are retained intact. I am not so sure about using it as a cooking ingredient, but I know people who do use it for curries. I have found a website that lists 101 uses for Coconut Oil! I am now using it as a moisturiser on my feet and it works brilliantly. No more hard skin and feet feel silky smooth. A good friend of mine uses it on her dog to moisturise his fur, another friend uses it when she has a cold sore and one uses it as a hair conditioner. I will report back in a few weeks to let you know of other uses that I have found.
Retailing at £6.99 for a 500ml jar, it will last for a long time if stored correctly.
So there we have it. Go to www.Omninatural.co.uk for a wealth of information and some super products. Let me know if you try any of the products I have reviewed and I will add your comments to this article?