I have taken delivery of the super Blender BN495UK and am sharing my findings with you.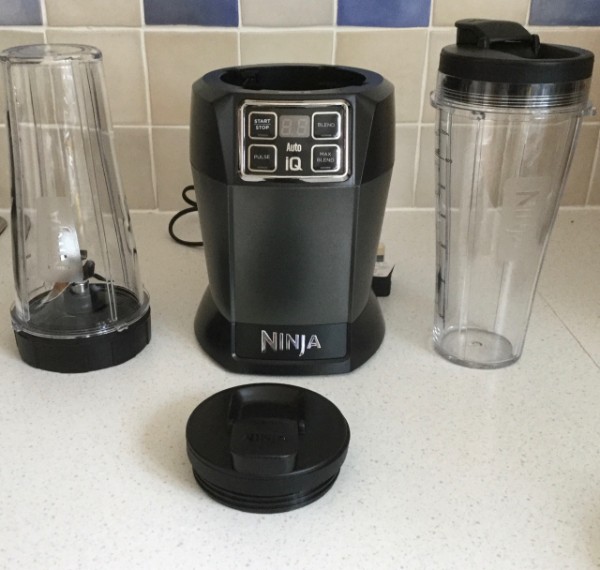 The first thing I noticed when unpacking the blender was how stylish it looks. This is typical of every Ninja product I have owned. High quality workmanship and easy to read instructions are a must and this blender fits both this criteria.
Weighing 2.97kg and measuring 38.7 x 17 x 15.9 cm, this is a compact blender which is ideal to display on any kitchen worktop.
The 1,000Wmotor is powerful, if a little noisy, but then all blenders are and the amount of time taken to blend is minimal, so I would not put this down as a minus feature.
What's in the Box?
1 x Motor Base
2 x 700ml Single Serve Cups with Spout Lids
1 x Pro Extractor Blades Assembly
Instruction Booklet
Inspiration Guide
The blender comes with 2 single serve cups, so if you are a couple or have a friend who enjoys smoothies etc, it takes no time at all to wizz up your own smoothies/drinks etc. The Inspiration guide has some tempting recipes or why not try combinations of your favourite ingredients to create your own recipes and perhaps share them with us?
This extract has been taken from the website:-
'Blend in the cup, enjoy on-the-go.
Easily create delicious smoothies and ice-cool drinks with our latest personal blender. Automatic one-touch blending programs do all the hard work for you – we call it Auto-iQ Technology. Ninja's durable stainless-steel blades and a powerful 1000W motor easily blend the toughest ingredients, including fruit, vegetables, nuts, seeds and even ice.
Simple one-touch controls make it easy to either select automatic programs or manual settings – designed to deliver the perfect result, at the touch of a button.'
So far I have made the following two recipes, one sweet and one savoury and will be adding more in the coming weeks.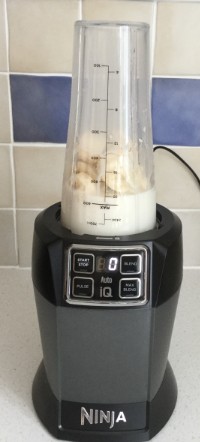 Banana Milkshake
Ingredients for ONE Serving
2 small bananas, peeled and halved
200ml semi-skimmed milk
1 scoop vanilla milkshake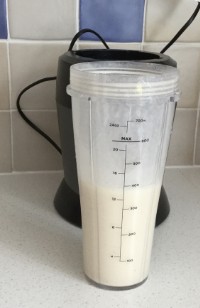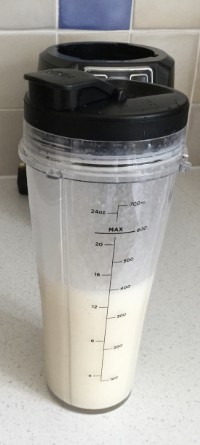 Directions
All the ingredients were placed in the 700ml as per order of the ingredients, I pressed BLEND and from preparation time to the finish, this only took 5 minutes. After removing the blades from the cup, I was able to enjoy my milkshake. Blades are easily washed and if I want to make this to take out with me, the attached Spout Lid will be placed on the cup and securely fixed.
Houmous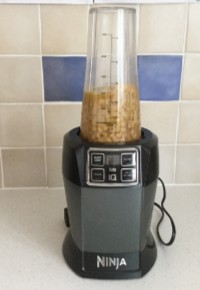 Ingredients for 4 Servings
1 x 400g tin of Chick peas, drained and rinsed
50ml Chickpea liquid
60ml Lemon Juice
60ml Olive Oil
1 Garlic Clove, peeled
1 teaspoon Cumin
Half teaspoon Paprika
1 Tablespoon Tahini Paste
1 teaspoon Sea Salt
Olive Oil and Paprika to garnish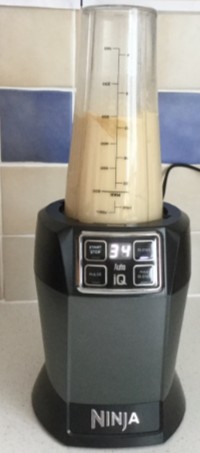 Directions
All the ingredients were placed into the 700ml cup in the order listed, I pressed BLEND. After removing the blades from the cup, I placed the houmous into an appropriate container and drizzled with olive oil and sprinkled paprika over the houmous. The time taken was 6 minutes.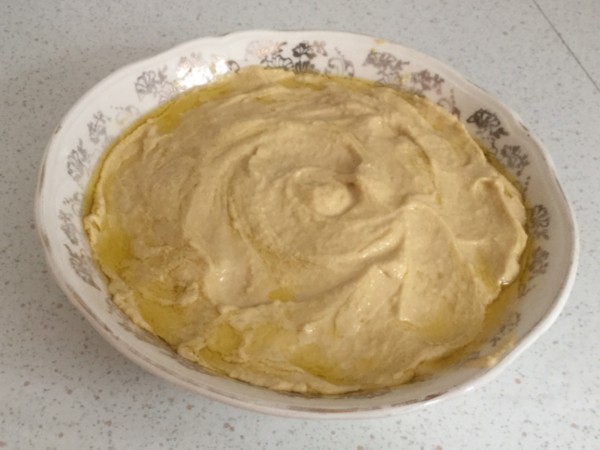 Served with pitta bread or a bread of your choice, this is SO much nice than the shop bought variety and less than half the price!
What's the verdict?
The parts can be washed in a dishwasher. The website gives this guide to cleaning. "Use a damp cloth to wipe the motor base clean. The cups, blade, and lids are dishwasher safe, and it is recommended to put everything on the top rack. You can also squeeze 2-3 drops of dish soap into the jar, fill halfway with warm water and pulse, 5-10 times. For easiest cleaning, rinse or clean the cups and blades immediately after use. The Ninja Blender cups and blades are also dishwasher safe. Use extreme caution when cleaning & handling the blades. Always store the blades attached to the cup or a safe area."
The blender is NOT suitable for hot ingredients and must NOT have any parts placed in a microwave.
As with all Ninja products, I cannot fail to be impressed by the quality. The price of this blender is £89.99 which is quite high in comparison with other makes on the market, but the phrase 'You get what you pay for' springs to mind. A one year guarantee is included as standard. Lots more information on the Ninja website including more recipes and tips.
If you would like to send me a recipe for your favourite smoothie, please do and I will add it to the article to share with other Ninja fans and it may be posted on various websites that Ninja use.
Lead image Ninja™ , all other images my own.