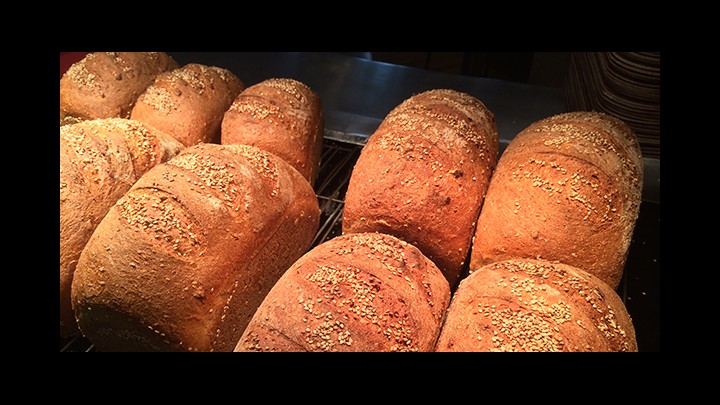 During Lockdown, making bread has become very popular indeed!
Bill Sewell wrote this article for me and shared the recipe below a few years ago. Perhaps you may like to try it? Over to you Bill!
I love the way that recipes change and adapt and the change and adaptation is always part of a story. When we first started making brown bread at The Place Below we used a recipe from the lovely Ian Burleigh.
I had worked in his and his partner Nick's restaurant in Ashtead in Surrey and he subsequently became restaurant manager at The Place Below and would cycle 15 or 20 miles to be in the City at 5am making bread. I think he came up with the combination of white and brown flour with mixed seeds because we ran out of granary flour one day. In any event we stuck with his formulation for over 20 years.
It's in my cookbooks and we've made it in London, Hereford, Cambridge and St Davids an unimagineable number of times
So with such a venerable history it took me a while to realise that I had stopped eating so much of it and also that when I made it at home I had started to change my own recipe. It was time for a new incarnation of Bill's Bread. I experimented with lots of different versions and eventually found a new recipe that I was happy with – more wholemeal flour, wetter and with a completely new method. Then one day at All Saints (after we'd started using the new recipe) the bread tasted even better and it turned out that Michelle (one of our team of chefs) had made a mistake with the quantities and had added extra water and this made the loaf even better. So we now systematically make the same mistake every day and it's incorporated in the quantities below.
The basic flavours are the same as the old recipe but there are a number of small changes
The result is a bread which is denser, nuttier, moister, has a better structure and crust and keeps better. It's simply more delicious. Last night as I sat in the car waiting to take my daughter home from Hereford, I started ripping the crust off a small loaf unable to stop myself eating more and more. Try it and see what you think. I hope you'll love it as much as I do.
The method is slightly odd and comes, like much good stuff about bread, from Dan Leppard's 'Handmade Loaf'. The theory is that the bran in wholemeal flour is sharp and cuts through the gluten of the dough if you knead it too much. So most of the forming of the bread's structure is done by letting it sit between rather brief sessions of kneading.
We use a bit of natural leaven (sourdough starter – see previous blog post) to add depth of flavour but it's not essential and you can substitute the same weight 50/50 amount of flour/water if you don't have any leaven on the go. Also, these instructions are for using a Kenwood Chef or Kitchen Aid type mixer (because that's what I usually do), but it can equally well be mixed and kneaded by hand.
INGREDIENTS
For 2 large loaves or 4 small, using traditional 2lb or 1lb loaf tins
950g wholemeal flour
200g strong white flour
50g sunflower seeds
50g sesame seeds
25g salt
15g instant yeast
850g water
100g orange juice
200g leaven (sourdough starter)
extra sesame seeds for sprinkling on top
METHOD
Put all the ingredients (wet ingredients first) into a mixer and mix with the dough hook for about 3 minutes at a low speed until the ingredients are all combined. You should do no kneading at this point.
Leave for 5 minutes then knead for 10 seconds only on low speed.
Leave for another 5 minutes then knead for 10 seconds only on low speed.
Leave for a third lot of 5 minutes then knead for 10 seconds only on low speed.
Leave for 10 minutes then it's ready to go into the tins.
Tip the dough onto a work surface and divide into the correct number of pieces of dough (1.2kg for large loaves, 600g for small ones).
Shape the dough so that all the creases are on the underside and then put into oiled tins. The dough should be an even sausage when you put it into the tins, if anything slightly thicker at the ends than in the middle to make a loaf that ends up as even as possible rather than domed in the middle (which would mean that some people get bigger slices than others).
Slash the bread with 3 diagonal slashes, brush lightly with water and then sprinkle with some extra sesame seeds. Then leave to prove on the warm shelf until at least 2cm above the height of the tins.
COOKING TIME
Bake in a very hot oven for 10 minutes (our beautiful Rational combi oven goes to 250C but 220C will work nearly as well) and then 180C for for a further 30 minutes. For small loaves, take them out 10 minutes earlier.
Leave the loaves to cool on wire trays.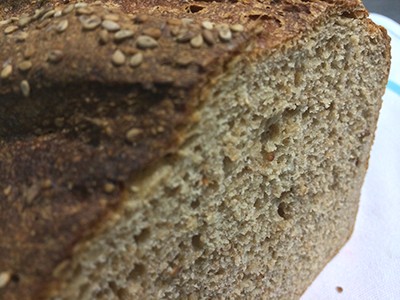 ENJOY!