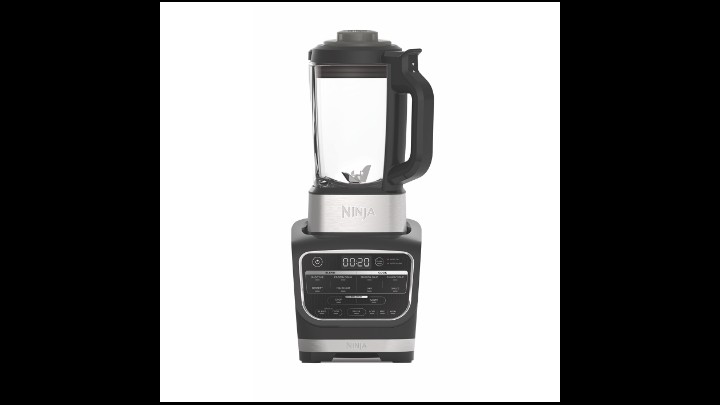 How exciting to be sent the new Ninja Blender and Soup Maker from Ninja Kitchen!
I always love to receive Ninja products and this one lives up to its high standard!
Unpacking the box revealed the following components to build this product.
Motor Base, Jug, Jug Lid, Removable centre cap, tamper and cleaning brush
This is a 2 in 1 product which makes delicious hot soups, plus smoothies, frozen desserts, hot and cold drinks and even jams.
Motor Base
What is remarkable and different to any other blender I have owned is that there are 10 Auto-iQ programmes, which eliminates the need to keep checking on how the cooking or chilling of ingredients is performing. There are also manual settings should you prefer or wish to try, new recipes of your own.
Jug
The premium heat-resistant glass jug has a splash-free lid and built-in measuring cup, so everything is to hand without the need for extra utensils.
Jug Lid and centre cap
The blender can perform with 1.7L for cold drinks and 1.4L hot for soups. A built in safety feature makes sure the blender stops if the lid is accidentally dislodged.
Tamper and cleaning brush
There are two Pre-Cook settings, chop and sauté in which you can chop and sauté ingredients ready for cooking. It is recommended to cut the vegetables into 2.5cm pieces or 1 inch for perfect results.
There is a 1000W motor which enables this blender to cope with the toughest of vegetables and fruit and it even crushes ice with no problems!
There is also a dedicated cleaning programme that rinses out the jug at the touch of a button. How cool is this?! The cleaning brush provided makes light work of the blades and a quick wipe over and you're finished until the next time.
Before the first use, wash the jug and accessories in warm soapy water taking care not to submerge the jug. Thoroughly rinse and air-dry.
So what have I made so far?
Leek and Potato Soup
Ingredients
2 tablespoons olive oil
2 cloves garlic
1 leek, rinsed and cut into quarters. Don't use the green part.
2 teaspoons sea salt
Half teaspoon white pepper
2 white potatoes, peeled and cut into 2.5cm pieces
500ml hot vegetable stock
250ml double cream
Cooking away nicely!
Method
This is cooked and blended by using the MANUAL settings.
Place olive oil, garlic, leeks, salt and pepper into the jug.
Select CHOP
Select SAUTÉ
When programme is completed, add remaining ingredients and select COOK, and blend for approx 1 minute or a bit longer if you prefer a smoother still soup.
So creamy and smooth!
ENJOY! Sufficient for 3-4 servings.
Chunky Vegetable Soup
Ingredients
50g onion
50g carrots
50g celery
75g sweet potato
75g courgettes
20g baby spinach
50g frozen sweetcorn
600ml hot vegetable stock
2 teaspoons sea salt
1/4 teaspoon black pepper
1/2 teaspoon Italian seasoning
Automatically blending away nicely!
Method
Place all ingredients in the jug in the order listed.
Select CHUNKY SOUP and work is done for you within 30 minutes!
Filling and nutritious!
ENJOY! Serves 3-4.
With regards to the salt content of the above two soups, take care not to add more than is required as there is often a high content of salt in many bought vegetable stock cubes. You may find you don't need to add any extra salt at all.
I shall add more recipes to this article as I make them icluding desserts, smoothies and dips.
Retailing at £149.99, this may seem costly for a blender/soup maker, but it is extremely well made and is loaded with features that cheaper models don't have. There is a how to use guide plus a super recipe book included. A one year guarantee is included and FREE delivery if ordered online.
What a super Christmas present for a loved one!
All photos shown are my own except lead image which is Copyright Ninja Kitchen.