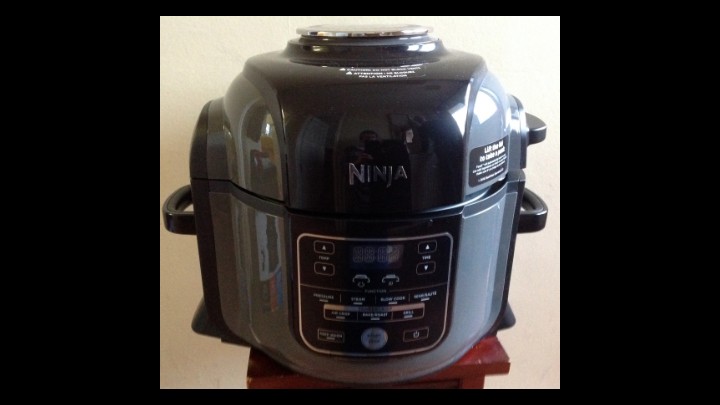 I have been sent the latest Ninja OP300UK multi cooker and would like to share my findings with you.
Weighing 11.8kg and measuring 43cm x 36cm x 32cm, this is no lightweight! Take care when removing from packaging.
Not only is this a slow cooker, it is also a pressure cooker, and can steam, grill, sauté/sear, air crisp and bake/roast! Goodness me. On opening the box, the following items were assembled.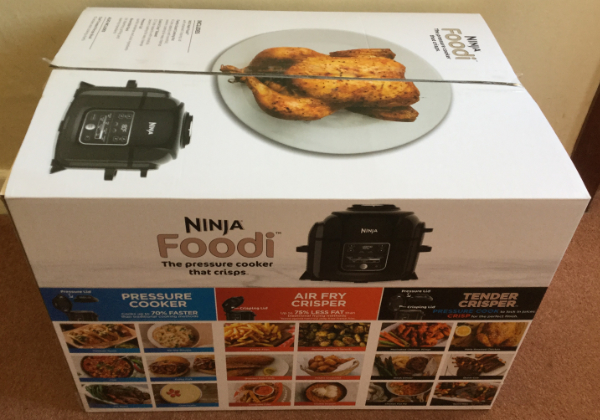 Box with very inviting food images on!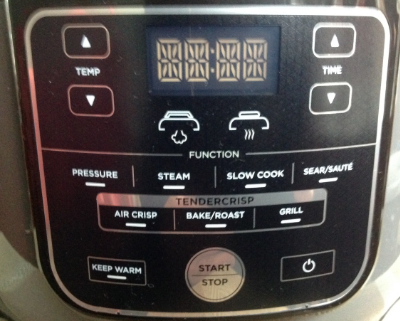 Unit showing multi control panel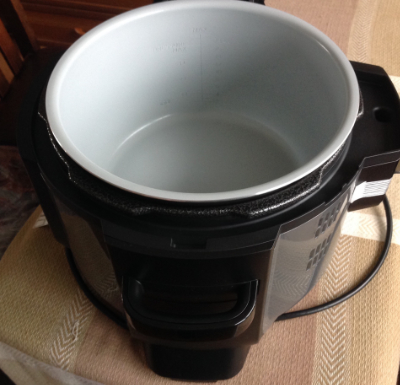 6 litre Cooking Pot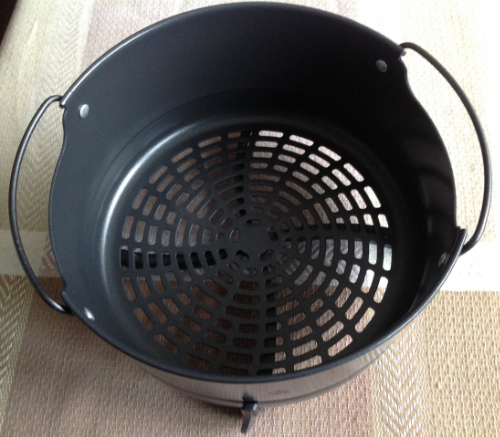 Cook and Crisp Basket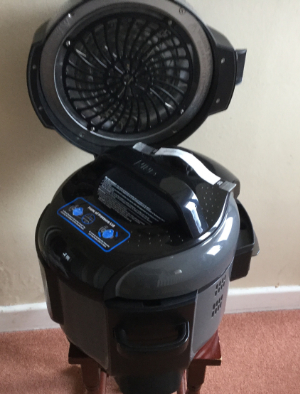 Pressure Cooker Lid showing attached to base. Crisping lid open.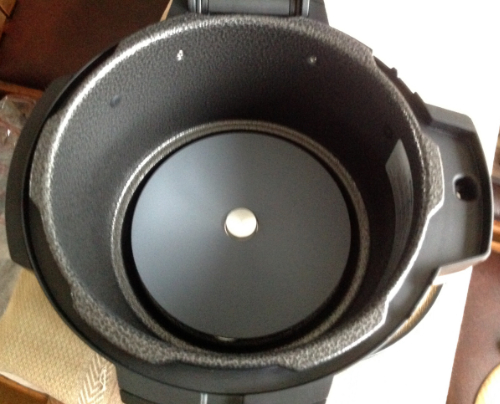 Looking inside the Pressure Cooker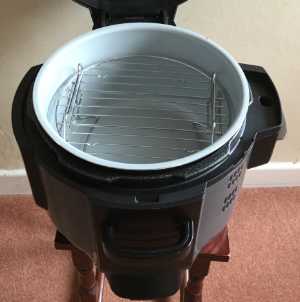 Reversible Rack inserted one way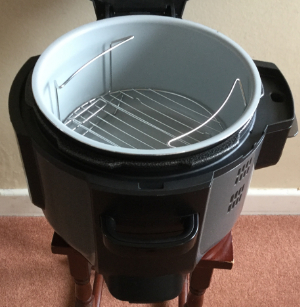 Reversible Rack inserted a different way!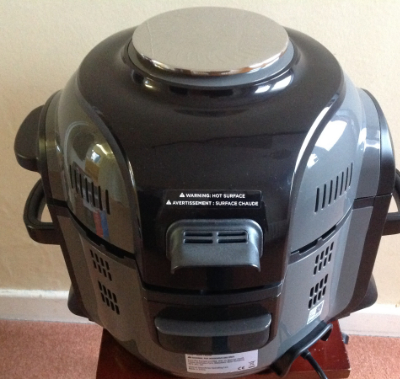 Reverse of main unit showing Condensation Collector and Air Outlet Vent
First things first and that was reading the very detailed instruction booklet.
After washing the relevant parts in hot soapy water, I was ready to cook my first meal. I decided to try Beef Casserole in the SLOW COOKER. The recipe for this will be included in a future food article on my website!
I used the SEAR/SAUTÉ feature to brown the beef first and this saved using an extra pan which would have happened had I cooked the casserole in the oven.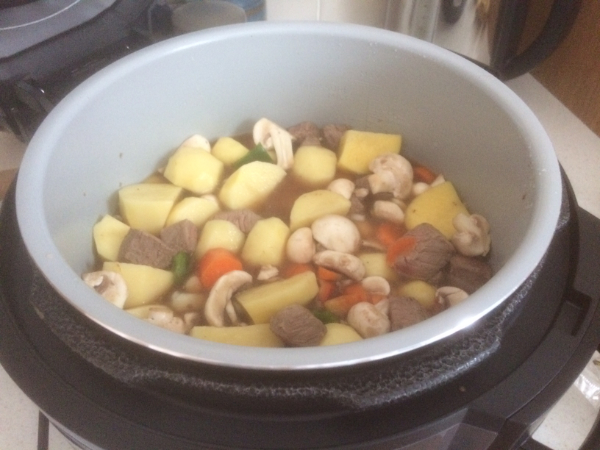 Ready to cook
There are two settings on the slow cooker, low and high. As I was in the house all day, I cooked the casserole on HIGH for 4 hours. An additional feature is the keep Warm feature which automatically switches on when the cook time is complete. NOTE. Make sure the arrows are lined up correctly when fixing the pressure cooker lid on. Turn to VENT. Choose SLOW COOKER programme. Then apply cooking time and press start.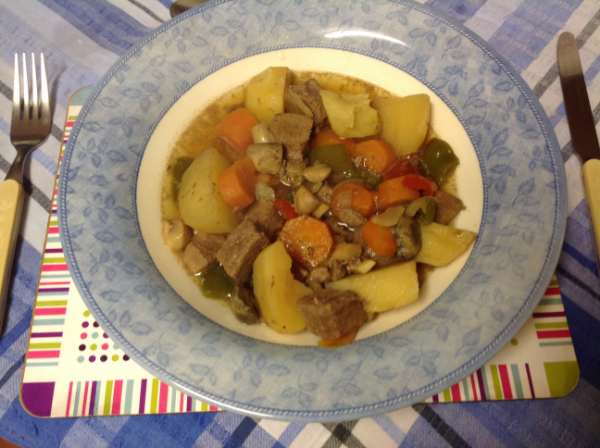 Ready to eat!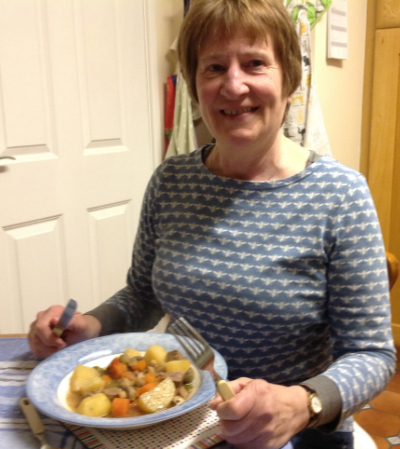 Delicious!
It was very tasty and with all the flavours locked in, no nutrients were lost. Hardly any washing up either which was a bonus!
My neighbour often makes soup and a lovely one to make in the PRESSURE COOKER is Parsnip and Ginger. It only takes 10 minutes to prepare, 7 minutes to cook and then once blended is ready to serve. I will be including the recipe in a future article and will link to this one.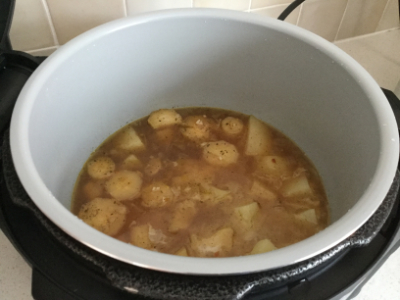 Parsnip and ginger soup ingredients ready to cook
Pressure cooker timer counting down cooking time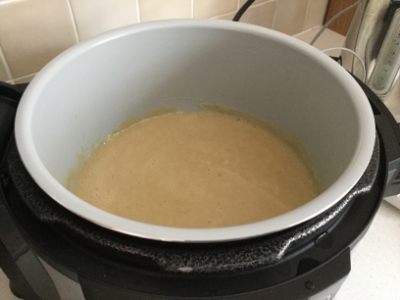 Blended and ready to serve
This soup is perfect on a cold day at lunchtime and if you have crusty bread to go with it, so much the better!
The STEAM function is great for cooking fresh vegetables and broccoli only takes 5-9 minutes depending on the texture you like. I prefer mine to have a 'crunch' so I cook broccoli for 5 mins. When I cooked some for a friend the other day, she prefers hers well cooked, so I timed the cooker for 9 minutes.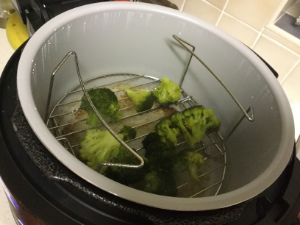 Broccoli cooked!
The broccoli was fine in taste, BUT I used the same amount of water - 275mls. This was a mistake as the water completely dispersed and left the surface of the pot singed. Fortunately no damage was done and the pot was easily cleaned. I will know for next time!
Being one of my favourite vegetables as it goes with almost any dish, I steam mine to have with fish and the other advantage of cooking vegetables this way is that the odours produced from the broccoli remain in the cooker as no draining is involved.
The AIR CRISP function is one that I have not come across before and so I started off with cooking chips in this.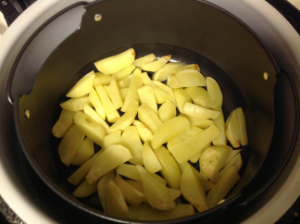 Checking on chips after ten minutes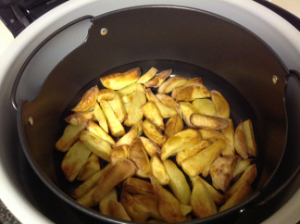 Perfectly cooked!
You can use frozen ones but I prefer my own. I haven't owned a deep fat frier for years, so this method is healthier and tastier! I used an extra virgin olive oil spray on the uncooked chips and timed the cooker for 20 minutes. The chips I cooked were not greasy at all and tasted great!
The GRILL function is a great way to cook gammon, steak, bacon etc. Use the reversible rack in the higher position.
The BAKE/ROAST function is the ideal way to cook a whole chicken, a beef joint, a gammon joint etc etc and I shall be trying Teriyaki Chicken in a few days time. Photos will follow!
A Ninja Pressure Cooker cooks food 70% faster than traditional methods and a Ninja Air Fryer takes little or no oil thereby saving 75% less fat than when using a chip pan. See website.
RRP is £199 and comes with a 1 year guarantee.
This may seem expensive for a multi cooker, but when you see what it can do, you will have no need for a separate Slow Cooker, Pressure Cooker, Steamer, Chip Pan or Air Fryer, so space will be freed up in the kitchen! There are many recipes on the internet for all types of cooking and I shall be trying out various recipes to cook in my Foodi.
Ninja is a brand that makes excellent efficient products. I look forward to reviewing the next one that comes on the market!