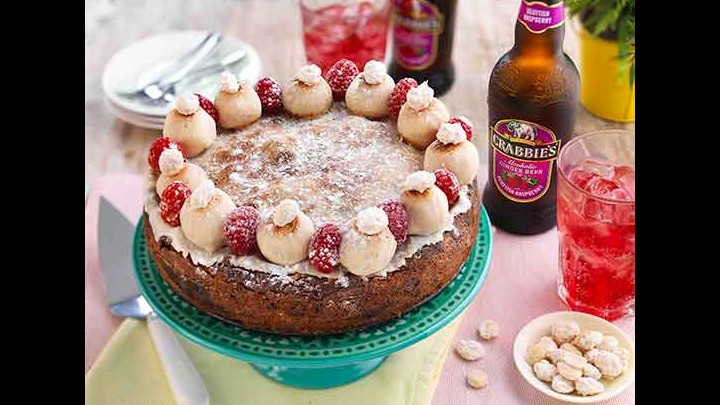 My late mother made the most delicious Simnel cakes. I have not made one since she passed away in 2014, but the following recipe may tempt me. I wonder if it will match hers!
Ingredients:
250g butter
250g brown sugar
5 eggs
100ml Crabbie's Alcoholic Scottish Raspberry Ginger Beer
250g self raising flour
200g sultanas
100g currants
100g dried cherries
2 orange zest
2tsp mixed spice
700g marzipan
100g raspberries
For the candied nuts:
150g whole almonds
150g sugar
Method:
Pre-heat oven 150° gas mark 3.
Cream the butter & sugar together in a mixer then add the eggs one by one, then pour in the Crabbie's.
Sieve the flour and mixed spice into the bowl and fold in. Add the currants, cherries and sultanas.
Place half of the mix into a 10" cake tin.
Roll out about 200g of marzipan to 10" and place on top of the mix. Put the other half of the mix into the tin, cover in tin foil and put in the oven to bake for 3 hours.
Transfer to a cooling rack, let cool for 1 hour.
Roll out another 10" marzipan ring and place on top.
Make 11 balls of marzipan at 20g each by rolling in the palm of your hands. Place round the edges of the cake evenly spread and put under the grill until the marzipan goes golden brown.
For the Candied nuts:
Put the sugar in a heavy based sauce pan with a splash of water and bring to 121° then add the nuts stirring constantly with a wooden spoon until the sugar has cooled and the nuts are coated. Place one candied nut on top of each marzipan ball and position raspberries in between each marzipan ball.
ENJOY!