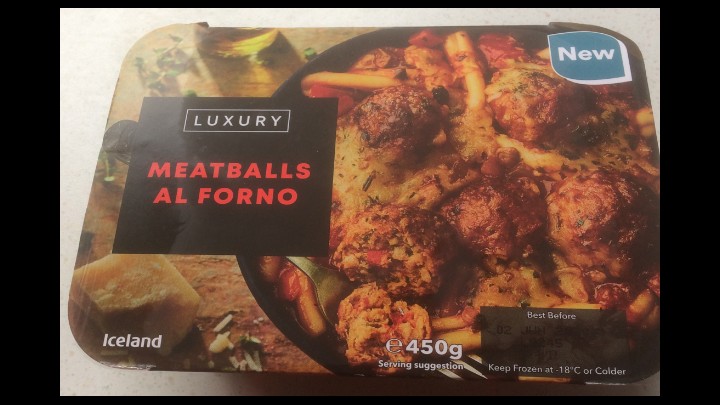 My final day is a new addition to the Luxury range, Meatballs Al Forno.
This is a meal which I have not had in years since my children were still at home. I used to make a meatballs and pasta dish from scratch and add my own home made tomato sauce. Taking 55 mins to cook in the oven or 10 mins in the microwave.
Cooked Pork and Beef Meatballs (22%) (Pork 41%) Beef (34%), Red peppers, Onions, Carrots, various herbs and spices, Cooked Casarecce Pasta (20%) and Pecorino Cheese.
The nutritional information is as follows:-
| | | | | | | |
| --- | --- | --- | --- | --- | --- | --- |
| Calories | Fat | Carbohydrate | Sugar | Fibre | Protein | Salt |
| 635 | 32.5g (of which saturates) 11.5g | 53.7g | 11.0g | 6.6g | 28.6g | 2.2g |
I have to admit to being rather disappointed overall as the sauce tasted too floury and the meatballs lacked in flavour despite the amount of herbs in the dish. There is a warning about small bones remaining and I had three small pieces. I have had a lot of dental work done over the last 12 months so I made sure I chewed each meatball carefully!
I would not buy this meal again.
RRP is £2.69 which is the same as all the other meals I have evaluated.
You can see Day 1 review here, Day 2 review here, Day 3 review here, Day 4 review here, Day 5 review here and Day 6 review here.
So what do I think now I have eaten one ready meal per day for a week? This is something I would not do on a regular basis due to the quite high calorie content of most of the meals, plus the cost of nearly £19. I can make my own meals far cheaper and control the salt intake etc. Having said that, if you live on your own and don't feel like cooking one or two days a week, then these meals may be suitable for you.
If I had to choose a favourite meal, Day 1 would win hands down. My least favourite one is Day 7. This is of course a personal choice. If you do buy any of the meals that I have reviewed and would like me to add your comments in the articles, please send them to me?
You can read all about Iceland Foods and see how the company was started on their website.