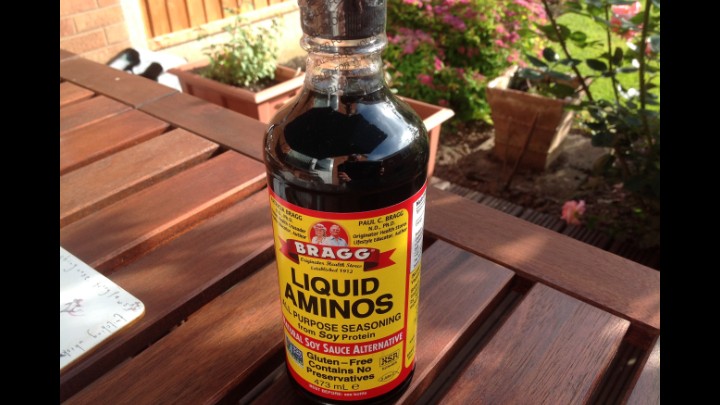 Do you like Soy Sauce but don't use it because the salt content is very high? Why not try Bragg Liquid Aminos? I
I have been sent a bottle from Omnivita who are the sole UK and European distributors for Bragg health products.
The website www.Bragg.com is fascinating! It contains a wealth of information of many interesting products which can be purchased through www.omnivita.co.uk
So what does Liquid Aminos contain?
Let me start by reproducing the below description table taken from the website.
Bragg Liquid Aminos is a non-GMO Project Verified liquid protein concentrate, derived from soybeans. It contains the following naturally-occuring Essential and Non-essential Amino Acids:

16 Amino Acids

Alanine
Arginine
Aspartic Acid
Glutamic Acid
Glycine
Histidine
Isoleucine
Leucine

Lysine
Methionine
Phenylalanine
Proline
Serine
Threonine
Tyrosine
Valine
The product is also gluten free which makes it a great choice for Celiacs. It is also very versatile as can be used in dressings, soups, stir- fries, gravies and can even be made into a broth. With no chemicals present or artificial colourings or preservatives, it is a very healthy product. One teaspoon contains 320mg which equates to 13% sodium.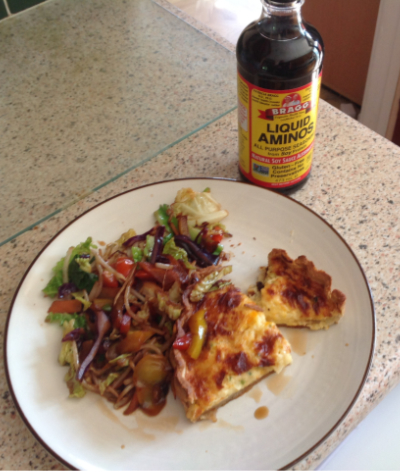 Quiche and stir fry with Liquid Aminos
We are experiencing lovely weather at the moment which makes for al fresco eating! I have tried the Aminos on a stir fry and it has a slightly sweeter taste than Soy Sauce and not as strong which suits me.
Drizzled Liquid Aminos on my salad for an unusual tasty meal
Liquid Aminos also is a great accompaniment on salads and I enjoyed it on my ham salad as an alternative to salad dressings which can be a bit heavy.
Retailing at £4.99 for a 180ml bottle, this represents good value as there are approximately 59 x 5ml or one teaspoon servings. Why not try it for yourself?
If you have any questions, you can contact Omnivita on 020 8205 3388 where the dedicated customer service team will be able to help. You can save 20% by ordering your Liquid Aminos from the online store page and any other products they stock by using code OMN20 at the checkout!
I shall be writing about another Bragg product soon, so watch this space!