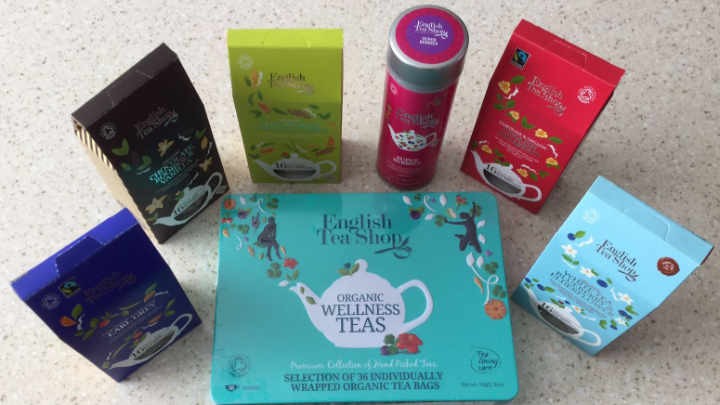 Are you a tea lover? Do you have a favourite brand? I love many blends and have been sent a wide variety of organic teas from The English Tea Shop.
Where to begin?
Let me quote a few lines from the English Tea Shop website.
'We love good tea.
Refreshing, invigorating, robust or soothing, our love for tea infuses everything we do: from blending at our own factory in Sri Lanka, all the way to your freshly brewed cup. But tea is much more than that. We care about everyone in our supply chain. From pickers, to packers, to blenders, to drinkers. Small farming, Organic, Fairtrade and Sustainable are words close to our heart.'
Since 2010, the teas have been selected from some of the best farms in the world. Only choosing small farms and paying a premium on top of the Fairtrade prices to the farmers ensures sustainablility.
English Breakfast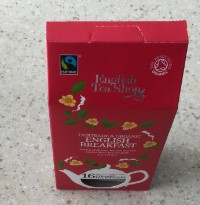 A cup of tea first thing is a MUST for me and it has to be a good quality blend. The English Breakfast variety is organic, dairy free and vegan. I prefer to have mine with milk, but a friend who tried it black says it tastes perfect. Allow the teabag to infuse for 4-5 minutes. This tea can also be served iced, but I prefer mine hot!
Earl Grey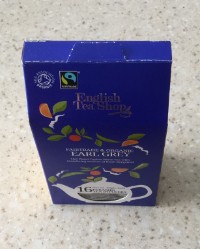 I have tried Earl grey tea in the past and am not a lover of it. It is a few years ago, so I was willing to sample this make again. There is a lot of debate about whether Earl Grey should be served with or without milk. I tried both ways and then black with a slice of lemon. vegan, organic and dairy free. Leave to infuse for 3-4 minutes. This was the tastiest way for me. Again this tea can be served iced and on a hot day is ideal.
White Tea Blueberry & Elderflower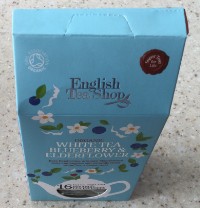 I often buy herbal teas so am pleased I have been sent a selection of them to try. Containing 63% organic white tea, 17% organic lemongrass, 10% organic elderflower and 5% blueberry pieces plus 5% natural flavourings, this tea is a delight on the tastebuds anytime of day. leave the bag in for 2-3 minutes to infuse. It can also be served iced.
Lemongrass Ginger & Citrus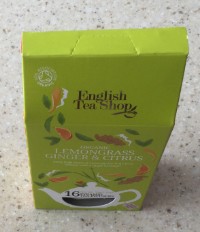 I love lemongrass, citrus fruits and ginger so I knew this variety would be a firm favourite with me! Containing 49% organic lemongrass, 30% organic orange peels, 16% organic ginger and 5% natural flavourings, vegan, organic and dairy free, a lovely tasting tea that 'zings' in the mouth and is delicious hot and iced.
Chocolate Rooibos & Vanilla
What an intriguing blend! Containing 89% organic rooibos, 5% natural flavourings, 3% organic vanilla pods, and 3% organic cocoa nibs, this is gluten free with no artificial flavours. Infuse the bag for 5 minutes Serve hot or iced. My friends who tried this LOVED the unusual flavours and sweetness of the blends. If you are a chocolate lover or know anyone who is, this would make a treat for a friend or loved one. Being a savoury person, I prefer the non sweet flavours!!
Super Berries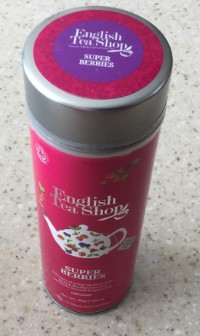 The title of this tea grabs ones attention! Containing 63% organic hibiscus, 19% organic rooibos, 5% natural flavourings, 4% organic spearmint, 3% organic raspberries, 3% organic strawberries and 3% organic bluberries, this tea can be drank hot after infusing the bag for 4-5 minutes or iced. My friends and I tried it iced on a hot afternoon and it was a definite hit!
Premium Collection Of Hand Picked Teas
This is a fabulous tin of six different blends of tea - Revive Me, Comfort Me, Sensual Me, Detox Me, Slim me and Youthful Me. Each selection contains 6 teabags and I am keeping this as a gift so haven't tried the blends myself.
English Tea Shop is a very successful exporting company for tea so each country will have its own price bands.
Each retailer will have its RRP but most are roughly the same resell price- excluding premium places such as airports and key retailers on the high street mainly for gifting. You can buy individual items from retailers.
Amazon tends to sell in trio packs. There is a link on the website which takes you directly to Amazon.
You can buy individual items from retailers.
There is so much detail on the English Tea Shop website including where the teas are stocked, up to date news, how it all bgan and even recipes. There is also a newsletter you can sign up for. Why not try some of the many blends yourself and if you let me know your thoughts, I will add them to this article.
Happy tea drinking!!
All photos copyright ReviewSpot apart from English Tea Shop logo which is coyright https://www.etsteas.co.uk