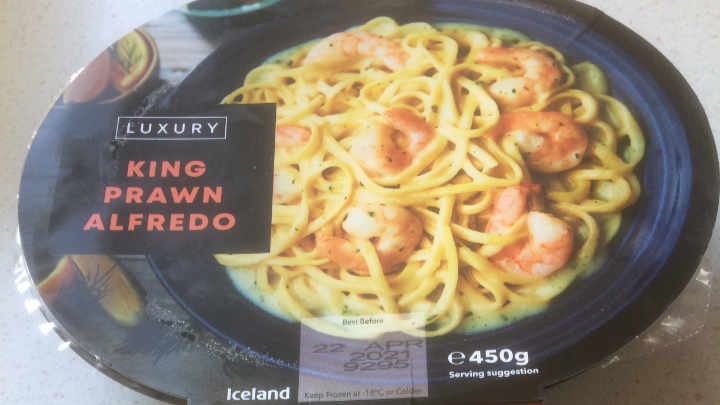 I expect many of us shop or have shopped at Iceland Stores.
With such a wide range of ready meals now available, I am sharing seven different ones with you from their Luxury Range.
Day 1 is a King Prawn Alfredo. I am a lover of most fish dishes so looked forward to trying this meal.
For best results, it is recommended to cook from frozen, either in the microwave or in the oven. I cooked mine in the microwave for the recommended time of 8 mins and 30 seconds. If you cook in the oven, it will take 40 mins.
The main ingredients are Cooked Linguine Pasta (33%), Marinated King Prawns (22%), (king prawn(Crustaceans) (77%), the rest of the ingredients are lemon juice, garlic purée, single cream, mature cheddar and parsley.
The table below gives the nutritional information.
| | | | | | | |
| --- | --- | --- | --- | --- | --- | --- |
| Calories | Fat | Carbohydrate | Sugar | Fibre | Protein | Salt |
| 620 | 25.1g (of which saturates) 12.2g | 68.2g | 3.3g | 7.7g | 26.3g | 3.6g |
I really enjoyed this meal, it was very filling and full of flavour. You don't need any other accompaniments, but if really hungry, some fresh crusty bread and butter would be tasty! Containing 620kcal, it is only slightly high in calories for a ready meal.
Will definitely buy again.
RRP is £2.69 for 450g which is good value.
Here is the link to Day 2 Ready meal. Here is the link to Day 3 Ready meal. Here is the link to Day 4 Ready meal. Here is the link to Day 5 Ready meal. Here is the link to Day 6 ready meal. Here is the link to Day 7 meal.
You can read all about Iceland Foods and see how the company was started on their website.