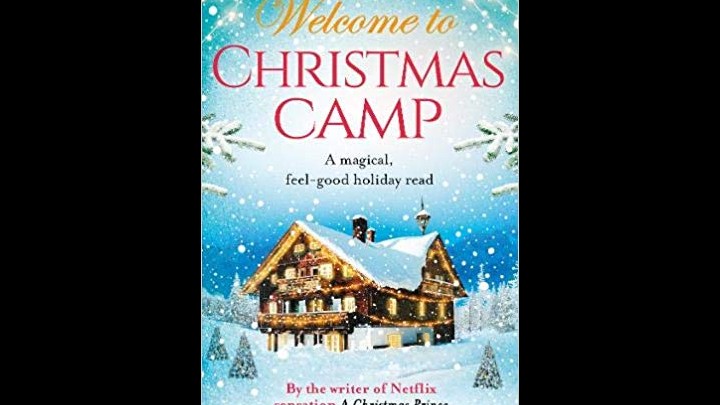 I am delighted to be publishing readers reviews of Welcome to Christmas Camp by Karen Schaler. My thanks to Sophia from Piatkus Fiction for donating reviewers copies.
Debbie Taylor
Such a wonderful read! I was totally hooked from the first page, and as a result I was so keen to finish the book, I couldn't put it down. If you love Christmas you will adore this book the characters are totally believable and even though you know how the story will end you still find yourself eager to carry on reading.
I would absolutely love to visit the Christmas Camp, it seems to be a truly magical place. If ever a book can put you in the Christmas mood then here it is. I'm keen to see what happens to Haley and Jeff, I can't wait to see how their story will develop.
Well done Karen a fantastic book, I will definitely recommend this one.
Heather Copping
I really enjoyed this book it's a lovely cosy book to read in front of a log fire or Christmas tree.
Hayley is an up and coming young woman trying to make it big in the advertising firm where she works, but in order to become one of the partners she has to prove to her boss that she can really get into the Christmas spirit in order to win a contract with a large toy company.
Jeff is the son of Ben who runs a Christmas Camp in the most glorious winter wonderland setting. Jeff has lost his mum to cancer so is worried his dad is doing too much with running the Christmas Camp on his own and he wants him to sell up and move to a flat near him in Boston.
Hayley finds it difficult to switch off from work related things but as an idea comes to mind, her work skills maybe needed after all.
Will work win with Hayley? Does Jeff succeed with his suggestion with his Dad? You must read this to find out.
This book has a cute storyline running through it and an angel overload as well as other Christmas activities such as sledging, a wish tree for children's gifts to give something back to the community and Christmas trees aplenty. To top it off there is a most cute dog called Max who is sure to melt your heart, he did mine.
I would recommend this book to anyone who loves to read cosy Christmas books and anyone who needs a bit of reading help to get them into the Christmas spirit. A lovely 5☆ read.
Beverley Ann Hopper
Magical. I loved this book, it has everything added in to put you in the mood for Christmas. It has sparkle and romance and recipes, what a beautiful story. Haley Hanson arrives at the Christmas Camp Snowy Inn, a romance is formed with the handsome Jeff, so I will let you read on to enjoy the magic of this wonderful book.
Absolutely fabulous.
Donna Prosho

If you love Christmas, romance & getting that feel good feeling from a book, this book is for you!
Haley (the grinch, who's not really a Grinch, just a workaholic) is signed up for a week long camp, all to do with Christmas, where she has to give up her phone & laptop daily and really find her hidden Christmas spirit! Along the way to finding it, she meets max, a very loveable dog, who makes sure she's kept on her toes from the moment she arrives at Christmas camp!
Along with Haley there's also a newly married couple, a widow with her son in the military, and a single dad of two teenagers, all looking to reconnect with each, and find the spirit of Christmas along with old traditions and making new ones!
But of course, there also has to be a romance, and why not, it's Christmas after all! Jeff is Ben's son (the owner of Holly peak inn and the organiser of Christmas camp) and is hoping that his dad will sell the inn and move closer to him, and for this to be his last camp, due to it being a strain on Ben & finances since the death of his mom, but Ben has other ideas!
A full week of everything Christmas, activities include, sledding, baking, finding a Christmas tree & chopping it down, to decorating cookies, and ornaments, to making snow angels! Along with discovering the true meaning of Christmas!
There's a connection between Haley & Jeff, but both are fighting the feelings, but in true tradition love always finds a way!
A very feel good read, and absolutely perfect for a Christmas read!
Hannah Booth
I haven't read a book for while as Christmas was coming up until I saw this book and as the festive season begun to start, I thought why not and to get me into the Christmas spirit. This is my first that I have read a book by this author and so far, I'm really enjoying it.
The story begins on a lady called Haley Hanson who doesn't really like Christmas she's like the modern version of the Grinch, she likes to work a lot and is very determined to get her dream job even if it means spending a full week at a place called Christmas Camp but when's she there's she discovers an unexpected love.
Haley's description of a perfect Christmas is to escape to the Caribbean to work rather than see all the tradition Christmas distractions. Year after year Haley sacrifices her own personal life so she can climb the corporate ladder at the prestigious advertising agency where she needs to land an account with a toy's factory to make partner. But her boss has other plans, he decides that Haley needs a holiday adjustment and sends her to Christmas Camp at the Holly Peak Inn a lovely retreat and hopefully it will get Haley back into the Christmas spirit.
When Haley arrives at the beautiful Inn surrounded by the snow and mountains, she also meets a handsome man his name is Jeff he's the owner's son when they meet there is a spark at first, but she tries to deny the attraction and also refuses to take in any of the Christmas activities Haley just want to just get back to work.
But Haley can't resist the charm of the season anymore and begins to start to live every moment she's beginning to let the Christmas spirit back into her heart and also includes growing closer to Jeff.
But one day the relationship takes a hit as Jeff not happy with Haley as she's been talking to Jeff father about saving the Inn as this has ruined the plans for Jeff to sell.
Would Haley and Jeff get the Christmas magic and get back together?
My star ration for this book is 10 stars.