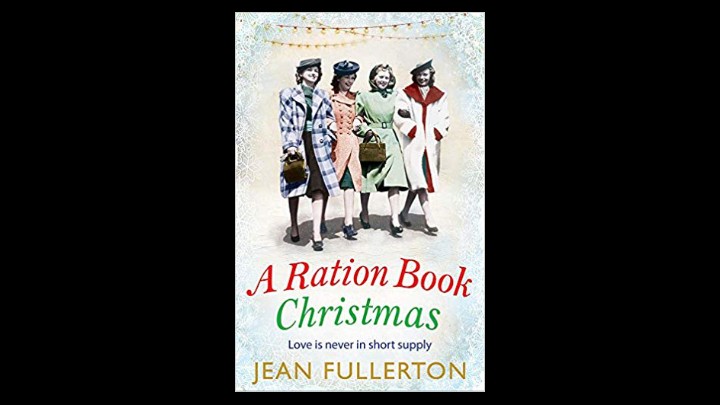 I am delighted to publish readers reviews of A Ration Book Christmas by Jean Fullerton. My thanks to Corvus for donating review copies.
Heather Copping
I really enjoyed this book and was so pleased to discover that this book was a follow-up to Pocketful of Dreams which I had also read and enjoyed and had wondered what had happened to Mattie and the Brogan family from Mafeking Terrace.
This book is more focused on Jo (Josephine Margaret Brogan) and her young brother Billy and at the beginning of the book we find them billetted at a grocers store near Colchester in Essex, where neither of them are happy. Jo gets a letter from her sister Mattie, but had been wishing for one from Tommy Sweete. Running away from their billett they arrive back in London and that night the bombs rained down on them as they sheltered in the communal shelter. Is Tommy the boyfriend she hoped he would be or is he two timing her? As Jo can drive she joins the London Ambulance Service and here she meets up with Tommy again, but is he doing somewhat dodgy dealings as part of his war work with his brother as part of the Heavy Squad?
What follows is lots of secrets, blitz action and many family emotions, culminating in a Christmas to remember.
A lovely wartime saga and I hope that this is not the last we hear about the Brogan family.
A five star read from me.
Diane Cunningham
This is the second book in the ration book series following the lives of the Brogan family during WW2. If you've not already read a pocketful of dreams you will still enjoy this book.
I throughly enjoyed this book it was well written and you were able to imagine exactly what it was like for families in this difficult time. I loved the book from start to finish and couldn't put it down.
I really hope that this isn't the last we will read about the charming Brogan family.
I highly recommend this book.
Katie Phillips
I found this book full of interesting information and could imagine myself within the story given the wonderful detailing in this author's writing.
The characters have so much love and respect for one another and how they troop through these times is amazing.

Will Jo find her true love. Will Tommy do good? Buy this brilliantly written book and learn these things for yourself ...Why have it spoilt for you?
Loved the recipes at the back and I hopefully will have a go!
Beverley Ann Hopper
Heartwarming read. Josephine Margaret Brogan, (Jo) and her brother Billy are evacuated to Mellow Winchet in Colchester, where 17 YEAR OLD Jo is working in the Garfield General Store. Tommy Sweete, Jo's sweetheart is back home in East End London.
Both missing each other and letters posted back and forth are not arriving.. Jo and Billy both pack up and head back home. Jo is desperate to be back in Wapping and be back in Tommy's arms but nothing happens that easily. Jo joined the St John's Ambulance Service and is allocated a station at St. Katherine's School in Stepney.
Jo and Tommy face a lot of challenges from their family, Tommy and his brothers are not so sweet and not liked after getting into trouble a lot, but Tommy fights for Jo's affection. I loved reading this book through WW2, 1940 right up to Christmas.. It is a book for anytime of the year to read,
Filled with tragedies, love, and wholesome war recipes.
I LOVED IT ALL!
Kelly Furness
1940 London's War time East End and Christmas is fast approaching.
Jo and her brother are evacuated to a greengrocers in Colchester. They are both not happy and know they have only been taken in due to the money given to the host family.
Jo plans their escape back home to London and in to the arms of her charming Tommy. Tommy however has a reputation that proceeds him much to her families disgust and as Jo returns and joins the ambulance service she meets up with him again but gets wind that his & his brothers' War efforts may not be entirely legal.
Can Tommy convince her that he doesn't want to be like that anymore whilst battling against Reggie and his criminal plans?. At a time when the fight for survival is at its strongest can her family believe he thinks enough of Jo to be put that life behind him?.
As this Wartime saga comes to an end Christmas will certainly be not one to forget with tragedy, love, secrets and unity.
A well researched book that gives you a taste of just what it was like with great characterisation.
A book I would recommend to fans of this genre.
Pamela Coles
A good read from start to finish. I remember the broken biscuits that were sold cheaper than the whole biscuits! Just a small detail of the war years - nothing was wasted.
Two evacuees that escaped the peaceful countryside to get back to London. Life wasn't as everyone thought for evacuees. It was even harder in London.
The escapades of life during the war are brought to stark reality as the story moves on.
A very moving story about these years and a thoroughly excellent novel.
Sandra Blower
I was given the chance to read this new book and review it, well I can say I have loved catching up with Brogan family. Jo, Mattie, Cathy, Charlie and of course Francesca. They are all doing their duty for the war effort as life goes on around them.
Tommy is still trying to re-shape his life but his brother Reggie has other plans but he hasn't thought of Tommy's feelings only his own love of crime.
I won't give away the story but if you want to know what happens read the book. Worth the 5* and more.
Donna Presho
The story begins with Jo and her younger brother Billy evacuated from London in the middle of the blitz and not settling in there with the people they are staying with, so end up running away back home to London.
Jo had fallen for a young man back home, and they had started to write letters to each other when she was away, but the letters had stopped for no reason, so when Jo was back home she went to seek the young man Tommy out to find out why, when she located him he was with another woman......but the actual facts were that Tommy's brother Reggie didn't want him to be involved with Jo and wanted him in the family business of skullduggery, so made sure the letters were not received and set Tommy up with another woman.

After a bad bombing night, where Jo & Tommy were in the same vicinity, they started to talk to each other again, and slowly the truth came out.
More bombings occurred, loving sisters, family arguments, sees the story come together and end just how you would hope it would.

The era of the book is one of my favourites, and the writing of the story kept me wanting to continue reading. Would totally recommend this book.
Hannah Booth
I am a huge fan of Jean Fullerton and this book is not a disappointment. When I started reading this book I didn't want to stop. It feels like you can hear the characters voices and movements or being there.
The story is very interesting and has a lot of historical information. It is based in World War Two following a lady called Jo who is in love with a man called Tommy and also it tells what happens to lives with their respective families and together with the attitudes to the situations they get in.
There are also details on children being evacuated from their families, also there is looting on poor people who have their houses damaged or destroyed by the bombings.
I give it 10 stars!
Janice Rosser
This book follows on from the first in the Ration Book Series, Pocketful of Dreams and we catch up with the Brogan family. It is 1940 and the war is entering its darkest days. Jo Brogan and her brother have been evacuated to the countryside to escape the Blitz in London. However, they are not happy living with their domineering 'landlady' and so escape back to London.
Jo is in love with Tommy, who comes from a family involved with crime and recklessness and when she was away, the letters stopped arriving from him and it appears that he did not receive hers either.
Jo meets Reggie (Tommy's brother) one day near where he and Tommy live and invites Jo to go in and see Tommy. Unbeknown to Jo, there is a lady in the house also and when Jo sees her and Tommy in a state of undress, she runs away in floods of tears and is heartbroken. But is it all as it seems?
Jo finds a job in St. John's Ambulance Service and tries to move on with her life. She meets Tommy once more and they try to resolve their differences. As the pages unfold we learn more about the other Brogan family lives and their many twists and turns. Will this end up a Happy Christmas for them all? A Ration Book Christmas is a real page turner and Jean describes the bombings and stark realities of war so vividly, I felt I was there. PLUS an added bonus at the end of Wartime recipes!
An excellent read and a 5 star rating from me.
If you buy books as Christmas presents, maybe add this one to your list! Looking forward to hopefully reviewing Jean's next book when it is published.
Pocketful of Dreams: A heart-warming East End saga
Pocketful of Dreams is also available to buy from Amazon by clicking on above link.
See readers reviews of A Ration Book Childhood here.
See reviews of A Ration Book Wedding here.