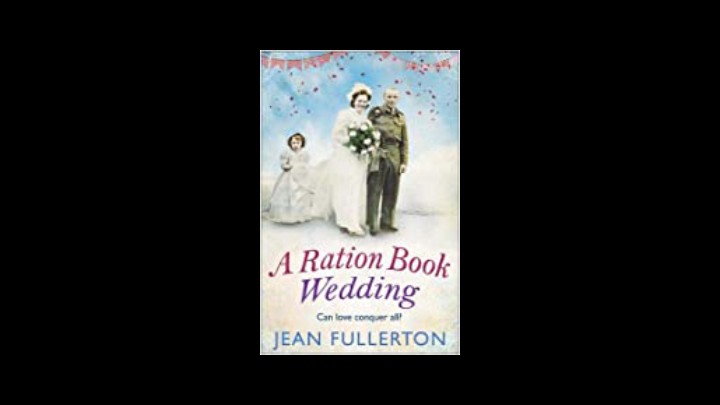 I am delighted to be featuring readers reviews of Jean Fullerton's latest novel.
Heather Copping
I absolutely loved this book, I was drawn into the story right from the very first few pages and it kept my attention throughout. This is book four in the Ration Book series, but I don't think that it would matter if you are not familiar with the previous books, you would soon be drawn into the story of the Brogan family during 1942 WW2 London.
Charlie is the son of Ida and Jeremiah and has been serving in the North African desert and has been wounded in the shoulder resulting in him being shipped back home. His wife is not the type to sit at home waiting for him to return, she would rather spend her time entertaining men in the strip club where she works.
Francesca Fabrino (Fran) has been working nights in a factory making aircraft parts. She is a long time friend of the Brogan family and has always had a soft spot for Charlie. As she is Italian she applies for and gets a job with the BBC Overseas Broadcasting Service.
She loves her job and one of her colleagues Count Leo D'Angelo makes an impression on her. Now she has a difficult decision to make, Charlie or Leo? The rest of the family also play a big part in this story and I think that's what makes it so captivating, a large East End family with stories of their own but they all culminate together to make a big part in the story.
This book has it all - friendships, passion, weddings, East End camaraderie, GI's and even a stripper thrown in! Jean Fullerton certainly keeps the story going through all the series of these books and this one is no exception and I truly hope that there is more to come.
From the moment this book landed on my doormat I couldn't wait to get "stuck in" and while I was reading it, I didn't want it to end.
Loved it from page one and well worthy of being a 5☆ read.
Patricia Humm
An absolutely wonderful story of the Brogan family during World War 2
This book centres on the wedding of youngest daughter Jo and her sweetheart Tommy. The parents Ida and Jerimiah Brogan get a big surprise after Jo and Tommy's. Reception comes to an abrupt end following a bomb dropped in Mafeking Terrace. Also central to the story is Francesca Fabrini and her undying love for married Charlie Brogan who is home recuperating after being shot.
Charlie's wife Stella still leaving son Patrick alone and working as a stripper she is now seeing a G I, so Charlie tries to get custody.
Cathy's treacherous facist husband Stan comes home on leave and beats her after listening to his lying mother who Cathy lives with but after this Cathy and Mattie make up.
No spoilers but lots of surprises for the family and a truly happy ending.
You will thoughouly enjoy this 5+++++ book. Jean Fullerton at her best.
Diane Cunningham
This book is one of my favourite genres and I couldn't wait to read it when I heard there was a fourth book in the Brogan family series. Just as with the other three books I wasn't disappointed.
It was lovely to get reacquainted with the Brogans again. I'd missed the family shenanigans.
As with all of Jean's books that I've read I was immediately immersed into the wartime dramas. Jean has a way of writing that draws you into the heart of the story. I went through a whole rollercoaster of emotions with all of the Ration Book Series characters.
This is a well deserved 5* read.
Anne Harvey
What's not to like about the Brogan family? A lively, totally loyal and absolutely lovely family from the East End of London during WWII.
This time the story centres on Francesca Fabrino, long-time friend of eldest sister Mattie, and Charlie Brogan, the eldest of the Brogan boys. Francesca has been in love with Charlie since she was a small child, hopelessly as it happens because Charlie is locked into a marriage with the loathsome Stella and has a young son, Patrick.
When Charlie is injured while serving in North Africa, he has to spend some months recuperating at home. Except that when Charlie discovers what Stella has been doing for a living, he leaves her and goes back to the family home.
As young Patrick spends most of his time with the family, it's a chance for Charlie to form a loving bond with his son. He soon begins to realise that Francesca is the love of his life but she is being courted by a rich and handsome Italian count who can give her far more than Charlie ever could.
How the story is resolved makes for a wonderful book, full of the author's characteristic descriptions of life in the East End during the war. Watch out for Queenie, Charlie's great-grandmother, giving a violent son-in-law a good hiding!
Made me laugh out loud.
Sandra Blower
I have looked forward to getting my nose into this book and Jean Fullerton has not disappointed me.
Ration Book Wedding is about the Brogan family and their lives during WW2. Jo Brogan is marrying Tommy so Mattie is busy with making the dresses. Francesca decides to change her job so applies to the BBC for a job on Radio Roma.
As usual life for the Brogans is never dull until they hear that Charlie is coming home after being injured and needs rest.
I love reading the Ration Book Series as you feel as though you are there with them all. I don't want to say any more as it would spoil a wonderful book for readers.
Thank you Jean Fullerton for writing such lovely books. 5*
Fiona Morton
Oh well what can I say Jean Fullerton has nailed it again with another brilliant book!
Love this series by her. My favourite books. I absolutely loved reading it. Another great book. Well done Jean Fullerton.
I have got Ration Book Dream on my kindle to read and once I have read it I will have read all the books in this series.
It's a series worth reading. Good as stand alone books too.
Nicki Howells
Having read Jean's previous books I was looking forward to reading this, and It did not disappoint. In this book the story follows Mattie Brogan's best friend Francesca Fabrino, who is of Italian heritage, and who lives with her father Enrico, who runs a local cafe.
Francesca has been in love with Mattie's brother, the handsome Charlie Brogan since childhood, but Charlie is married to the not so popular Stella Miggles. Charlie is currently serving overseas so Stella has found work as an 'exotic dancer'.
Rather unexpectedly the chance of happiness comes Francesca's way, but is she still too in love with Charlie to take that chance? Or has she finally realized that she will never be with Charlie?
There are a few roller coaster moments in the book, and even some that made me laugh out loud, my absolute favourite part was Queenie Brogan and the shillelagh, and I may have cheered at one point too.
Another fantastic book from Jean, and I hope there will be another installment of the series. Thank you Jean.
Beverley Ann Hopper
A delightful read from this author. Fran Fabrino is working in the new Plessey factory, that was the old wartime assemble field, between Leytonstone and Newberry park, London. While operating machinery, listening to German bombs above she was five hundred feet below street level and this war work is tiring and dangerous.
Fran, twenty four years old and single she also helps out with her father Enrico running Alfs cafe when she comes off nightshift making pie and mash for the customers.
Mattie Brogan her best friend is now married with a baby. Fran is still holding a torch for her brother Charlie Brogan him but he belongs to another.
This book gave me so much joy reading throughout, it's a time when families pull together, I loved every single page, and it leaves your emotions going haywire.
You won't want to put it down!
Janice Rosser
A Ration Book Wedding is the 4th book in the Ration series and once again I couldn't wait to see what develops in the Brogan family during WW2.
This time the book's central character revolves around Francesca Fabrino, a long time friend of Mattie Brogan. Charlie Brogan has always been the love of Francesca's life but when he marries Stella Miggles and they have a son together, she realises that she would not be 'the one' for Charlie.
Francesca helps her Italian father run his café and also works as a translator at a BBC Radio station where she meets an Italian Count who wines and dines her. Francesca likes the attention, but does not have any feelings for the Count.
Charlie returns home from being injured in North Africa where he discovers his wife is working at a night club performing as an entertainer for GI's. Not the respectable entertainment though!! He realises that he no longer loves Stella and tries to obtain custody of son Patrick.
Francesca often calls to see Mattie and if Charlie is there, she realises how much she still loves him. Is the feeling reciprocated? Can there be a way forward for them both to find future happiness inspite of all the difficulties?
Jean's attention to detail and her research is once again fascinating. I know so much more about the East End of London and the way the description of the terrifying bombs falling makes the reader feel she or he is actually there!
I give this book 5 stars and can highly recommend A Ration Book Wedding.
Pamela Coles
I love all Jean Fullerton's novels and was thrilled to recive this one to review. I was a child during the blitz and the vivid descriptions feel so real. The Brogan's are a hardworking East End family and this story revloves around a close friend of Mattie, one of the daughters.
Francesca has always had a soft spot for Charlie, one of the sons and when he returns home injured from the war, all her feelings come to the surface again. But Charlie is married now and has a son, Patrick. However, his wife Stella is working in a nightclub for GI's and performing unsavoury acts on stage every evening. Charlie finds out from a photo of her in a magazine and so begins the path of trying to get divorced and have custody of Patrick.
Francesca hears about this when she visits Mattie and wonders if there may be a chance for her and Charlie to form a courtship. She disregards this however when an Italian Count from the Radio station she works at as a translator takes a shine to her and starts to wine and dine her.
BUT can she ever love another man when she still has feelings for Charlie? You will have to read the book to find out!
Worthy of 5 stars and I can't wait to see if there will be another in the Ration Book series!
Moira Manson
Reading about the Brogans again, it's like meeting up with old friends. Ida has her hands full with a wedding coming up. Charlie is on sick leave and spending lots of time with his son . Stella is still doing what she wants but after leaving Patrick alone while she went out, there was an air raid which could have caused a real tragedy.
Charlie still has feelings for Francesca but as he married it's not easy. Ida was injured in the air raid and had to have treatment and there's a surprise for the Brogans and Queenie is still Queenie who will do anything for her family.
After reading this I can't wait for the next one - hopefully there is a next one!
A 5 STAR review - what a brilliant book .
Donna Prosho
Absolutely love this series by Jean Fullerton and really looked forward to reading this one.
Back with the brogan family again. Ida and Queenie Brogan bring the family back together after family quarrels, with weddings, babies and the love of a good East end family.
Even when a bomb causes mayhem with one of the girls weddings, and another blast almost results in a death, the family rally together.
New loves are found plus old ones rekindled.
Another wonderful story and can't wait to see if there's going to be another book in this series.
A Ration Book Christmas has also been reviewed on my website. See reviews here.
A Ration Book Childhood has also been reviewed on my website. See reviews here.
All four books can be bought from Amazon. See links below.