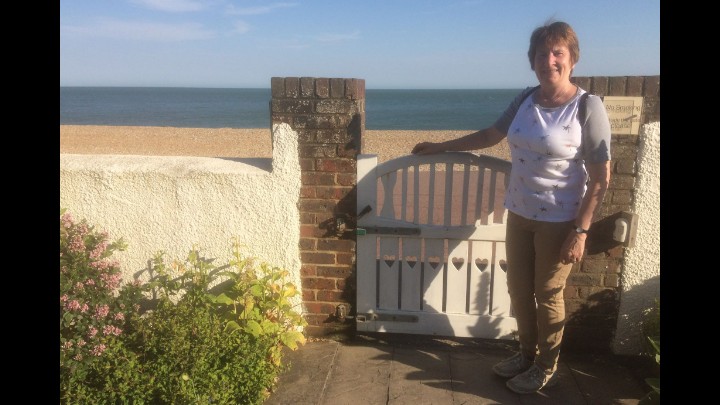 On July 2nd 2018, Derek and I spent a few days in Hythe, Kent. I have not been to this area of Great Britain before, so was looking forward to seeing new territory!
After a long journey on busy motorways, we arrived at around 3.30 and booked into our B and B, The Beach which is a super boutique bed and breakfast on the seafront. Penny and Paul made us very welcome and we enjoyed complimentary drinks and snacks. We went for a walk along the promenade and found a lovely seafood restaurant a few yards from The Beach. Hythe Bay Seafood Restaurant has an extensive menu of freshly prepared dishes. Derek opted for cod and chips and I enjoyed cold poached salmon and veg.
The following morning we were up early as the seagulls begin their dawn chorus around 4am and with no chance of sleeping through this, we were ready for breakfast by 8am! A HUGE choice is on offer at The Beach and Penny and Paul cook for and serve their guests.
The weather was perfect for exploring so we decided to go for a drive around the area. First stop was the pretty village of Rye. We walked along the harbour walls and then went part of the way along the Rye Harbour Nature Reserve. I was hoping to spot some birds, but we didn't see ANY! You can read more about this reserve here. Perhaps the heat was keeping the birds away and they were sheltering somewhere.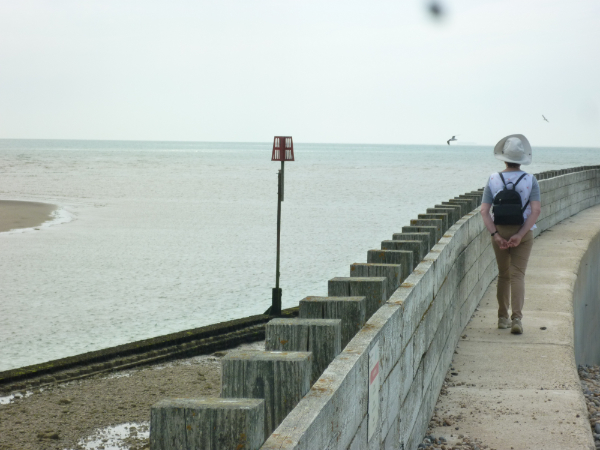 Walking along wall at Rye Harbour
Next stop was Camber Sands. There is a big car park and a cafe which serves hot and cold food as well as a wide variety of drinks. To get to the wide expanse that is Camber beach, you have to walk up a steep incline and amongst the dunes. The walk is worth it though as the views and the beach is fantastic. The tide was out when we were there, so we didn't see anyone braving the elements to have a swim. There are two miles of shoreline to explore. There is more information to be found here.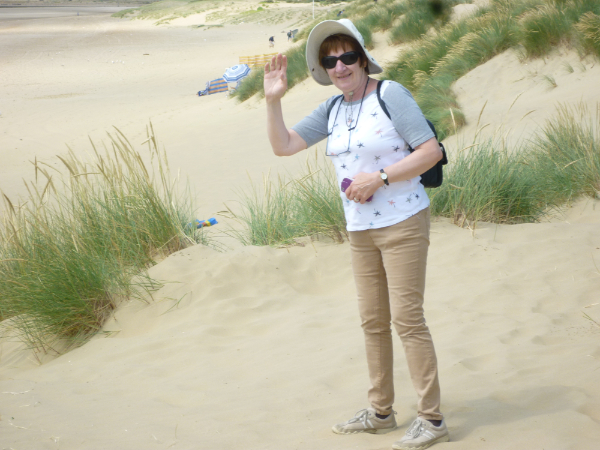 Just got to the top of a dune!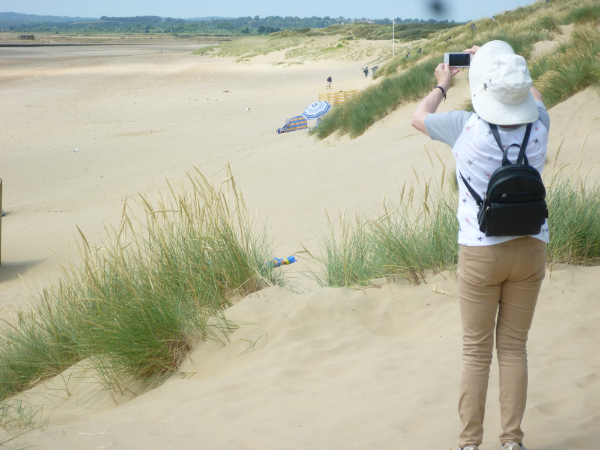 Am taking a photo of the same scene that Derek has taken of me!
We enjoyed a welcome cup of tea in the cafe before moving on to Dymchurch. This also has a lovely beach with firmer sand than Camber. There is an amusement park for the children near the beach and plenty of small shops and pubs. Everywhere is flat here, so this is an ideal place if you have mobility issues. A useful guide to Dymchurch is worth looking at if you are thinking of visiting.
On returning to our B and B, we parked the car and walked to Hythe station to see about train times for the following day's excursion. When we started to walk back to our B and B, we somehow took a wrong turn and ended up walking MILES down a very long road which we thought would come to the beach, but it didn't....So we turned back and finally found our way. Derek thinks we must have walked seven miles in all from our various visits that day! We were certainly ready for a cup of tea and an evening meal.
Day three and our final full day in Hythe. After another filling breakfast, we caught the steam train from Hythe to Dungeness. This is run by the Romney, Hythe and Dymchurch Railway company. See their website here. Many photos were taken of the various engines and can be seen below.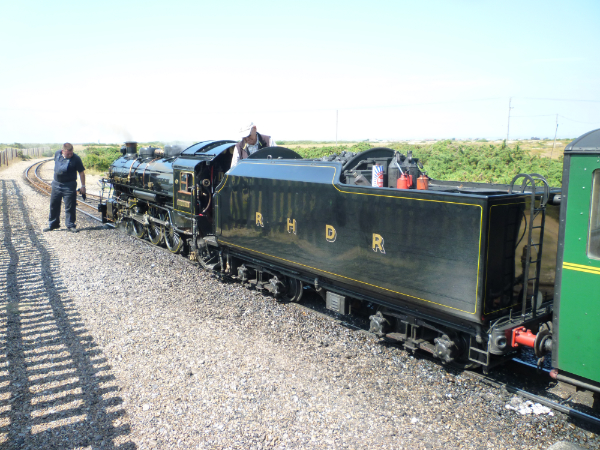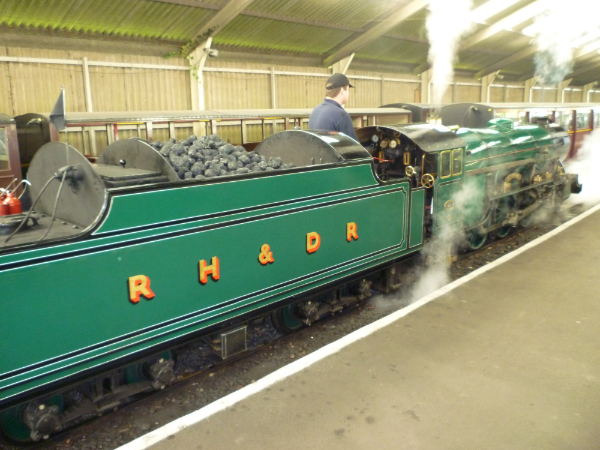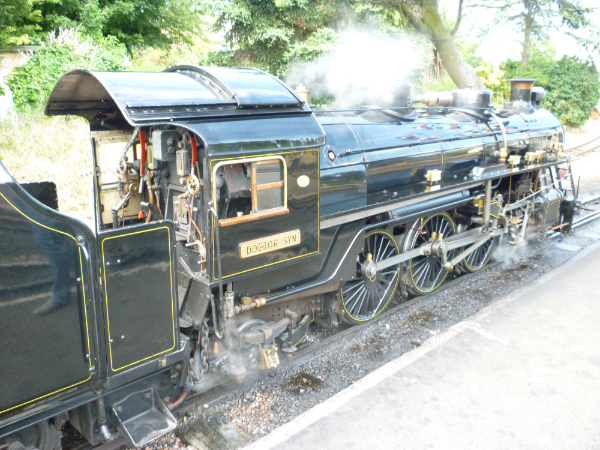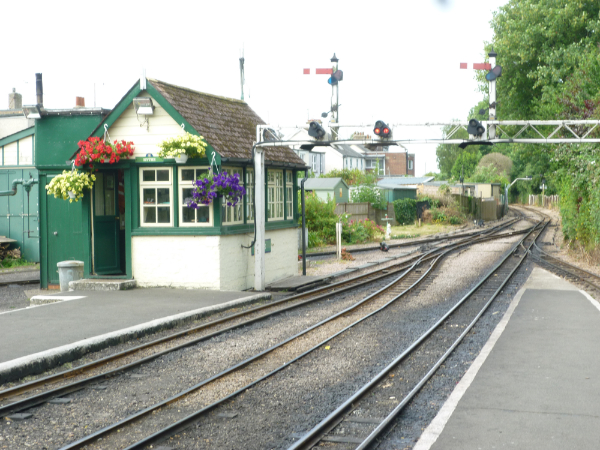 Hythe station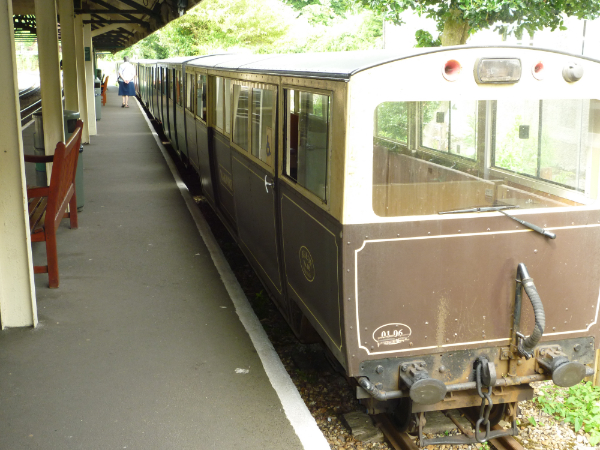 One of the many steam train carriages that are used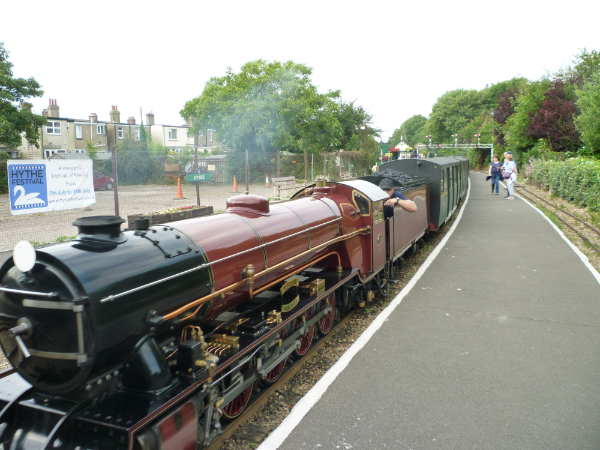 Hercules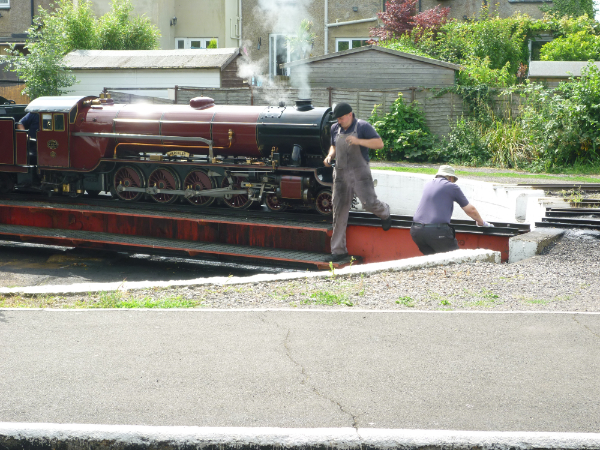 Hercules engine being turned round on the turntable
On arrival at Dungeness we were met by Lyn Wild, a FB friend and a lady we had met before at a function for RAF Police Dog Handlers in 2015. Lyn has a fabulous dog called Clay who is a 'Hearing Dogs for Deaf People' pet and is her constant companion. He was so well behaved and friendly. If you would like to support these wonderful dogs, take a look at the website and see what is involved in the training. We went into the local Inn to have a drink and a long chat with Lyn who told us about Dungeness where she lives. You can read about this desolate landscape with all its attractions and the power stations here.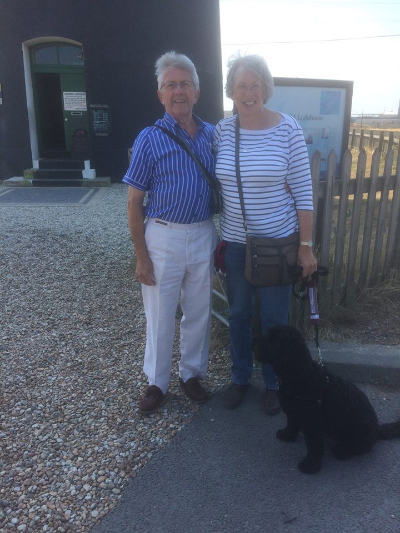 Derek, Lyn and Clay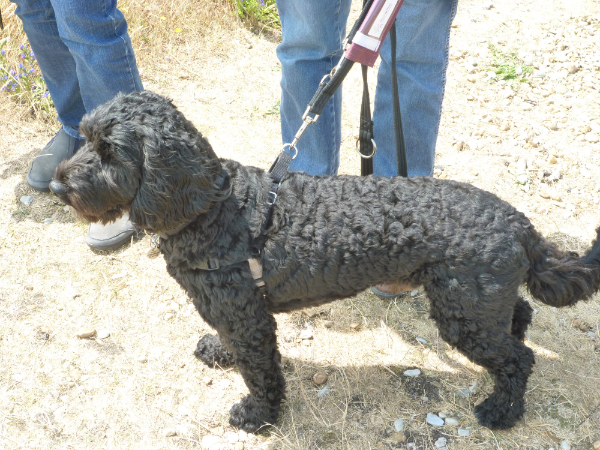 Clay - a super dog!
One of the attractions is being able to walk up to the top of the Old Lighthouse. Derek and I managed the 184 steps to the top where it was VERY windy and we were able to have a 360o view of the whole area. If you don't like heights, this may not be for you, but there are five floors with interesting information to read about which are all inside the lighthouse. The final ascent is by a steep staircase, so may not be suitable for everyone. This lighthouse does not operate anymore, but the Trinity House one does.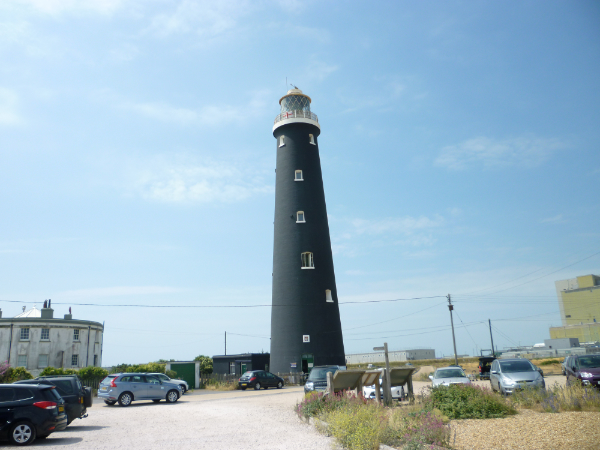 The Old Lighthouse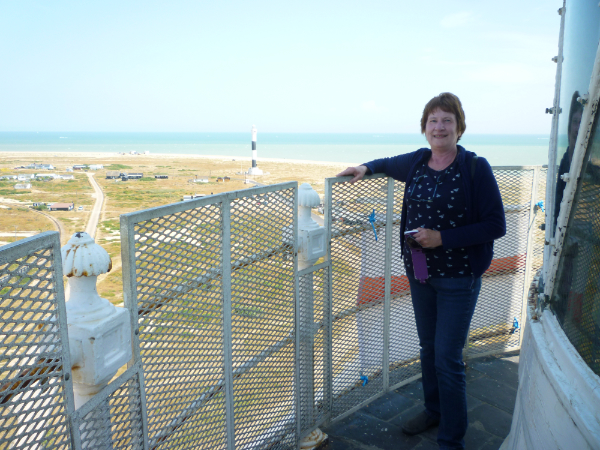 Made it to the top!
Trinity Lighthouse taken from the top of the Old Lighthouse
All too soon Thursday arrived and it was time to leave The Beach and begin the long drive back to Hereford. We had a busy but enjoyable time in Kent. If you live in or near these areas, perhaps post a comment at the end of the article?