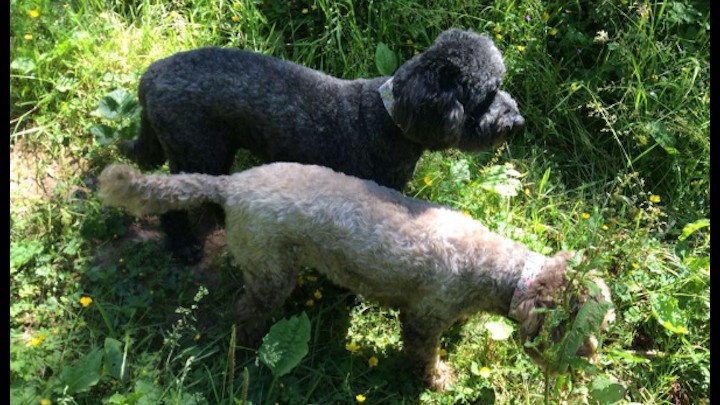 My good friend Sue Sly who owns and runs Canine Troubles has sent me two posts about nutrition and harnesses that are the best way to feed and walk your dogs!
I would like to explain how the nutrition of your dog can make such a difference.
Since I passed all of my courses of dog psychology and behaviour I have researched nutrition values intensely. It not only plays a major part in the dog's health but it's behaviour too! I urge you to read every ingredient on everything that you buy for your pets. Do NOT buy from commercial supermarkets.....they don't care about your pet's health, they just want the money! Steer clear of Bakers, Butchers and Pedigree.
There is nothing but rubbish in these products. If your budget is low then it would pay you to buy good old fashioned Chappie.
If you don't want to feed a raw diet to your dog then try to feed the best that you can afford. I cook for my dogs and use meat, vegetables, fruit and herbs. I have a couple of my clients in my class that now use chopped up vegetables as treats and the dogs love them!
The treats should be equally 100% organic.......I have introduced good quality organic treats to the Butter market pet store and General dog's body too. The chew treats that I have recommended are Mango root and Yakers. They are 100% organic and can't harm your dogs in any way......and all dogs love them.
Please just research and read everything on the labels of the things that you buy for your pets! I can't stress enough how important it is.
I would like to let you know about Harnesses!
So many people are being misguided into buying no pull harnesses that don't work. The only No Pull harness is one which has a double 'D' ring....one on the back and one on the chest. You then need a double ended lead to clip on both rings. All others teach the dog to pull, they are just more comfortable than a dog that is pulling and choking into its collar! The no pull harness balances the dog's body so that they don't surge forward onto their two back legs.
You don't need to keep paying out for different equipment. You need to teach your dog how to walk on a loose lead. If you are unable to do this, I would love to help. Just message me on my Canine Troubles page.
My tools consist of a long line (lunge-line) and a slip lead that can be made into a figure of 8 if you have a really strong dog that pulls. That is all that I need to teach loose lead walking and recall.....two of the most important things to teach your dog so that they become calm, well mannered and balanced.
Basically, if they have a double D ring......one on the chest and one on the back they will be suitable. When the lead is attached to the chest ring it turns the dog into you, and dogs just want to go forward so it teaches them to stop pulling to be able to do so.
The link to the company below has a great range of harnesses.
https://www.goodfordogs.co.uk/wiggles-wags-whiskers-freedom-harnesses/
EDITOR: Thank you for an excellent write up Sue. Contact Canine Troubles here.