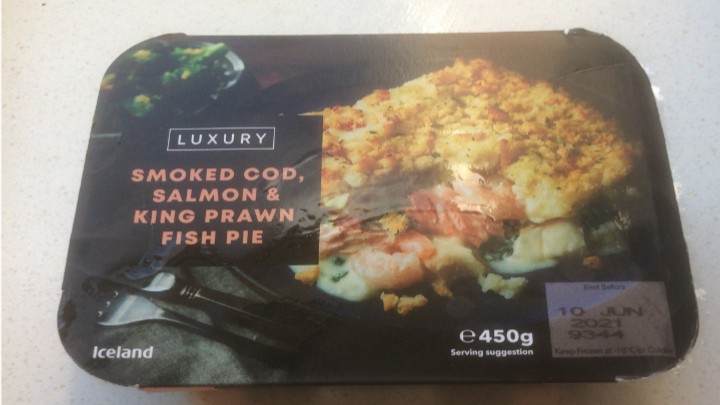 I am a lover of most fish meals, so a luxury fish pie is my choice for Day 4.
I often make my own fish pie and this takes a long time to cook and prepare. It made a change to try a ready meal containing three types of fish that I enjoy.
Recommended cooking times from frozen are 55 minutes in the oven or 14 minutes in the microwave. The main ingredients are King Edward Potato (33%), Smoked Cod (8%), King Prawns (8%), Salmon (8%), Cheddar cheese , Spinach, Onion, and flavourings.
Nutritional information is listed below.
| | | | | | | |
| --- | --- | --- | --- | --- | --- | --- |
| Calories | Fat | Carbohydrate | Sugar | Fibre | Protein | Salt |
| 487 | 19.9g (of which saturates) 12.2g | 45.2g | 3.0g | 5.5g | 29.1g | 4.0g |
The fish pie is relatively low in calorific content at 487kcal and was not overly filling or flavoursome. Perhaps a higher content of the three fishes included would improve the flavours. At only 8% of each of the them, the potato rather took over. The addition of maybe some fresh broccoli and peas/sweetcorn would be ideal accompaniments and make for a more filling meal. I have to be honest and say this was not the best fish pie ready meal I have had.
RRP is £2.69 which represents reasonable value.
See my reviews for Day 1 here, Day 2 here and Day 3 here. Day 4 here. Day 5 here. Day 6 here. Day 7 here.
You can read all about Iceland Foods and see how the company was started on their website.