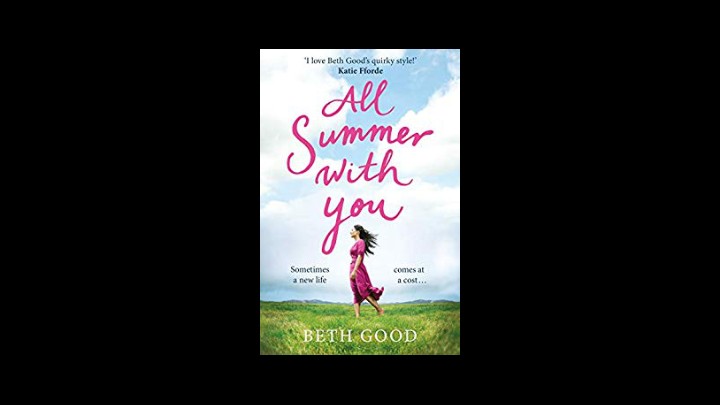 Ella Patel from Quercus Books has very kindly sent out copies of Beth Good latest novel and I'm pleased to be sharing readers reviews with you all.
Beverley Ann Hopper
Such a feel good book that I was drawn into as I kept reading the main character Jennifer Bolitho is nursing a broken heart. This lovely story brings out all the good in Jennifer.
Pixie Cottage has peace and tranquillity for everyone.
I enjoyed every bit of it and hope to read more of this author's work.
Patricia Humm
This story is set around a heartbroken Cornish historian. She has tendencies to witchcraft. After a broken romance she rents a cottage on land belonging to a Hollywood star Alex Delgardo. She, Jennifer Bolitho has admired him in films.
Alex lives with his eccentric Nan Nelly who brought him and his sister Thelma up. Nelly keeps 7 goats. A goat by the name of Baby breaks free wanders down to the cottage munching on nasturtiums. Nelly thinks Jenny is a goat handler and takes her under her wing.
Alex is not amused and orders her off his land. P. A. Brodie follows her and explains he has terrible problems and is having a bad day. Over the summer a friendship forms then Jenny and Alex fall in love but then he backs off.
He then says that Jenny knows Nelly is ill but won't talk about it, could Jenny help? Nelly eventually tells Jenny asking her to say nothing. After a traumatic happening within the family Jenny is forced to break her confidence.
An amazing story - a box of tissues needed.
Valerie Nonow
I have just finished All Summer With You and I loved it! When at times this book seems a bit cliché, it's full of intrigue and unpredictable hence making it a page turner.
There is a good mix between beautiful descriptions and dialogues which keeps the story moving until the very end. Very often the middle of stories in books get boring as the author has a beginning and an end but needs to fill up the pages in between.
This is not the case here and you will long to have time to sit down and read it. The characters are genuine, intriguing, unusual, specially the 4 legged characters. There is a good balance between a spectrum of emotions - laughs, cries and everything in between, it keeps the readers on their feet and expectant.
There is an interesting fact about the Cornish traditions which is lovely to discover. It was a lovely read and the author should be very proud of the book.
I will now look for other books by this author. Thank you for the opportunity to discover this author.
Heather Copping
Set in glorious countryside in Cornwall, this book is by Beth Good. It's the first book that I've read by her and it's certainly got a lovely summery design front cover.
Jennifer has recently split from her fiancé and has moved into a rented cottage owned by a famous movie star.
After a strange encounter with some goats in her garden, she meets the elusive star and his elderly nan, but his first impressions of her are not very friendly. After persuading her to move into his house while renovations are done to her cottage she gets to know Alex and his family a whole lot better ( as well as those goats!).
As the story unfolds we learn about Alex and his background and how a massive tragedy changed his life, but will it change once again now he has meet Jennifer?
This is a lovely summertime read, full of romance, sadness and hope, as well as lots of gorgeous Cornish charm.
Diane Cunningham
Big thanks to you and Quercus Books and Jan for allowing me to read and review this book. This is my first book by this author but I really enjoyed it. Set in the beautiful Cornish countryside what's not to love. Jennifer is broken hearted and moves into Pixie Cottage to lick her wounds and get her life back together. Little did she know a goat called Baby was going to come into her life and change things forever. A romantic read where the path of true love definitely doesn't run smoothly. With PTSD, panic attacks and lots more besides going on in this book you won't want to put it down. A great summer read.
Jan Poole
Absolutely loved the book and how right from the start it picks you up and drops you right into the story. A twist on what you predict and unexpected lines that weave you through the Cornish villages as if you are there driving down the narrow roads yourself.
I could not put it down and when I had to, couldn't wait to carry on.
Would definitely recommend it and have already done so.
Janice Rosser
If you are looking for a good quirky beach read and love Cornwall, this is the book for you!
Jennifer Bolitho is nursing a broken heart and has rented Pixie cottage in Pethporro. Finding a stray goat in her garden one day and seeing an elederly lady looking for it, so begins the novel that is All Summer With You by Beth Good.
Nelly (the old lady) insists on taking Jennifer back to the big house she shares with her grandson, the soldier turned filmstar Alex Delgardo. Upon seeing Jennifer and his nana, Alex is very abrupt and surly towards Jennifer. But why??
With building work needed in the cottage, Jennifer is asked to move into the big house in return for trying to find out what is wrong with Nelly and if she has a serious illness she won't discuss with Alex. After agreeing to do so, all is not straightforward.
Alex and Jennifer have both endured loss in different ways and the reader begins to understand why their personalities are not straightforward.
What follows is an intriguing tale of witchcraft, goats, romance, more heartache and finally a happy ending for all? You will have to read the book yourself to find out!!
June Tate
As the winner of this book, I would like to add my review!
I enjoyed reading All Summer With You by Beth Good. Jennifer Bolitho is nursing a broken heart in a small cottage in the grounds of her landlord, Alex Delgardo, a movie star.
Jennifer is coping in solitude, whereas Alex has an ailing Grandmother, Nelly a loveable woman who takes a shine to Jennifer. Alex too has his own problems.
How they both cope is a delightful story.