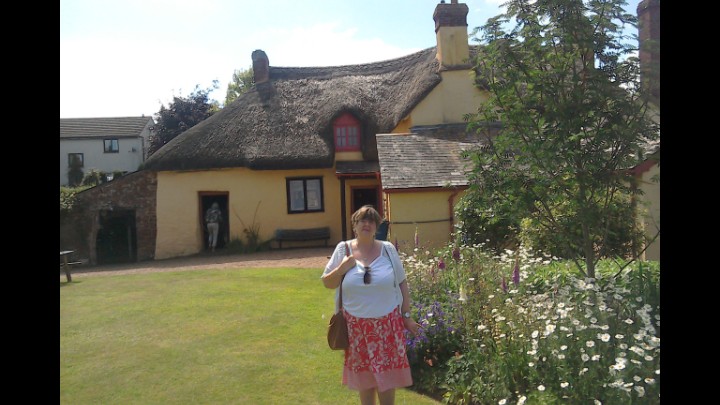 Apart from the large house at Killerton, there are 3 very interesting old buildings on this vast estate, and Ashclyst Forest. All the properties owned by the estate are painted in a mustard colour.
1950s Post Office & Country Garden
This Post Office was opened in 1911 to serve the people in the local area. Sadly it was closed in 1971, but can be visited. As with all places to be seen on the Killerton Estate, it belongs to the National Trust.
Various memorabilia
The interior of the old Post Office, houses a lot of great 1950s memorabilia. Coronation editions of the newspapers, old magazines & comics, household products popular at this time, old postage stamps etc, all with a wonderful feel of this era.
Then after looking around inside, you can walk around the beautiful gardens. See the wash house & pig sty of the 1950s, plus the outside privy!
All in all a wonderful nostalgic trip back to the 1950s in such pretty surroundings.
I walked slowly around, but think it would be difficult with a wheelchair, and certainly unsuitable for electric scooters. .....
Clyston Mill
This is a working mill, which on a Sunday produces it's own flour still.
Well worth a visit if you are able bodied. But for disabled people quite impossible to see everything. Also parking is a problem. My husband dropped me off by the entrance, and parked the car back down the lane.
Also it is difficult to find, and needs some clearer signposts. But worthy of a visit, and you can purchase a bag of flour .....
Markers Cottage
This amazing cottage was built in the 1400s. And has now been restored to its original state. A few years ago painted, wooden panels were uncovered, dating back to the 1500s. The whole place has a wonderful feel of its history, and is extremely interesting.
There is a beautiful lawned garden where you can sit. With a sweet summerhouse built for the Millennium, in the old style.
Parking is in the free car park at Broadclyst. It is a 10 minute walk, but is accessible for wheelchairs and electric scooters. However the house is not! But if you stick to the ground floor of the cottage there is very little walking, with chairs to sit on in each room.....
Ashclyst Forest is a couple of miles further on. There is a signpost to turn right. If it is a beautiful day it is so peaceful to sit for a while in the shade .....
EDITOR: See the Killerton website for more details here.