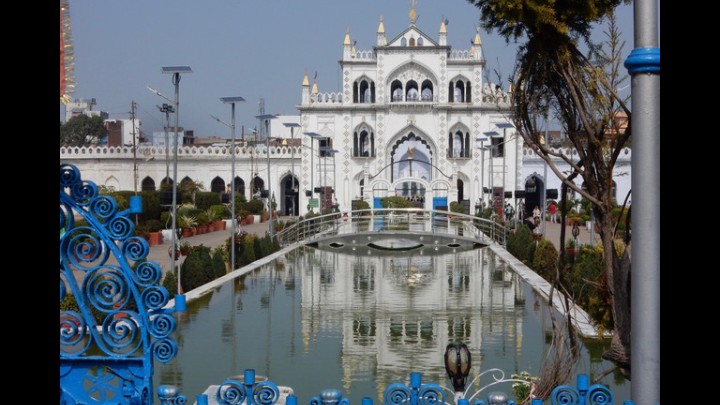 AMRITSAR lies in the fertile Punjab — the land of the five rivers — and is synonymous with The Golden Temple, the holiest gurdwara (place of worship) in the Sikh religion and an important pilgrimage site.
The Golden Temple
Approached by marble floored paths it lies within the centre of a man-made pool. Every day the Guru Granth Sahib (holy book) is reverently carried from its overnight resting place, a random page is opened, read out aloud and then written out for pilgrims to read that day. The langar — a free community run kitchen manned by cheerful volunteers — serves hundreds daily. People of all faiths are treated as equals and sit in rows on the floor, as huge vats bubble with nutritious vegetarian fare and giant metal teapots pour endless cuppas.
Jallianwallah Bagh, Amritsar. Bullet holes in walls. April 1919 massacre when General Dyer ordered troops to fire , without warning, on unarmed protestors.
Nearby is Jallianwallah Bagh, where 100 years ago on 13 April 1919, Brigadier -General Reginald Dyer, without first giving a dispersal warning, ordered his troops to fire at unarmed Indians gathered there in peaceful protest. Many were wounded, 1,500 fatally. Holes mark the walls where bullets struck and one can peer into the well where those who'd dived in to shelter from the shooting were not spared. It's now a memorial garden, with an eternal flame and a small museum with exhibits, both evocative and heart-rending. Churchill, then a Cabinet Minister, roundly condemned the unrepentant Dyer, describing the incident as monstrous and demanded that he be punished.
Established some two years ago, the interesting Partition Museum is housed in the old Town Hall that bristled with bureaucrats during the heyday of the Raj. Riveting displays record the hasty division of the sub-continent and one can hear not only the political voices involved in the process but also the voices of those who witnessed the tumult that unfolded in the mass exchange of populations.
The Old Town Hall (now the Partition Museum)
Amritsar- topiary in Jallianwalla Bagh
Street food from dhabas (roadside shacks) are piping hot and mouthwatering, and the Amritsari kulcha — hot, buttery and crisp and stuffed with fresh red radishes and cauliflower —is to die for as are fish tikkas and homemade pickles. Those who love fabrics and textiles won't be able to resist the array of fabulous materials and overnight a tailor can run up bespoke garments at a fraction of the cost back home.
The colourful and unique coordinated lowering of the flags ceremony enacted simultaneously by the border forces of India and Pakistan takes place before sunset at the Wagah Border, marking the boundary between the two nations, and is an elaborate, if somewhat quirky, high-kicking spectacle.
Panorama from Bara Imambara
LUCKNOW on the banks of the Gomti River was once ruled by Nawabs (cultured Muslim Kings, patrons of science and the arts). Clean and green, it boasts well-protected cycle tracks that cyclists in Britain would envy and is voted the "second happiest city in India. " With so many different, wonderful sites - the Victorian clock tower, the ancient brick Bara Imambara, the Chota Imambara, both set in exquisite landscaped gardens, and the Roomi Darwaza (Turkish Gate) to name but a few, it was difficult to decide where to start. However, The Residency, a group of ruined buildings, including a hospital and church, all marked by cannon shot, but sympathetically preserved amidst manicured lawns and attractive flowerbeds, was the first port of call.
The Residency was a township within a city — here the British Representative lived in some style and beyond lay the teeming city on which he kept an eagle eye. In 1857, sepoys besieged The Residency in what was formerly called the Mutiny and is now known as the First War of Independence. Roofs and walls were shattered, some set alight and razed to the ground. Hundreds of British personnel perished, their bodies often buried in mass graves. A poignant inscription on a weathered headstone reads, "Do not weep my children for I am not dead but am sleeping here."
La Martinere - one of India's top fee-paying schools - Lucknow. Founded by Frenchman Claude Martin
La Martinere – a leading independent school —was founded by Claude Martin and is architecturally fascinating. A Frenchman from Lyon, Martin enlisted as a private to support his penniless, widowed mother, was posted to India where his skill and diplomacy catapulted him through the ranks. Amassing a fortune, he settled in Lucknow with his beautiful young mistress, the daughter of Muslim aristocrats. He never returned to France.
Lucknowites are softly spoken and polite and unlike many places in India, the city retains historic street names such as Lawrence Road (after General Henry Lawrence who perished in the Lucknow rebellion after a shell splintered his thigh), The Mall, Victoria Street, Jobling Road, Court Road etc.
Lucknow is a foodies paradise — all kinds of spicy and non-spicy biryanis flourish; tunde kebab is a speciality, a soft and juicy kebab invented by a one-armed cook for a Nawab who'd lost his teeth, and, believe it or not, there's sweet naan, flavoured with saffron and nuts. And no visit is complete without buying chikan-kari, delicate and intricate hand embroidered pieces, an ancient craft going back more than 400 years.
Last but not least, Jute For Life is a retail shop/workshop in Lucknow founded some 10 years ago by Anjali, an enterprising, energetic woman, to empower poor, rural women. I was privileged to be shown around and met cheerful workers who were glad to be income producing. The jute products, —shopping bags, laptop cases, wine bottle carriers etc — are so attractive and sturdily made that one can't resist returning with an armful.
Both contrasting cities offer an excellent choice of hotels, or one could bed down free in The Golden Temple. I visited in February – Amritsar was chilly, Lucknow warmer but its temperature didn't match the heat wave London basked in.
The lead image is of Chota Imambara in Lucknow.