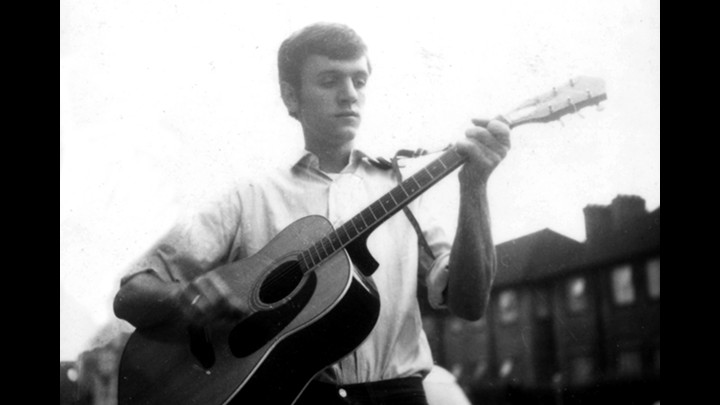 I asked Ralph when did he realise that he wanted to be a full time musician and he told me that you just don't dare believe it can happen.
"You don't decide you are going to play the guitar, the guitar decides you are going to play it and you never can escape from it. It is a dangerous and addictive thing and once it gets you, it's forever really. If you're extremely lucky you may get a few things out of it if you are talented enough to do that. If your super super lucky you get to make a living doing something that you love." And thank goodness he had that lucky break! Practising his "noodling" sessions daily, he enjoys playing even more now that the pressure is off. "I have a guitar always on my sofa and as I walk past I often to stop and have a quick noodle on it, 5 or10 minutes or whatever. I just play every day."
I love my acoustic guitar and really should practise far more than I do. Perhaps I must make time daily for my own "noodling" sessions!
I wondered where Ralph gets his ideas for his songs
Ralph "Well, when I first started I tried to pick subjects that were worth investigating outside of the sphere of what Paul McCartney does, you know what are silly love songs essentially, you never get tired of them but there are other things that occupy my mind and I realised that even if I hadn't discovered the poetry within the idea when I started off, that the poetry might reveal itself. For example one of my early songs Mrs Adlam's Angels, which was really a song about a lady I remembered from Sunday school and she was a beautiful person, but in the end it becomes a song about belief and faith and to think for yourself, but that wasn't clear to me when I started."
"I was kind of musically lost until I heard the words and music of Woody Guthrie"
These days Ralph tries to find the poetry before he starts and for his songs to have two levels. He does not class himself as a folk singer, but believes that many folk songs have lasted for so long because of their great poetry, tunes and a great punch line at the end of a song. That in itself is a good enough criteria for him.
I wanted to know if the music or the lyrics are written first or does that vary?
Ralph "It does vary. When I was young and so immersed in the guitar the tunes would emerge with 2 string chords with a little flowing rhythm and I would end up with a tune. If I played it long enough, it would suggest an idea or mood of some sort which would be refined and I would write the words. Now I quite often get the words first, the only danger with that is you will write in rhyming couplets which can be pretty tedious. I'd keep reading the lyrics until I get a rhythm for that and move onto piano or guitar. Over the last few years I've been probably writing the lyrics at the same time as the tune."
Mrs Adlam's Angels
We then moved onto musical influences from the start of Ralph's career
Ralph. "When I first started I admired Elvis Presley, because he had that sexuality and that excitement and the guitar was kind of an ornament, that was just when I was very young. I liked the Everly Brothers, their songs appealed to me as a kid, I loved that their guitars were iconic looking. I was kind of musically lost until I heard the words and music of Woody Guthrie, a truly inspirational songwriter and guitarist. Here was a man playing simple guitar music, but saying something really strong and meaningful. This then led me onto the blues guitar players."
Then of course Ralph was at the right age to be in on the folk revival movement and the singer/songwriter phenomenon that took place, so he hung onto the coat tails of that in the mid 60s and the rest is history!
Other articles on the website which feature Ralph McTell are:-
My Review of his 2019 CD Hill of Beans. Go to the article here.
Mr review of 8 vinyl albums in which Ralph is featured. Go to the article here.
Part 1 can be seen here.
Part 3 can be seen here.
Part 4 can be seen here.