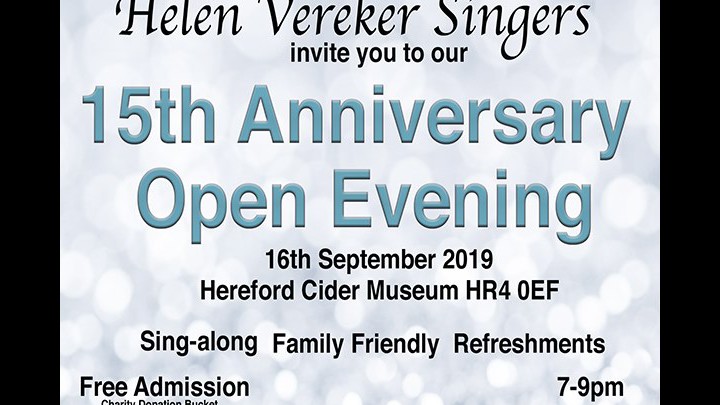 Helen Vereker Singers are celebrating their 15th anniversary and are holding a sing-a-long concert and party. It's family friendly too!
Admission is free, although there will be a donation bucket available on behalf of the British Lung Foundation/Breathe Easy Hereford Support Group - https://www.blf.org.uk/support-in-your-area/breathe-easy-hereford-support-group
Spaces are limited, so please let us know that you are coming.
Helen Vereker Singers 2019
Helen Vereker Singers is a mixed community singing group based at the Hereford Cider Museum. With our unique arrangements of Rock, Pop and Musical songs, we appeal to all ages.
Helen started the singing group in her living room 15 years ago for voice students who wanted to sing pop songs but felt a group setting would be less intimidating than singing solo. Since then the choir has grown considerably.
Helen Vereker
Helen says "Over the past 15 years, I have met so many inspirational people. The group has evolved into something so much more than I could have imagined. Aside of being a happy band of singers, the camaraderie, the friendships and community spirit these people have is wonderful. The group tell me I'm crazy with my ideas and song arrangements, but they humour me and always have a go! To then see their faces when they hear that song coming together is simply priceless."
"We are different to most choirs around. We actively encourage you to join in, and it is not unusual to find the audience singing and dancing along with us."
Over the years, we have helped raise hundreds of thousands of pounds towards mainly local charities through our concerts. We have performed at weddings, funerals, festivals, theatres, clubs and village halls across the country and support many local community events throughout the year.
We look forward to seeing you on the 16th September. For more information see our website or facebook page.
email : info@helenverekersingers.com