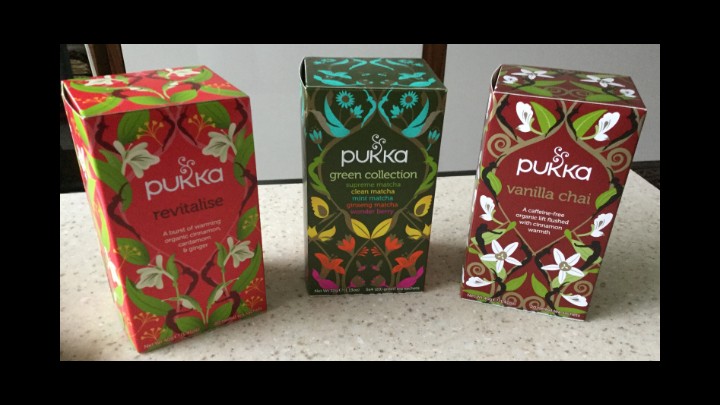 Do you enjoy herbal teas? I have been sent some that Pukka sell and would like to share my findings with you.
As Tim Westwell & Sebastian Pole, Co-founders state 'Our heartfelt desire is to create a healthier, happier world through the incredible power of organic herbs. We hope you feel inspired to discover more about yourself and the beautiful planet on which we all live. Enjoy the journey.'
'Inspiring change in the world. Doing good things helps make good things happen. We create things that help you, help nature and everything inbetween. It's called conservation through commerce – striving to positively change the world for you, business and the planet.'
With such positive comments above, I am sure you will want to come on board the Pukka train!!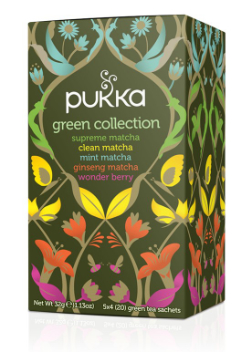 Green Collection
I am starting with the Green Collection pack. This contains five different makes of green tea. 4 x Supreme Matcha, 4 x Clean Matcha, 4 x Mint Matcha, 4 x Ginseng Matcha and 4 x Wonder Berry.
Supreme Matcha
This blend contains pure emerald matcha powder and is described as a 'super hero' tea. An unusual flavour but a great 'pick me up' and energiser!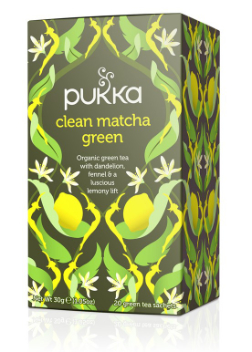 Clean Matcha
This is an organic whole leaf green tea with the tangy flavours of lemons, dandelion root and fennel along with the magical powers of emerald green matcha powder.
Mint Matcha
I love peppermint teas, but am not a lover of spearmint. This tea contains Sencha green whole leaf and Egyptian spearmint and certainly supplies a cooling taste! If you love spearmint, then this tea is for you!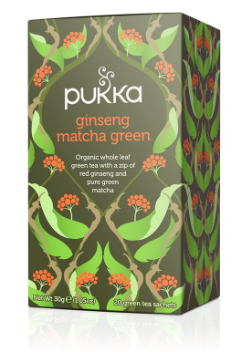 Ginseng Matcha
This is a fabulous tasting green tea - my favourite one so far! Whole leaf Sencha combined with lemongrass, ginger and pure red ginseng. Could drink this blend all the time!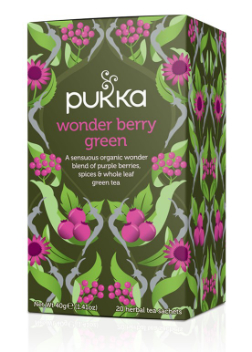 Wonder Berry
This blend contains whole leaf green tea and elderberries, blackcurrants, rosehip, beetroot and echinacea. Perfect if you have a cold or feel under the weather. A calming juicy flavoursome tea with all the ingredients coming together perfectly.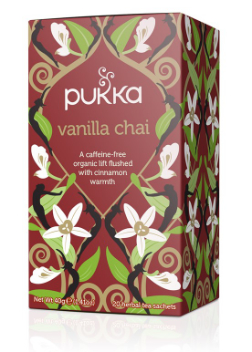 Vanilla Chai
These ingredients are a fantastic mixture. Sweet organic vanilla, ginger, cinnamon, cardamom, fennel and liquorice. A real 'pick me up' and a superb flavoursome tea.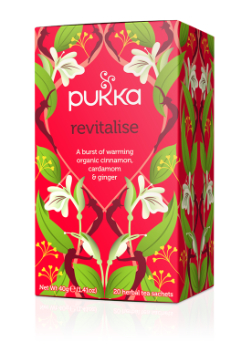 Revitalise
My final tea to evaluate is Revitalise with its flavours of cinnamon, ginger, cloves, cardamom, orange, spearmint and green tea. One to start the day off with and certainly makes you wake up!
Not only does Pukka Herbs sell teas, they also have a fabulous range of supplements to view, plus gifts which make excellent and unusual presents.
I intend trying the whole range of teas and I can certainly recommend the flavours I have tried so far. There are 41 different flavours to try, so something for everyone. Why not pop over to the website and read about how Pukka was formed and also about how important well - being is to each and everyone of us.