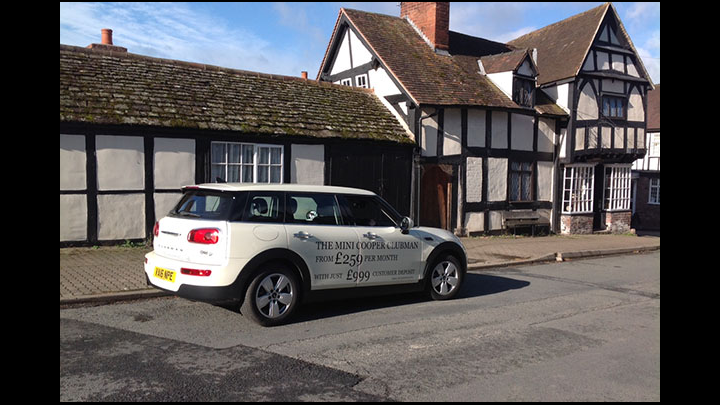 The word 'mini' conjours up many things, miniskirt, minimalist, minicabs, minibus, etc etc and today Mini Clubman!
I telephoned Cotswold Mini Centre in Hereford a while ago as I began to think about the mini cars I owned when I was younger - a LOT younger!
Zooming round the Herefordshire lanes and beyond, first in a green Mini Traveller in 1973, then a Mini 1275 GT and finally a Mini 1000 when I was first married. Endless fun and even more endless miles were driven, complete with a small steering wheel (leather bound of course!) a radio, plus bucket seats as an additional extra in the 1275 GT.
I was a 'cool' teenager maybe??!!
Anyhow, back to the present day and having spoken to Findlay Williams, sales executive at Cotswold, Derek and I drove to the Mini Centre and took delivery of a new Mini Clubman One D 1.5 diesel. This was to be ours for six hours and in exchange I promised to write a review for the website and the wider world to read up on!

Mini One D Clubman

Findlay talking me through the controls, I look rather serious!!
First impressions? Isn't it LONG and SLEEK!
4 doors to get in and out of the mini and the back opens just like my Traveller used to all those years ago. 2 doors each open wide and can be operated electronically or by hand. The size of the boot space is amazing for a car of this size. I am told it will accommodate three sets of golf clubs! But in my case it would be able to hold suitcases and all the extras I take on journeys with no problems.
Where shall we go? The day started off showery, but the sun came out as Derek took the drivers seat for the first 'go.'
The Clubman has a push button starter and a push button handbrake. Both these items are new to me. I know some cars have had these as standard for a while now, but my trusty Vauxhall Agila does not. A much lower seating position than I am used to, but very comfortable nevertheless. Big dials on the dashboard make for easy viewing and off we set. It is decided to go to Weobley and take some photos in the pretty Herefordshire village. What a smooth ride! 6 forward gears is a novelty to us, but Derek was very impressed and started talking about revs and how the extra gear helps. YAWN!
This car is very nippy around corners, has excellent brakes, a good sound system, comfortable seats and holds the road well. All positives!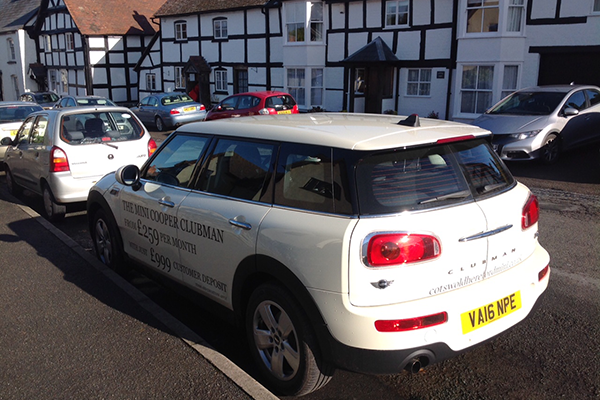 Parked up in pretty Weobley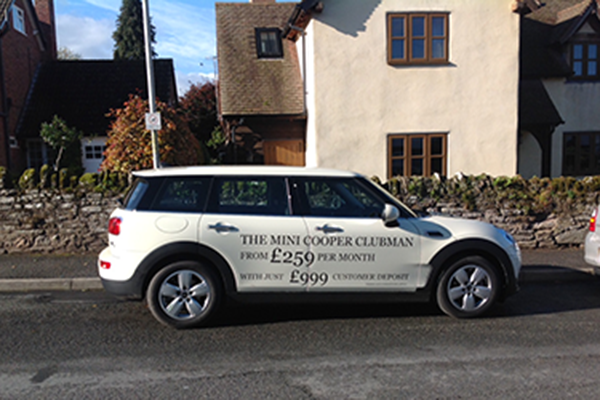 Ready to leave, I am in the drivers seat, sun in the way!
We stopped in Weobley and took a few photos. Such a pretty village, especially with the sun now shining. It is so quiet and a place I used to drive to in my minis during the 70's as I had friends who lived there.
It was now my turn to drive and I lowered myself into the driving seat. The drivers seat does rise and fall and has a good solid feel. A little apprehensive, I drove very slowly from the village and onto the main country roads. The road from Weobley to Hereford itself is one of many twists and turns but I LOVED it! So easy to drive and so responsive. the top gear (sixth) was easily reached and Derek started talking about revs again.
This time I didn't yawn, but actually understood what he meant by saving fuel when driving sensibly and efficiently!
If I have any criticisms and I only have two. I found the reverse gear hard to locate and took some getting used to. Also, the back view with the double back doors in situ, may be a little off putting for some. These are my personal views though and it would not put me off buying this super car.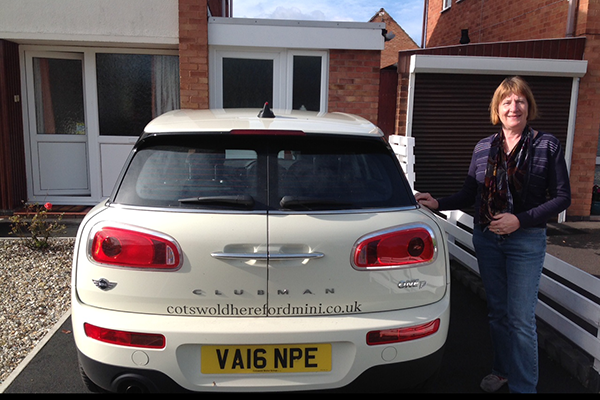 Back doors open like my traveller used to years ago!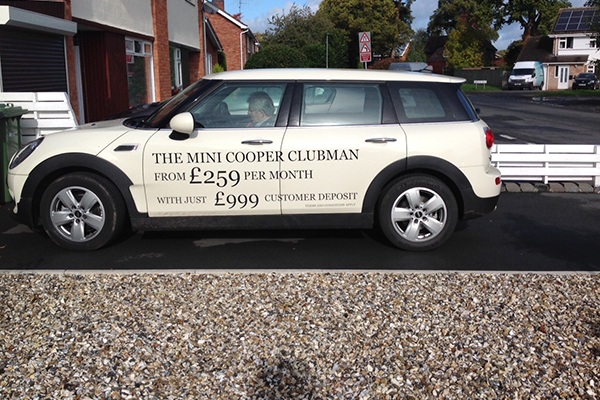 Derek studying the handbook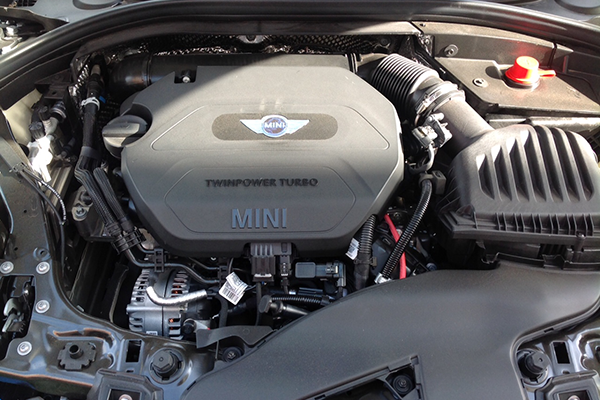 Impressive engine!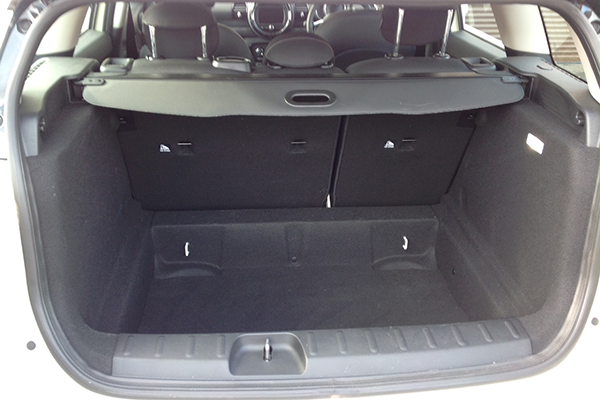 Very roomy boot
Arriving back in Hereford, we took some more photos on my drive and Derek had a good look under the bonnet and in the boot. I am not Jeremy Clarkson so I cannot describe the motoring terms that were being used between Derek and my neighbour! He was also impressed by the size of the boot!
All too soon, it was time to return the car to the garage. I had another chat with Findlay who told me the road tax is £20 per year. Oh and the mileage averages 55-65 mpg! I mentioned my problem locating the reverse gear and Findlay assured me this would improve with use. Gears, when new, need to be 'worn in' so to speak!
If you are intersted in road testing this model or any of the others, do contact Findlay via email findlaywilliams@cotswold.com or telephone 01432 272555 The website is worth looking at for on the road prices and all the various add ons for the wide selection of minis on sale.
Thank you Findlay for giving me this opportunity to relive my 'mini' days for a few hours. I may well come back to try a different model in the range!
I may well come back to try a different model in the range so watch this space! I know Derek enjoyed the experience too.
Please check current RRP.