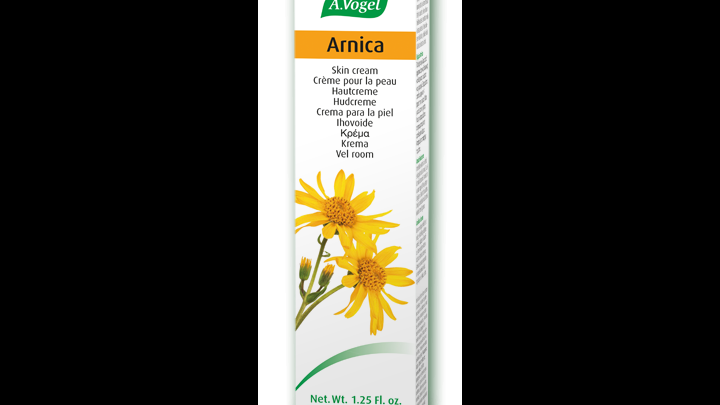 I have been sent a new skin care product manufactured by A Vogel which is ideal for soothing and lessening the pain from bruising.
If like me, you are prone to knocking your elbow on a door handle or bumping your knee on a table corner etc, this inevitably results in bruising.
I have bought Arnica Gel for many years and this has helped to reduce the bruising and inflammation I have encountered. Now there is a new cream formation which is much easier to rub in and makes the skin feel silky smooth and also helps skin regeneration. Being an all natural product, Arnica cream is free of parabens and is therefore suitable for young children aged from two years upwards and is also suitable for people with sensitive skins.
Maybe you look after grandchildren who often fall over and engage in boisterous social activities resulting in bumps and scrapes? Playgrounds are just one example of children being able to enjoy the great outdoors. Playing 'tag', hopscotch, throwing balls, climbing up the various playground equipment is great fun. Inevitably before too long though, a child falls over and scrapes an elbow, a knee or maybe both. This results in a bout of crying which is soon pacified by a cuddle, but then the bruises start to show up. This is where Arnica cream is so useful . Simply add a small amount of the cream and gently massage the bruised area. This can be reapplied up to four times a day for as long as it takes to reduce the bruising and the pain caused by inflammation.
Let me quote a few lines from the excellent A.Vogel website.
'The all-natural, paraben-free, A.Vogel Arnica Skin Cream contains three fresh, skin soothing ingredients:
• The main ingredient is the herb Arnica montana, which is traditionally known as the 'tumbler's cure-all', and has been used since the sixteenth century as a remedy for bruises, sprains and sore muscles. Today, Arnica continues to be used to counter post-injury inflammation that makes bruising more dramatic and colourful, as well as to lessen the pain associated with the inflammatory processes
• Next, comes the 'Knitbone'! More commonly known as the herb, Comfrey, the extract of this clever little flower is thought to increase circulation to the skin, helping to speed up the healing process.
• Lastly, the extract of the daisy-like herb, Chamomile soothes and calms the traumatised area with its anti-inflammatory and anti-irritant properties.'
Dr Jen Ten,a medical doctor and A.Vogel spokesperson says: "Creams are easy to quickly apply, and as they are rubbed into the trouble spot – the gentle massaging action can also provide comfort to distressed children. Comfrey will be especially beneficial as it contains allantoin, which is thought to speed up the natural replacement of body cells, helping to accelerate the healing process."
Ingredients are as follows:-
Aqua (water), Helianthus annuus (sunflower seed) oil, Arnica montana (Arnica) Extract, Symphytum officinale (Comfrey) Extract, PEG-8 Beeswax, Butyrospermum Parkii (Shea) Butter, Chamomilla recutita (Chamomile) Extract, Alcohol, Cetearyl Glucoside, Cetearyl Alcohol, Parfum (Fragrance), Limonene, Linalool
There have been no side effects reported and the cream is also suitable for pregnant and nursing mothers. It is also suitable for vegetarians.
However, it is not suitable for vegans as contains Beeswax. This cream should not be used by anyone who is allergic to any of the ingredients
and should only be used on intact skin.
A.Vogel Arnica Skin Cream is priced £6.35 for 35g from www.avogel.co.uk and independent pharmacies and health stores.
There are so many excellent products made by A.Vogel. By clicking on the above website link, you can find excellent advice, recipes, a wide selection of products and much more besides.
Lead image copyright A. Vogel.
First published 12/2/18 on OAPSchat.co.uk