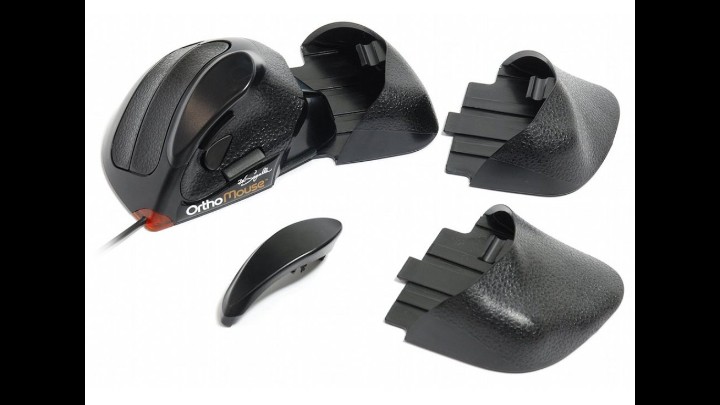 Do you suffer from Repetitive Strain Injury or RSI for short? This can impede on your daily life if you spend hours working with a computer that requires a mouse.
I have been sent an OrthoMouse from The Keyboard Company to evaluate and will share my findings with you.
So, what is an OrthoMouse? To quote its full title, OrthoMouse Orthopaedic Ergonomic and Size Adjustable.
As stated on the Keyboard Company website:-
The Orthopaedic Computer Mouse
The new paradigm in Shape, Design and Use for mice.
A precision tool which adapts to your hand.
Feel the difference!
The OrthoMouse is the logical way to reduce discomfort and complaints related to the use of common mice (Repetitive Strain Injuries - RSI).
The mouse is supplied with a USB cable and has a length of 1.8 metres which is plenty for most people I am sure. Very lightweight at only 120gm, this mouse comes with five keys/buttons so that you can select the combination that provides the best fit for your right hand! There are 3 prolongers, allowing adaptation to different hand sizes, plus 2 upper adapters for the thumb and forefinger.
A more detailed description taken from the website is listed below.
Its form imitates the hand shape and proportions of the hand that uses it the hand and fingers copy the attitude of writing (the same natural configuration).
Great sensibility and maximum control generated by the total support of the hand's palm.
It requires that your hand, forearm and fingers remain fully in muscular equilibrium - "passive adaptation" allowing prolonged tasks without effort.
It preserves the human hands main characteristic the thumb is opposed to the other fingers.
Each click requires only instant flexion and relaxation movements.
The use of switches with lower mechanical resistance allows longer tasks with minimum effort.
involuntary clicks have been eliminated; the fingers rest on the buttons.
It does not have abrupt edges and/or relieves on the support surface.
Precision tasks ease, due to the optic sensor differentiated location.
Anti-sweat and anti-sliding textured coating.
Ultra-flexible cord: less resistance to displacement.
Scroll buttons (up-down) with direct actioning.
All the buttons are in a functional position (avoiding awkward positions).
There is a good video which shows how to mix and match the prolongers and adapters for your needs.
So what do I think?
I have never used a mouse like this before, so it did take some getting used to. I work with Apple products, so the Apple mouse is nothing like the OrthoMouse. I have found over the last couple of years that my carpel tunnel is getting worse with being on the computer for many hours a day and also that I do not always sit as upright as I should.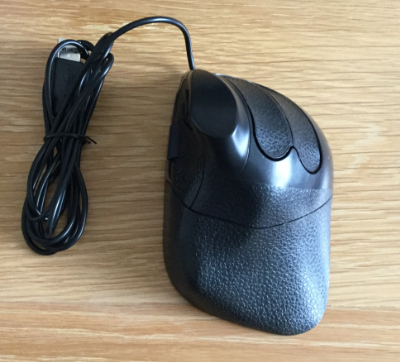 Ready to plug in
I set up the mouse to suit my requirements and used the OrthoMouse for the first time.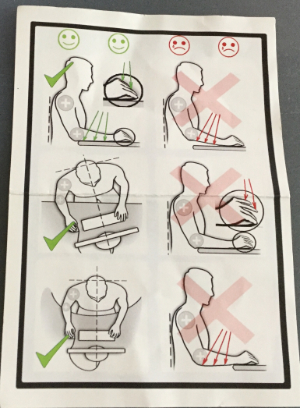 How to sit correctly
There is this photo included in the box with different diagrams showing the correct and incorrect ways one sits at a desk. I have to say that from time to time I am guilty of the three images in red.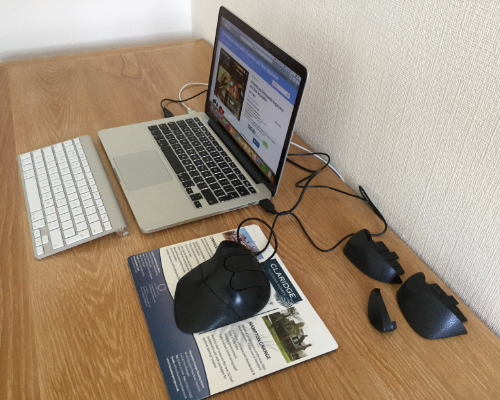 All set up!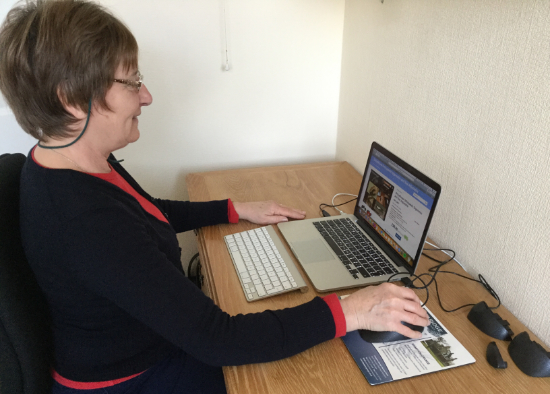 Sitting position
However, when using the orthomouse, I now find that I am more aligned and tend to sit more upright. This, of course, has to be good for my health as well as my posture!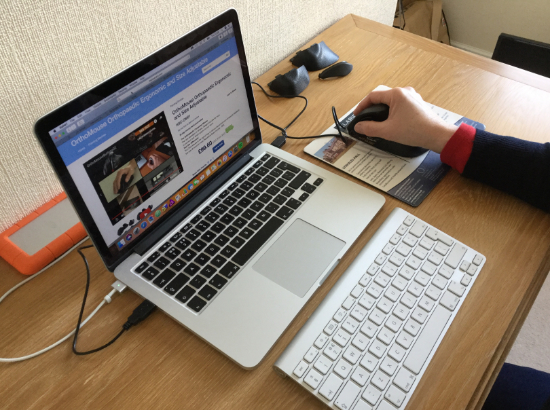 Getting used to my OrthoMouse!
The Verdict?
This is certainly a mouse to be recommended. It took me a few days to get used to the scrolling and swiping which is so different to my Apple mouse. However, I know that the support the OrthoMouse offers to my hand and fingers in terms of my well being, this has to be the way forward. It is recommended that the online manual is fully read before use.
Retailing at £99.60 with free delivery and a 30-day money back guarantee, why not order one yourself and see if it helps? There is also an OrthoMouse Orthopaedic Ergonomic and Adjustable Wireless Laser Mouse available to buy which retails at £111.60.
If you wish to speak with customer services before purchasing, please telephone 0845 205 5555 Monday- Friday where you will receive excellent help and advice with any questions you may have.
Lead image copyright Keyboard Company and used with permission. keyboardcompany.co.uk
See more products from The Keyboard Compnay here.