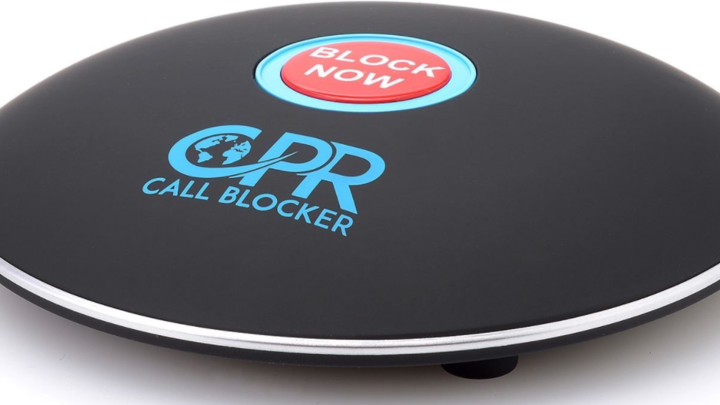 If like me, you experience endless unwanted calls during the day and evening, maybe it is time to invest in a Call Blocker Shield from CPR Callblocker
I already have TPS installed on my telephone and that does not stop most of these 'Spam' calls getting through. Now, help is at hand.
I have been sent the Shield Call Blocker from www.cprcallblocker.com to evaluate and here are my findings to share with you all.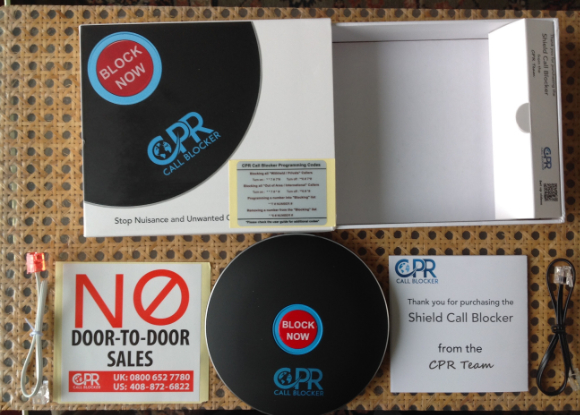 Enclosed contents
The package arrived and I eagerly opened it to see the device that will hopefully ease some of the misery these calls cause. There is nothing worse than the phone ringing when you are expecting a call from a loved one or a friend only to be given a load of gobbledygook or sometimes eternal silence, chatting in the background, then the call being cut off.
Let me quote a few lines below from this award winning site which now has over 500,000 customers!
'The CPR Call Blocker now helps home owners and businesses solve their nuisance calls problems in over twelve countries world wide including the UK, USA, Australia, France, Ireland and the Netherlands. We are constantly looking at new ways that the CPR Call Blocker can provide assistance to stopping the ever growing problem of nuisance calls, this includes product updates being released every six months to ensure that the CPR Call Blocker is always one step ahead in blocking the newest types of nuisance calls and the technology that the cold calling and scam calling industry is using.'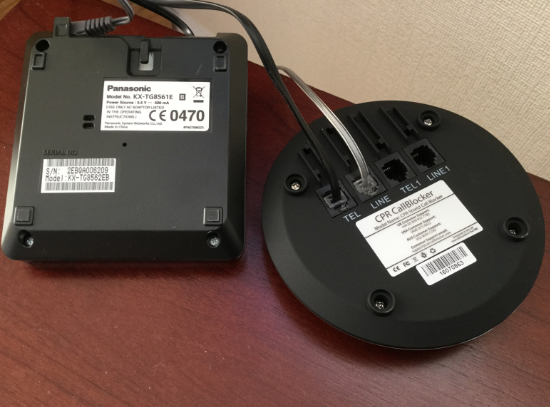 Leads inserted into correct ports
Included are two different coloured cables for using in the type of set up you have installed in your house. There is a Standard Set Up where the line cable is unplugged from the telephone and inserted into the LINE port of the Call Blocker. The short black cable provided is then inserted into the TEL port on the Call Blocker and the other end into the telephone.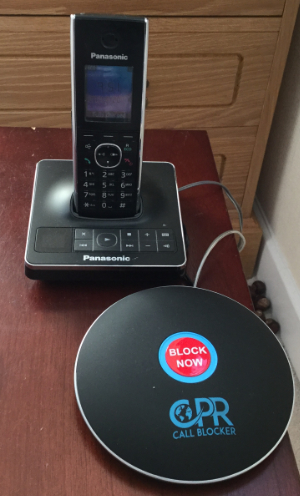 All working perfectly!
If you have a dial tone and a blue light on the Call Blocker, it is set up correctly and ready to use.
Three further setups are included in the User Guide and are a Parallel Set Up, an ADSL/DSL Set Up and a Router/Modem Set Up. All the setups are easy to follow.
One important point to mention is that you must have caller ID enabled on your telephone line for the Call Blocker to work effectively. (Without this feature the Call Blocker will block all calls.)
The website has a setup video to watch and also blogs to read plus many faqs are answered. CPRCallblocker.com has won many awards for their products. The Shield featured here is one of six models available to purchase.
The Shield retails at £49.99 and a 1-year warranty is standard. Extra years warranties can be purchased. A 45-day money back guarantee is included along with a lifetime technical support centre.
First published on1/11/17 on OAPSchat.co.uk.