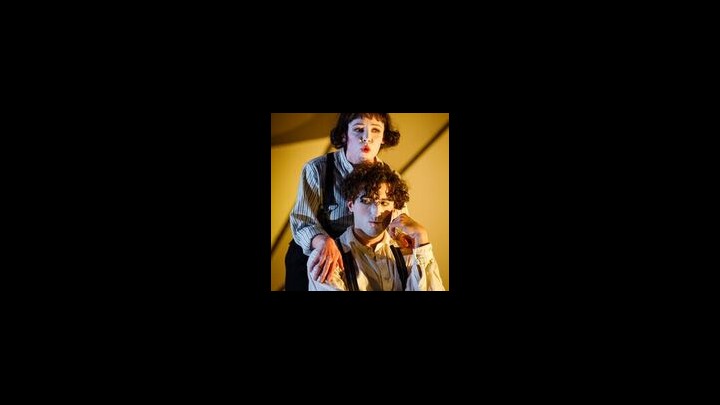 I have a strong bond with Russia and the former Soviet Union, having worked there for many year and now basing much of my writing there, and I was immediately drawn to this piece of contemporary theatre.
It tells the story of Marc and Bella Chagall from the day they met in Vitebsk, Belarus in 1909, through their life together and beyond. It is also the tumultuous story of the region, its people and their history, especially the Jews, and the effect two world wars and a revolution had on them. But given the times we live in, with ethnic cleansing and refugees on our televisions every night, there is a very modern feel to the story as well.
The two main actors talk, sing and dance their way through ninety spell-binding minutes. The stage is innovative and stark; the props many and skilfully used. The two multi-talented musicians accompany the action on piano, trumpet, double bass, accordion, and probably a couple of other instruments that I lost track of.
The play is a collaboration between Kneehigh, a theatre company from Cornwall that prides itself on creating joyful anarchy; and Bristol Old Vic. It is written by Daniel Jamieson and directed by Emma Rice. When it was first produced more than twenty-five years ago, they played the original Marc and Bella.
I saw The Flying Lovers of Vitebsk at the Northcott Theatre in Exeter. The tour continues throughout April and May, in Oxford, Northampton and Cheltenham, before heading to South Carolina for the Spoleto Festival.
A great production from two exciting theatre companies. Highly recommended.