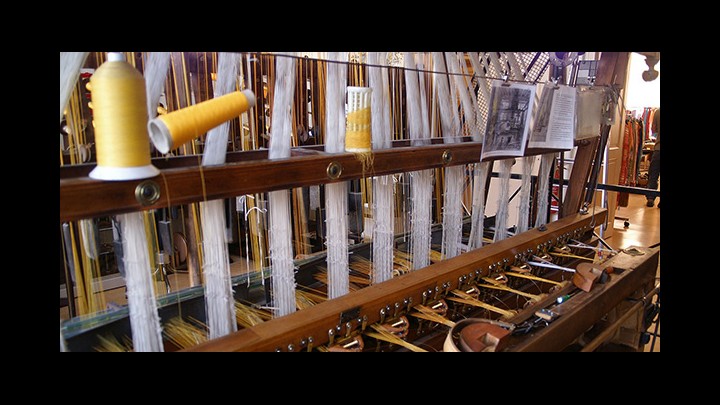 This article is written by Helena Fairfax. I was delighted to meet Helena at the RNA Conference in Horsforth.
I live in Saltaire, near Bradford in West Yorkshire. At first sight, you might think my northern town has little in common with the Renaissance city of Lyon in France.
Lyon has two mighty rivers, a hot climate, and a culture of street cafés with a vibrant night-life. By contrast, Saltaire is a small Victorian mill town by a canal, on the edge of the moors, with a typically northern English climate of cold winds and bleak grey skies.
Saltaire and the moors
But Saltaire's mills and Lyon's silk-weaving district have more in common than you might think. They were once both at the heart of their respective textile industries and are now UNESCO World Heritage sites.
Although their mills are now silent, they have both become tourist destinations because of their fascinating history and their wonderful architecture
Croix-Rousse, Lyon
The Croix-Rousse quarter of Lyon is the district where the silk-workers - les canuts – used to live and work. This area is set on a hill, with a sweeping panorama of the city. Today la colline qui travaille (the hill that works) no longer throbs with the sound of the looms, but it remains an absolutely fascinating place to visit.
The area still retains an old world charm, with its high stone buildings providing much needed shade in the heat of the summer
As you stroll around, you can explore the traboules, a network of shadowy covered alleyways which criss-cross the city, and which I mention in my novel, The Silk Romance.
Silk cloth, Lyon
The traboules enabled the weavers to carry their silk protected from the rain. It is said these hidden alleyways were also used as escape routes for the French Resistance during the Second World War. The tourist office distributes a free map of the traboules of old Lyon, most of which are open to the public.
In the centre of the Croix-Rousse district there is a monument to Joseph-Marie Jacquard, a citizen of Lyon who developed a method of producing patterned fabrics using perforated cards.
Jacquard's invention caused a massive leap forward in weaving techniques – a sort of early computerised production – and spread rapidly throughout Europe and through other textile industries, including to Saltaire.
(In fact perforated cards were used up until very recently in the mill in Bradford where I used to work. It was only towards the end of the twentieth century that true computerised production, including computer aided design, began to be the norm.)
A street in Saltaire
Saltaire, which is really just a handful of streets, was purpose built by Sir Titus Salt in the nineteenth century. It was an incredible achievement. The town provided clean, new houses for mill workers who had previously been forced to live in terrible squalor in the nearby mill town of Bradford.
There was a school, an infirmary, a beautiful park for recreation, and the provision of allotments so that the workers could grow their own food
Salt's mill in Saltaire
Up until recently, Salts Mill was still a thriving woollen mill. My father-in-law is a retired weaver, and he used to visit the mill regularly when it was in its heyday, when the mill yards rang with literally thousands of workers. Nowadays the mill building is quiet. It fell into disuse when the weaving industry collapsed in England in the eighties.
Bookshop in Saltaire
Luckily an entrepreneur, with the encouragement of Yorkshire artist David Hockney, had the forethought to bring the beautiful old mill building back to life. It is now a bookshop, gallery and office space.
I once lived in Lyon as a student, and I was struck by the parallels between the dying silk industry and the death of the woollen industry in Yorkshire. There is a passage where Jean-Luc Olivier, the hero of The Silk Romance, tells the heroine:
'We have a saying that there are three rivers at the heart of Lyon. There's the river Rhône, the river Saône and there's the river of tears left by the silk workers.'
I wanted to bring the silk industry back to life in a small way, through my novel, and to relive my time in the fabulous city of Lyon
Here is a preview of The Silk Romance:
A charming Cinderella retelling that captures the essence of old-fashioned romance. Sophie Challoner is sensible and hard-working, and a devoted carer of her father. When her grandmother throws a romantic ball for her in Paris, for one wonderful night Sophie forgets her promise to her family and does something reckless she will never forget. 
Years later, Sophie is reunited with the man she left behind her that evening, and she finds Jean-Luc Olivier is not the glamorous socialite she thought. Jean-Luc is a force to be reckoned with...


Praise for The Silk Romance:
"This is an absolutely charming book. Helena Fairfax is a master in her descriptions of location, characters and feelings.… A breath of fresh air. Aaah!" Amazon Reviewer
"
Deliciously different… A good story, a believable and charming romance, and utterly delightful." Alyssa Lynn Palmer reviews 
"Unforgettable, powerfully intense and beautifully written" Caroline Barker, A Reader's Review
"A beautiful love story that deepens with each turn of the page." Goodreads reviewer
The Silk Romance is available in print and e-format from Amazon, and in large print from libraries.
I hope you've enjoyed my short travelogue! You can find more articles about Lyon and Saltaire on my website at www.helenafairfax.com
Editor: You can order the paperback directly from Amazon by clicking on above image.